Blu-ray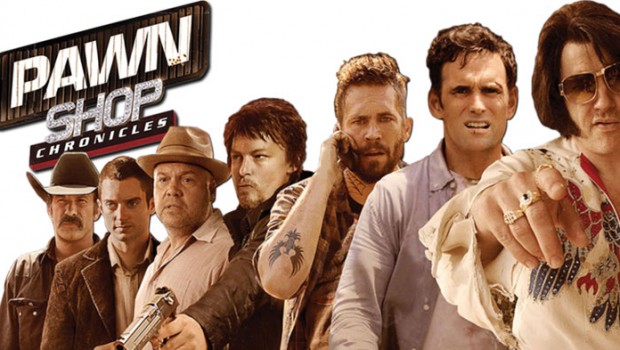 Published on February 23rd, 2014 | by admin
Pawn Shop Chronicles Blu-ray Review
Summary: A fun story that will keep you entertained from start to finish
Pawn Shop Chronicles
Distributor: Roadshow
Running Time: 112 Minutes
Rating: MA15+
Reviewer:  James Wright
Written by Adam Minarovich (Cooler, Running Scared) and directed by Wayne Kramer, Pawn Shop Chronicles is a action packed black comedy that has similar parallels to Rodriguez and Tarantino's Grindhouse film due to its characterisation and the crossover these over the top characters make. The central premise of the story is the Pawn Shop that is run by Alton (Vincent D'Onofrio) and Johnson (Chi McBride) which provides a link to three separate yet ultimately linked very amusing stories.
The first part of the story revolves around two knucklehead white racist supremacists called Raw Dog (Paul Walker) and Randy (Kevin Rankin) who wish to take down a local meth dealer. However when their friend sells his shot-gun at the pawn shop to get money for fuel to pick them up, their plan goes down hill quite quickly. Meanwhile Richard (Matt Dillon) and his new wife arrive at the Pawn Shop to pawn their engagement ring due to a banking problem when Richard discovers an usual ring at the store.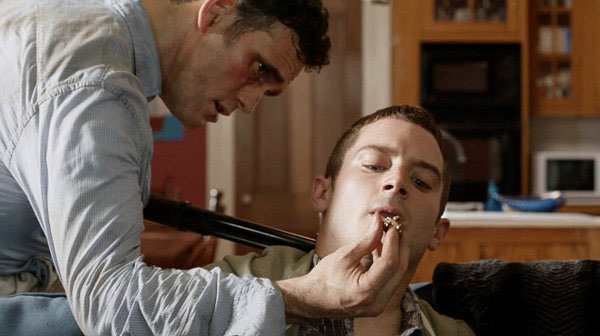 This ring was actually from his previous wife who is believed to be dead which leads Richard on a revenged fuelled search for the killer or killers. His investigation leads to Johnny (Elijah Woods) who has been abducting women and leaving them in cages like battery hens which is really creepy. The last part of the story is Ricky (Brendan Fraser), a really bad Elvis impersonator who sells his "authentic" Elvis medallion to help get him through his next impersonation payment at the local fair. Needless to say, Ricky meets Satan and from there, something very unusual happens that ultimately serves as a bookend to all three stories.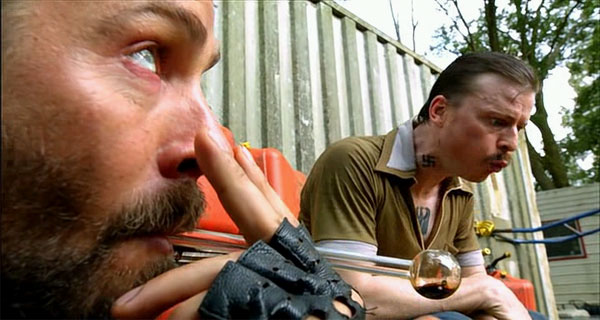 Final Thoughts?
Pawn Shop Chronicles successfully tells the stories quite well with each character somehow being linked to the local pawn shop. The characters are fun and thoroughly over the top and there's some really WTF moments in the movie such as Johnny and his battery babe farm. Given that, the story isn't bad but it's not great either but overall it's a fun story that will keep you entertained from start to finish.
Best of all, the actors are really enjoying themselves which is quite infectious!