Games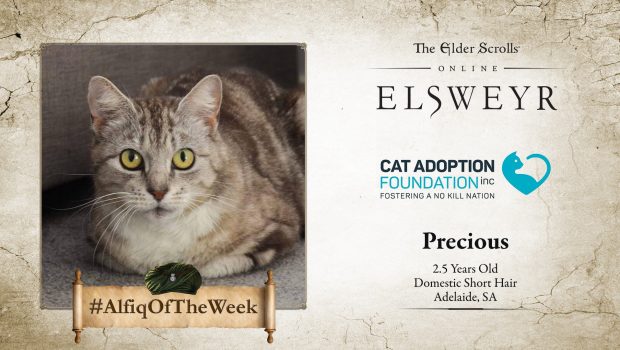 Published on June 21st, 2019 | by Admin
Pawden Me, Bethesda's New Furry Initiative Begins This Week
Today marks the beginning of Bethesda's new partnership with the jolliest breed of the Khajiit, the Alfiq. Establishing a worthy alliance with the The Cat Adoption Foundation this week, Bethesda will assist in finding a fur-ever home for stray Alfiqs. The Cat Adoption Foundation is a foster care network, which rescues, rehabilitates and rehomes cats and kittens in need.
There's no better way to celebrate the launch of Elder Scrolls: Elsweyr, then commending the incredible cat rescue centres around ANZ, in the following weeks this will extend to Little Legs Dog and Cat Rescue and more to come.  Although known as an elusive breed – every Friday, for the next 8 weeks, Bethesda will extract these intelligent Alfiqs out from the Tenmar Forest and find them a luxurious and permanent home. Bethesda will ensure no Alfiq gets left behind, but if you don't believe us – make sure you tune in each week to show the Alfiq of the week some love.
Introducing the first Alfiq of the week, "Precious," a loveable and scholarly Alfiq ready to travel outside of Elsweyr and settle down.
"We are excited about working together, can't wait for our first Alfiq of The Week!  
Here is our Precious, we played with the hat and tiara on her pic and it looks great."
– Sayla, The Cat Adoption Foundation
Get to know Precious on Facebook and Twitter. Make sure you keep up to date with these hissterical and heart-warming updates on Bethesda's socials.