Events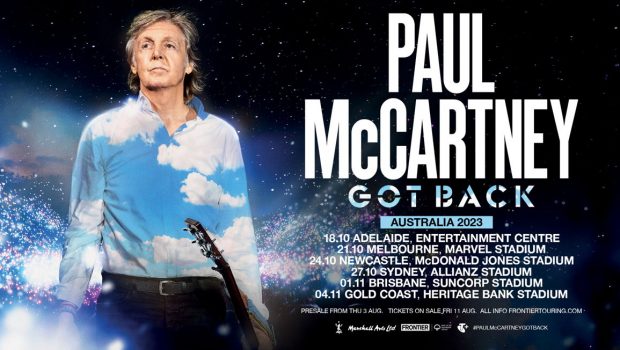 Published on August 7th, 2023 | by Adrian Gunning
PAUL McCARTNEY – 2ND & FINAL SYDNEY SHOW ADDED DUE TO OVERWHELMING DEMAND!
It's official: with news of his impending tour, Australia has gone crazy all over again for Paul McCartney!
One of the most successful singer-songwriters and performers of all time, Paul McCartney will bring his acclaimed Got Back Tour to stadiums this October/November, marking his first live shows in Australia since 2017. Kicking off with an intimate arena show in Adelaide, the tour will then travel to Melbourne, Newcastle, Sydney, Brisbane, and the Gold Coast.
Today, due to overwhelming demand, Frontier Touring is pleased to announce a 2nd and final Sydney show has been added. The new performance will take place at Sydney's Allianz Stadium on Saturday 28 October – making it two nights back-to-back at the venue for the legendary two-time Rock and Roll Hall of Fame inductee.
McCartney launched the Got Back tour in February 2022, completing 16 huge shows across the US before performing what the British Times newspaper described as the "best gig ever" with his history-making set at Glastonbury in June 2022.
Tickets for this just-announced 2nd Sydney show – as well as all dates previously announced – will be available in both the paulmccartney.com and Frontier Members presales on Wednesday 9 August (start times for both presales staggered from 11am AEST – see here for further details). General public tickets for all shows will then go on sale Friday 11 August (times staggered).
The Paul McCartney live experience is everything any music lover could ever want from a rock show – and so much more: Nearly three hours' worth of the greatest moments from the last 50 years of music, dozens of songs that have formed the soundtracks of our lives. Featuring brand new production and state of the art audio and video technology, not to mention a staggering collection of the best songs ever written – songs like 'Hey Jude', 'Live and Let Die', 'Band on the Run',  'Let It Be' and so many more –  every Paul McCartney show promises a once in a lifetime evening that transcends and elevates the potential of live music.
'McCartney and his tightly drilled combo just kept knocking them out for three solid gold hours, one absolutely storming classic after another, sending waves of excitement up the packed hillside, and turning the biggest crowd of the 2022 Glastonbury festival into the world's biggest choir. I mean, really, you haven't heard a singalong until you've heard 200,000 voices doing the na na nas on 'Hey Jude'' – ★★★★★ Daily Telegraph 
Do not miss this concert! Tickets on sale this week.
PAUL MCCARTNEY – GOT BACK 
​AUSTRALIA
​OCTOBER/NOVEMBER 2023
​Presented by Frontier Touring
PAULMCCARTNEY.COM PRESALE:
​Runs 24 hours from: Wednesday 9 August
​or until pre-sale allocation exhausted
​Pre-sale timings staggered per show, visit website for more details
FRONTIER MEMBERS PRESALE 
​via frontiertouring.com/paulmccartney
​Runs 24 hours from: Wednesday 9 August
​or until pre-sale allocation exhausted
​Pre-sale timings staggered per show, visit website for more details
GENERAL PUBLIC ON SALE
​Begins: Friday 11 August (times staggered, see below)
Wednesday 18 October
​Adelaide Entertainment Centre | Adelaide, SA
​Lic. All Ages
​On sale: Friday 11 August (1.30pm AEST)
​Ticketek.com.au
Saturday 21 October
​Marvel Stadium, Melbourne, VIC
​Lic. All Ages
​On sale: Friday 11 August (1pm AEST)
​Ticketmaster.com.au
Tuesday 24 October
​McDonald Jones Stadium | Newcastle, NSW
​Lic. All Ages
​On sale: Friday 11 August (11am AEST)
​Ticketmaster.com.au
Friday 27 October
​Allianz Stadium | Sydney, NSW
​Lic. All Ages
​On sale: Friday 11 August (10am AEST)
​Ticketek.com.au
Saturday 28 October ​
​NEW SHOW!
​Allianz Stadium | Sydney, NSW
​Lic. All Ages
​On sale: Friday 11 August (10am AEST)
​Ticketek.com.au
Wednesday 1 November
​Suncorp Stadium | Brisbane, QLD
​Lic. All Ages
​On sale: Friday 11 August (12pm AEST)
​Ticketek.com.au
Saturday 4 November
​Heritage Bank Stadium | Gold Coast, QLD
​Lic. All Ages
​On sale: Friday 11 August (3pm AEST)
​Ticketek.com.au
​Proudly supported by Major Events Gold Coast \