Events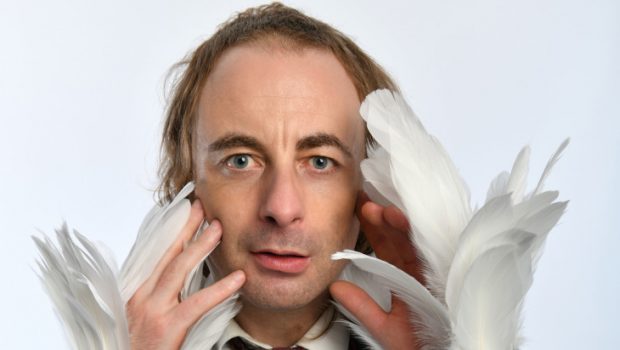 Published on April 3rd, 2023 | by Andrew Bistak
Paul Foot Swan Power Review … comedy power-up! @paulfoot @micomfestival #MICF
Summary: Paul Foot once again outdoes himself in a truly spectacular and comedic fashion with his latest show, Swan Power!
Comedian Paul Foot is like a bottle fine English wine and for Connoisseurs, it's been way too long between drinks… curse you pandemic! Thankfully the amazing comedy of Mr Paul Foot, Life President, The Guild of Paul Foot is back at the Melbourne International Comedy Festival for 2023 with his new show Swan Power that is a 60 minute romp of some of the best and cleverest comedy that you will ever experience.
Like his previous shows, Paul weaves a plethora of topics together (like a segue) and just when you think this gag is done and dusted, it turns up again and at at times in a spectacular and unexpected fashion. From the "if necessary" life jackets on airplanes to the non-existent sexual potency of rhino horns to the link between Bunnings and the fictitious murder of a tennis player, Paul Foot Swan Power is like a packet of licorice all-sorts with its amazing comedic diversity.
Within the show, Paul also weaves in racism to the inappropriate use of Aztec mythology, including a hilarious 2-minute recap of the Titanic that truly cements to the audience the amazing brain of this classic British comedian. He even discloses some of his classic "disturbances", his ideas for commercials that somehow connect Specsavers, Pirelli tyres and Dignitas… Dignitas, you betcha! Paul even gives his own take on trolling and how his trolling translator works such as "Frigid Whore" becomes "Error… cancelled each other". Ingenious!
Final Thoughts?
From Pandas to the Pandemic and being one of the last 8 people in the world, Paul Foot Swan Power was a hilarious, smart and very witty comedic hour with one of the best. Just be warned, if you sit in the front row, you might find yourself drawn into one of Paul's skits like I was… that involved a plastic face shield and well… way too many laughs, myself included!
Brilliant!
Paul is currently playing at The Famous Spiegeltent at Arts Centre Melbourne from 30-March to 23-April
Paul Foot Swan Power (UK)
Multi-award-winning comedian Paul Foot returns with his brand-new show.
Tired of the goose, Swan Power is here. Paul opens his beak and explores topics including a potential solution to the problem of online trolling, the massively underwhelming sex drive of pandas, and La La Land's Bryan Gosling. Plus, a full re-enactment of the 1992 film Titanic (severely abridged).
Live by the swan, fly by the swan.
P.S. there is no mention of swans in the show
'Like a rare exotic bird, he's special.' The Daily Express (UK)
'Sublime, original, brilliant.' The Independent (UK)
'A comic genius.' The Sydney Morning Herald
'Creates glorious spirals of absurdity out of the simplest of starting points' The Guardian UK
https://www.comedyfestival.com.au/2023/shows/paul-foot