Films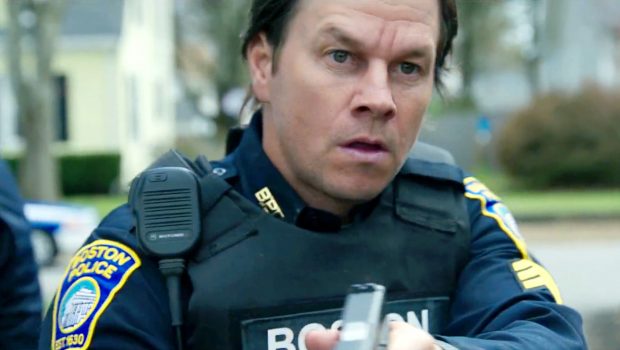 Published on February 12th, 2017 | by Curtis Mayfield
Patriot's Day – Film Review
Reviewed by Curtis Mayfield M-H on February 2nd, 2017
Roadshow Films presents a film by Peter Berg
Written by Peter Berg, Matt Cook, Joshua Zetumer, Eric Johnson & Paul Tamasy
Produced by Scott Stuber, Dylan Clark, Mark Wahlberg, Stephen Levinson, Hutch Parker, Dorothy Aufiero, Stephen Stapinski & Michael Radutzky
Starring: Mark Wahlberg, Kevin Bacon, John Goodman, J. K. Simmons & Michelle Monaghan
Music by Trent Reznor & Atticus Ross
Cinematography: Tobias Schliessler
Edited by Colby Parker Jr. and Gabriel Fleming
Running Time: 133 minutes
Rating: M
Release Date: February 2nd, 2017
For a movie called Patriot's Day, a film about an American tragedy and its victims and first responders, things actually don't get too "'Murica!" for international audiences. Director Peter Berg (Deepwater Horizon, Lone Survivor) has teamed up with Mark Wahlberg for the third time to give a fairly factual account of a tragic day in American history. What's true in this film is Berg's ability to create a whole lot of tension by focusing on intimate character moments leading up to the attack, as well as the manhunt that followed afterwards. We see the future victims of the bomb blasts carrying about their days as the dread builds up and up for the audience. In this way, the narrative partially comes off as a horror film as we see the two terrorist brothers, Dzhokhar and Tamerlan Tsarnaev, set an evil plan in motion. There's not much explanation as to why they chose to do what they did as Berg chooses to instead put the scope on the victim's stories as well as the law enforcement who hunted the attackers for several days. What is complete fiction is Wahlberg's character of detective Tommy Saunders, a loudmouth cop who's at the tail end of a punishment of unknown origins that sees the brash yet effective police officer working the finish line of the Boston marathon, where the explosives were detonated and the carnage unfolded.
As for the violence in this movie, Berg does a skilful job of avoiding any over the top gore, though the aftermath of the explosions isn't exactly sugar coated. It's more the screams of pain and fear that cut through the regular Hollywood BS. This may seem like a standard action movie on paper but since it's based on true events and touches on a very sore subject for Americans, it goes way beyond being nationalist propaganda. Tackling the menace of two real life terrorists would be a hard task but for actor Alex Wolff, who plays Dzhokhar the more complex and younger brother to Tamerlan (Themo Melikidze), both actors do a great job of playing this kind of evil without delving into anything exaggerated or offensive. Which leads to the point that this movie does its best not to come off as anti-Muslim. This objective is even mentioned in the script by FBI Special Agent Richard DesLauriers (played by Kevin Bacon) when arguments breakout about finding out who the bombers are and leaking information to the public. What adds more intensity to the movie is the use of what looks like real security footage of the moments right before the attack as well as shaky smartphone footage of crowds running for their lives. It's these kinds of filmmaking choices that makes Patriot's Day an uneasy ride to experience, which isn't necessarily a bad thing.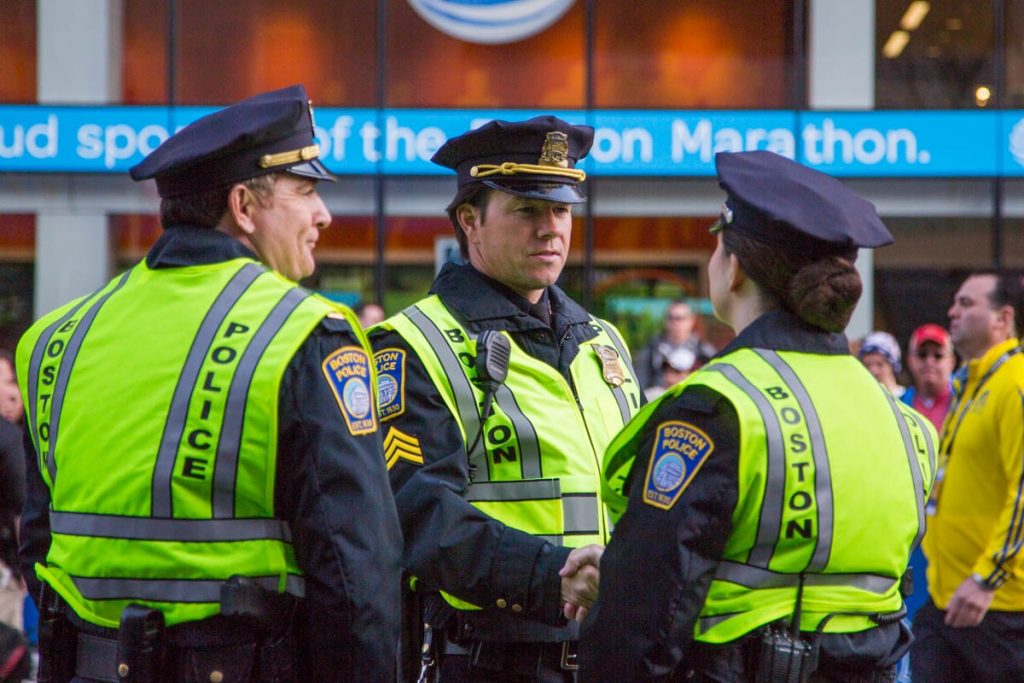 As for the acting, there are no weak links in this large ensemble cast. Even though Wahlberg is the main face on the poster, there is equal time given to most of the characters. J.K. quietly succeeds as the chain-smoking Jeffrey Pugliese, a police sergeant who came face to face with the Tsarnaev brothers as the movie comes to its climax. Berg even takes a chance of poking fun at the now legendary Boston comradery we've seen in several movies based in the east coast city. A scene where police are taking heavy gunfire and a local Joe Blow throws out a baseball bat to one of the officers yelling "Give 'em hell boys!" is a quick but much needed laugh during this intense story. John Goodman's appearance as police commissioner Ed Davis sort of comes and goes quite fast but the veteran actor does his thing well. It's the subtle acting of performers like Jake Picking, who plays a young police officer, that makes this movie that much more compelling. The same can be said about Jimmy O. Yang's performance as a civilian unwillingly caught up in the terrorist brother's plan. Unfortunately, Michelle Monaghan is again typecast as the supportive suburban wife to Wahlberg but she does a great job all the same.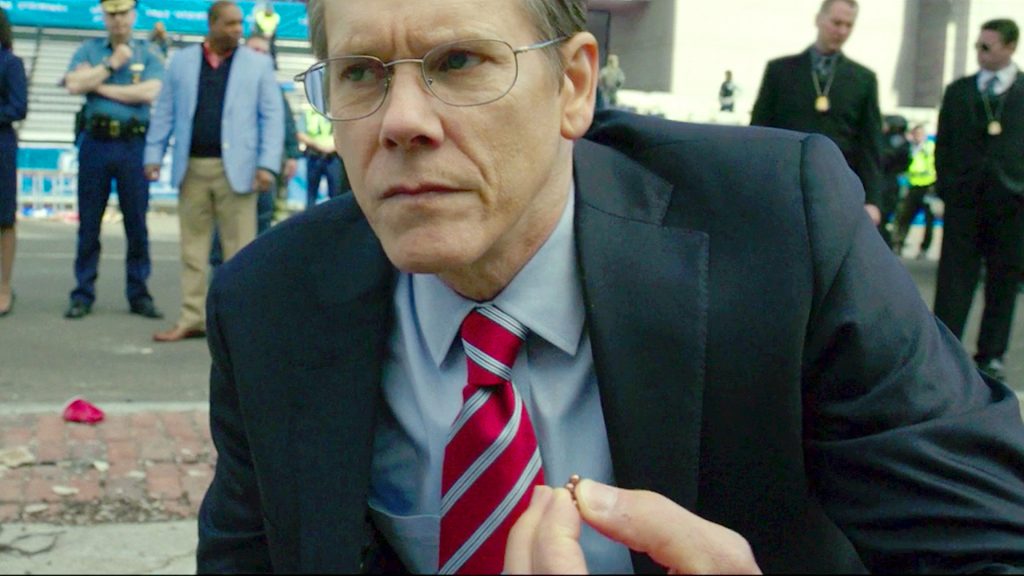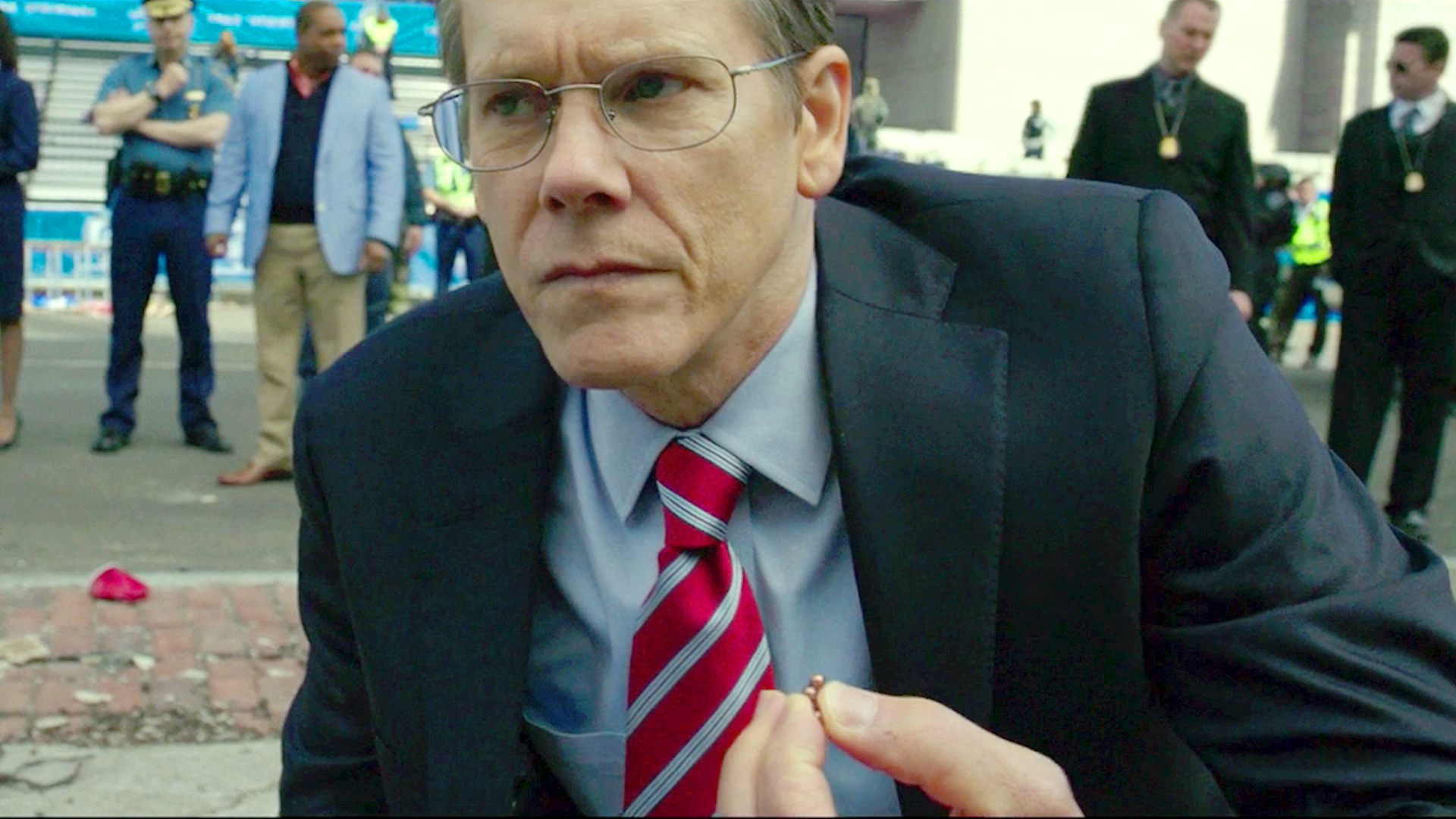 Making a movie that's based on fact as well as a story that involves death and terrorism is no easy tightrope to walk, but somehow Berg and his large cast pull off the feat. Even our hero is humanised with hints at experiences of PTSD after the death and chaos. Of course as much as the movie tries to tell a straight story about the limits of humanity there are still scenes of patriotic tropes (close ups of American flags, Boston Police logos, etc) as well as an emotive soundtrack by Reznor & Atticus Ross. But with all of that the movie still pays off. Interviews with the real survivors and first responders of this event ends the movie on a touching note as the filmmakers choose to ignore the hate that inspired the attack and leaves us with some hope in uncertain times. Slightly cheesy I know, but sometimes a bit of lactose is needed to be sprinkled into a diet of 24-hour news cycles and Trump presidencies.
Summary: What's true in this film is Berg's ability to create a whole lot of tension by focusing on intimate character moments leading up to the attack.