Blu-ray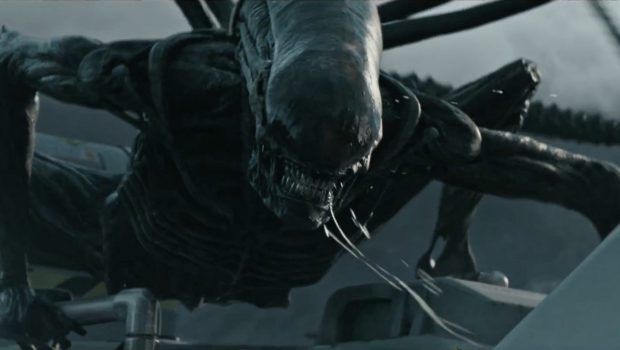 Published on July 7th, 2017 | by Admin
THE PATH TO PARADISE BEGINS IN HELL
Ridley Scott's Terrifying Return to the ALIEN Universe
Arrives Wednesday 9 August on Digital HD and on
4K Ultra HD™, Blu-ray™ and DVD Wednesday 16 August  
Secrets of the Alien Universe Are Unlocked with
Over 100 Minutes of Revealing Extras on the Blu-ray and iTunes Extras
 
Twentieth Century Fox Home Entertainment presents Ridley Scott's return to the universe he created, with ALIEN: COVENANT, the newest chapter in the groundbreaking ALIEN franchise, arriving on Digital HD on Wednesday 9 August and on 4K Ultra HD™, Blu-ray™ and DVD on Wednesday 16 August.  Limited Edition Exclusives will be available at JB HIFI and Sanity.
The crew of the colony ship Covenant, bound for a remote planet on the far side of the galaxy, discovers what they think is an unchartered paradise, but is actually a dark, dangerous world. When they uncover a terrifying threat beyond their imagination, they must attempt a harrowing escape.
Featuring an all-star cast including Academy Award Nominee Michael Fassbender (X-Men franchise, Steve Jobs), Katherine Waterston (Fantastic Beasts and Where to Find Them), Billy Crudup (Jackie), Danny McBride (This Is The End) and Demián Bichir (The Hateful Eight), ALIEN: COVENANT is loaded with bonus material including a making-of documentary, 12 deleted and extended scenes, 5 featurettes, commentary by director Ridley Scott, an inside look at "David's Lab", and much more.
Fans can also pick up exclusive editions of ALIEN: COVENANT at JB HIFI and Sanity.
JB HIFI – Alien baby Xenomorph Steelbook Blu-ray™
Sanity – Limited edition 36-page book featuring an inside look at David's Lab, the creatures of Alien: Covenant, behind-the-scenes photography and concept sketches to those that pre-order the film, PLUS exclusive packaging on Blu-ray & DVD.
4K ULTRA HD & BLU-RAY™ BONUS FEATURES
Deleted and Extended Scenes

Prologue (Extended)
Walter in Greenhouse
Oram and Daniels (Extended)
Walter Visits Daniels
Daniels Bedroom Flashback
Jacob's Funeral (Extended)
Ledwards Fall
Crossing the Plaza (Extended)
Daniels Thanks Walter
Rosenthal Prayer
Walter Reports Back
Stairs to Eggroom (Extended)

USCSS Covenant

Meet Walter
Phobos
The Last Supper

SECTOR 87 – PLANET 4

The Crossing
Advent
David's Illustrations – Image Gallery

Master Class: Ridley Scott – Documentary on the making of Alien: Covenant
Director Commentary by Ridley Scott

DVD BONUS FEATURES
Deleted and Extended Scenes
USCSS Covenant
Director Commentary by Ridley Scott