Films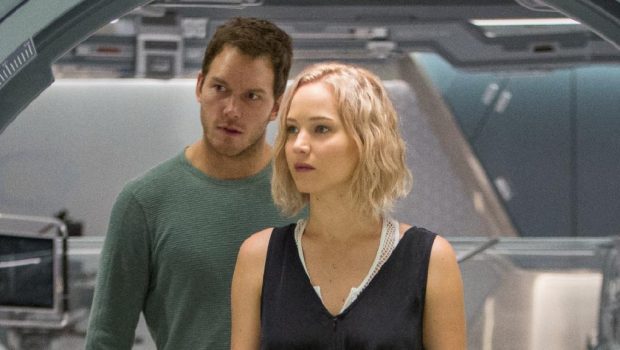 Published on January 9th, 2017 | by Curtis Mayfield
Passengers – Film Review
Reviewed by Curtis Mayfield M-H on the 5th of January 2017
Roadshow Films presents a film by Morten Tyldum
Written by Jon Spaihts
Produced by Neal H. Moritz, Stephen Hamel, Michael Maher & Ori Marmur
Starring: Jennifer Lawrence, Chris Pratt and Michael Sheen
Music by Thomas Newman
Cinematography: Rodrigo Prieto
Edited by Maryann Brandon
Running Time: 116 minutes
Rating: M
Release Date: the 1st of January 2017
If you're familiar with my reviews then you'd know that I always give filmmakers shit for seemingly being incapable of creating new content that isn't original. For all the flaws that Passengers has, it's the uniqueness that makes this romantic sci-fi movie worth seeing…even if it's just once. With that said, this movie clearly borrows themes from other classic stories, but more on that later. Set lightyears into the future, we're introduced to Jim Preston (Chris Pratt), a mechanical engineer who's on his way to a new planet to call home. He and 5,000 others have boarded the spaceship Avalon that's on its 120-year journey to Earth 2.0 since the first one is apparently overpopulated and just isn't hip enough to inhabit anymore. All the passengers and crew onboard are all comfy and frozen in time, asleep in hibernation pods until Jim is rudely awaken 90 years shy of reaching the new planet. Realising that he's the only one awake, the fear and tension begins to rise and Jim freaks out big time. He's on a vessel that's more of a luxury cruise ship than anything else and if something doesn't get fixed he's going to die an old lonely man. It's not until the charming android bartender Arthur (played by a devilish Michael Sheen) gives Jim some phantom advice while wearing a very smart red jacket (a la The Shining) that things become less freaky and a little more fun.
After a year of Jim taking full advantage of all the ship's features—getting all the high scores in a hologram dance-off game for example—that the record begins to slow down again and eventually the needle scratches when Jim realises he's going to die alone, bored and unshaven. Norwegian director Morten Tyldum has clearly taken few notes out of the book of Ridley Scott's The Martian by having the always-resourceful Jim grow out a massive beard as he attempts to figure out a way of surviving alone in space. It's at this point that we realise that Pratt is very capable of carrying the first half of a movie solo since he's the only human character we see. This is until Jim hits such a low point that he does something drastic. After a year of drowning in loneliness our supposed hero does a not-so good guy thing and falls in love with the sleeping Aurora Lane, a charming, down to earth (excuse the pun), funny Jennifer Lawrence-type played by Jennifer Lawrence. Things get creepy as Jim reads her bio and watches video interviews of her (perhaps a prediction of where internet lurking will be in a few thousand years?). Pushed to the limits of being truly alone Jim umms and ahhs about prematurely waking Aurora up so he'll have some company. A truly selfish act but maybe one chosen for survival. This is where one of the movie's flaws becomes clear: the running time. As Jim tosses and turns for months trying to decide on dying alone or doing something that strands someone else on his own deserted island, we already know what the answer is. Of course he's going to wake her up! Jennifer Lawrence is on the poster right? She's in the trailer! Let's just wake up this sleeping beauty already so we can witness the sappy romance that's obviously going to happen.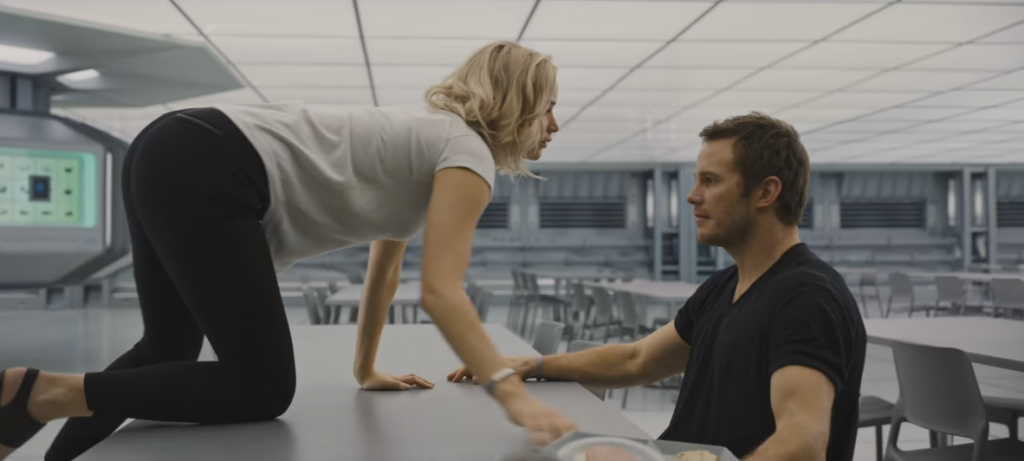 Jennifer Lawrence of course crushes her role and goes way beyond the confines of simply being a love interest to a hunky fellow. Her character may be a romanticised version of a writer ("Give me a view of the Chrysler building and a cup of coffee and I can write all day", she muses) but she's given enough depth for us to care about her journey. As the two interact with each other and all the ship's fun playthings (couple's jogs through the hallways and going on walks in space suits) it becomes obvious that Pratt and Lawrence display a good amount of onscreen chemistry to keep us engaged. Though the plot is decent and somewhat original, it's still a bit of a stretch trying to cover two hours of screen time with this tight fitting premise. Another thing that might disappoint about Passengers is the lack of actual sci-fi adventure since it's tilted towards a story about love in desperate times more than anything else. Calling this 'Titanic in space' may be oversimplifying things but it's a pretty accurate description. Jim's grease monkey presentation is mixed in with his natural ability to make audiences laugh and Aurora's higher social ranking (she's a gold star member on the ship so therefore gets to eat bacon) has a sort of Jack and Rose quality to it. Plus, it doesn't help dilute comparisons since we're watching two doomed lovers on a ship who are each other's reason for survival.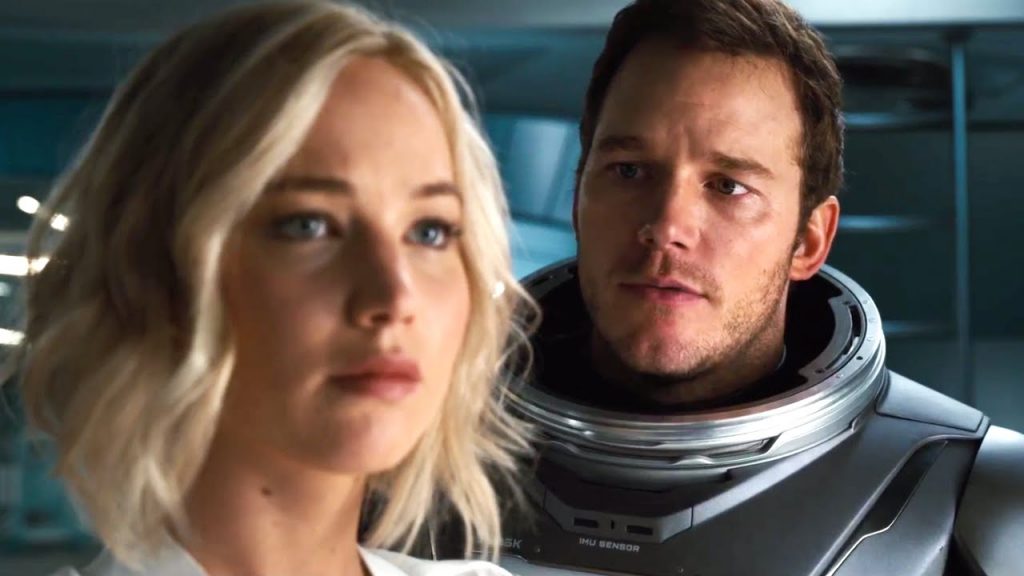 Luckily, there are still some really cool sci-fi action scenes. Even as Jim and Aurora charm their way with their #realtionshipgoals worthy presence, there's enough room for some suspense and explosions as the ship slowly falls apart and our heroes attempt to fix what's going wrong. Though it probably won't be held as a classic work of science fiction there are some noteworthy scenes of imaginative futuristic technology. Look out for Jennifer Lawrence trying to escape a swimming pool amount of water in zero gravity that is literally a breathtaking moment. Passengers may not have the best story but the acting and amazing visuals make up for that. The narrative and characters are interesting enough to keep audience's eyes on the screen but it might be the final sluggish 30 minutes or so that could lead to some restless moving in cinema seats. There are some interesting cameos, that are better left unsaid, that will no doubt peak some interest when you're finally sick of watching the same two characters. Just be prepared to watch a sci-fi movie where the science fiction is secondary to the romance. Basically all the cool technology and gadgets are just a backdrop to this sappy love story. For Tyldum, who's directed better works such as the Oscar nominated The Imitation Games, this won't be remembered as one of the director's greatest achievements but as my friend Warren would say, "It's not a bad movie, it's not a good movie but is a movie".
Summary: Passengers may not have the best story but the acting and amazing visuals make up for that.