Uncategorized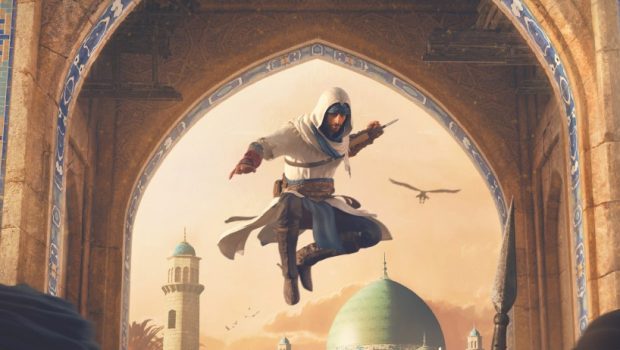 Published on September 30th, 2023 | by Adrian Gunning
PARKOUR INTO THE WORLD OF UBISOFT'S NEWEST ASSASSIN'S CREED ADVENTURE WITH "THE ART OF ASSASSIN'S CREED MIRAGE"
A collection of Brotherhood secrets awaits in The Art of Assassin's Creed® Mirage, coming soon from Dark Horse Books and Ubisoft! The latest entry into Ubisoft's hit Assassin's Creed saga, Assassin's Creed Mirage takes players on an exciting new journey through the Middle East as it explores the origins of The Brotherhood. Filled with gorgeous art and insightful commentary, this hardcover artbook dives deep into the development of the ever-expanding world of Assassin's Creed. The Art of Assassin's Creed Mirage will be released in a standard edition tome, as well as a Deluxe Edition that contains exclusive features including a beautifully designed slipcase and a gallery-quality lithograph.
This masterfully designed oversized hardcover art book invites the reader on a visual journey through the world of Assassin's Creed Mirage—a world defined by the dense and vibrant city of ninth century Baghdad, rich with fascinating characters and unique places.
Featuring iconic artwork ranging from stunning settings to dazzling weapons, this volume offers an insider's look at the "back to the roots" focus of this very unique game in the Assassin's Creed franchise.
Ubisoft and Dark Horse Books offer this enticing collection of art and commentary that is sure to attract returning fans and newcomers alike.
"Dark Horse is thrilled to continue our partnership with Ubisoft," said the book's editor, Ian Tucker. "Assassin's Creed Mirage is an amazing way to re-experience the iconic core Assassin's Creed gameplay, and our accompanying art book is a testament to the development team's love for their craft."
The Art of Assassin's Creed Mirage standard hardcover and Deluxe Edition will arrive in bookstores April 9, 2024 and comic book stores April 10, 2024. The oversized art book, measuring at 9 x 12", is available for pre-order now on Amazon, Barnes and Noble, and at your local comic book shop and bookstore and will retail for $49.99 for the Standard and $99.99 for the Deluxe.