Games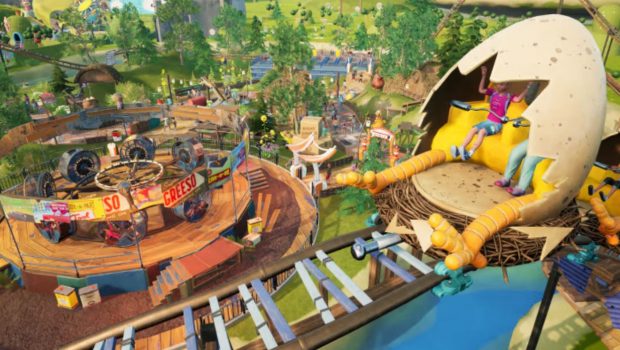 Published on November 17th, 2023 | by Adrian Gunning
PARK BEYOND WELCOMES CHICKEN RUN: DAWN OF THE NUGGET AS A DLC ON DECEMBER 15TH
Publisher Bandai Namco Europe has partnered with Academy Award®-winning animation studio, Aardman to bring Chicken Run to Park Beyond on December 15th. The Chicken Run: Dawn of the Nugget Theme World release will coincide with the global Netflix release of the movie on the same day.
Celebrating the release of the movie, this DLC will bring two new feathery entertainers, quirky coaster cars and modules as well as two new fun flat rides for visitors to have a clucking good time. Players shouldn't put all their eggs in the same basket: a great amusement park has diverse themes all around, and the Chicken Run: Dawn of the Nugget Theme World will add hundreds of new scenery items to create a whole new countryside atmosphere.
Chicken Run: Dawn of the Nugget Theme World will be available for purchase on December 15th for PlayStation 5, Xbox Series X|S and PC. Every Park Beyond player will still get a piece of the fun with a free Chicken Run: Dawn of the Nugget skin for the Shinning Pendulum flat ride added through an update.
"We are happy to collaborate with Aardman to bring their fantastic Chicken Run IP to Park Beyond, as it fits so well with the atmosphere of the game. Since the launch, we have kept working to make the game a better experience as well as adding exciting content." said Stephan Winter from Limbic Entertainment, "We are seeing the community respond positively to the direction we are heading in and trust Chicken Run: Dawn of the Nugget Theme World will inspire player's creativity."
Finally, as a thank-you from the studio to the early adopters of the game, while this DLC is not part of the annual pass, players who pre-ordered Park Beyond as a Standard or Deluxe edition, digital or physical, will be able to claim this DLC for free when it launches. The process to redeem the DLC will be shared on Bandai Namco Europe and Park Beyond's social media channels.
For more information about Park Beyond and other titles from Bandai Namco Europe please visit: https://www.bandainamcoent.eu or follow us on Facebook at https://www.facebook.com/BandaiNamcoEU. Join the conversation on Twitter at https://www.twitter.com/BandaiNamcoEU.