Films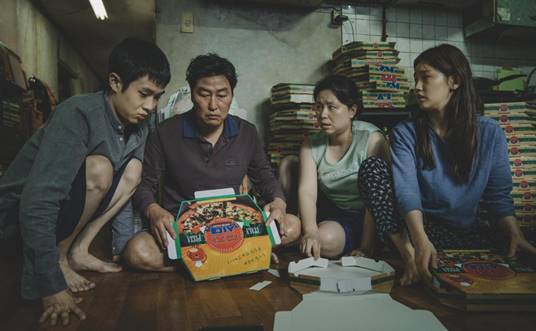 Published on July 3rd, 2019 | by Damien Straker
Parasite (Gisaengchung) – Film Review
Reviewed by Damien Straker on the 3rd of July 2019
Madman presents a film by Bong Joon-ho
Produced by Bong Joon-ho, Kwak Sin-ae, and Jang Young-hwan
Written by Bong Joon-ho and Han Jin-won
Starring Kang-ho Song, Hye-jin Jang, Woo-sik Choi, Seo-Joon Park, Jung Ziso, Yeo-jeong Jo, Sun-kyun Lee, Jeong-eun Lee, and Jung Hyeon-jun
Music by Jung Jae-il
Cinematography Hong Kyung-pyo
Edited by Yang Jin-mo
Rating: MA15+
Running Time: 131 minutes
Release Date: the 27th of June 2019
South Korean filmmaker Bong Joon-ho (Snowpiercer, 2013, and Okja, 2017) has asked reviewers not to spoil the plot of his black comedy Parasite. Revealing its secrets would be a mistake because the film needs to be seen to be believed. It is a film brimming with surprises, including fluid shifts between genres and tones, and then it builds to exciting twists in its story. It is also a satire of cultural warfare that takes aim at two different extremes of South Korea's class structure. Most interestingly, it is incredibly funny throughout its briskly paced running time. It is surprising, humorous, completely disturbing, and a thoroughly entertaining addition to this golden age of Asian cinema.
The film is set in modern day South Korea and focuses on an impoverished family. The father, Ki-taek (Kang-ho Song), had a small business that failed and now his wife, Chung-sook (Hye-jin Jang), and his son, Ki-woo (Woo-sik Choi), are also unemployed. Ki-woo is asked by his friend (Seo-Joon Park), a college student, to tutor a schoolgirl, Da-hye (Jung Ziso), because he would like to shield her from his peers while he is away. Ki-woo agrees and then forges his qualifications and documents to posture as a successful teacher. Da-hye's wealthy family includes her mother, Yeon-kyo (Yeo-jeong Jo), father, Mr. Park (Sun-kyun Lee), who is the head of a tech company, her resilient housekeeper, Moon-gwang (Jeong-eun Lee), and her little brother, Da-song (Jung Hyeon-jun). Yeon-kyo believes Da-song is an artistic genius, which leads to Ki-woo's sister, Ki-jung (So-dam Park), being hired as an art therapist in the Park household too.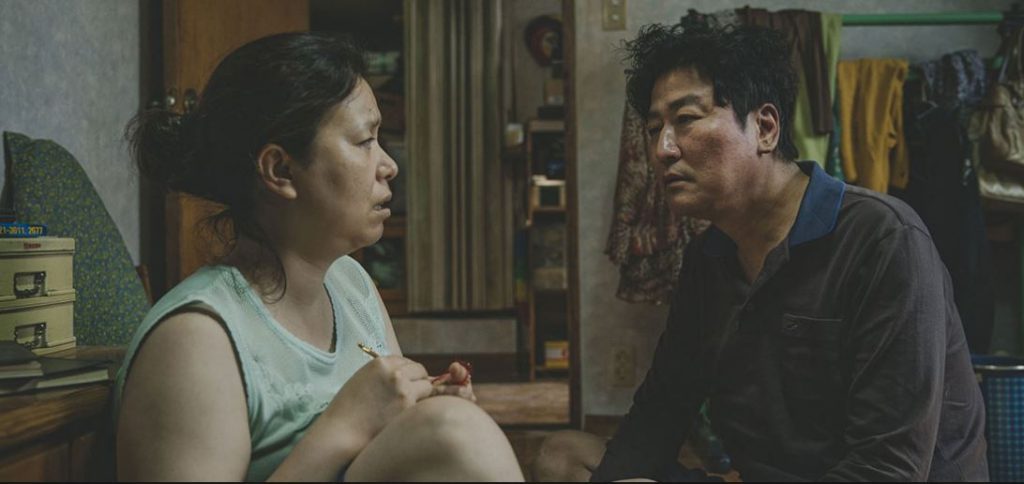 While the plot will remain undisclosed, it is important to discuss the visual design. It is handsomely photographed by Kyung-pyo Hong who was the cinematographer of another excellent Korean film, Burning (2019). Several narrow roads resemble the streets and winding laneways from that tense thriller. They reflect the limited opportunities that impoverished people can undertake in South Korea. Similarly, Ki-woo's family lives in a terribly confined space that at one point is flooded by water. A high-angle shot shows a character floating across the body of a flooded street. In another scene, Ki-woo and Ki-jung huddle in the corner of their home to capture the fleeting WiFi signal. The images and narrow spatiality underline the economic displacement and uncertainty of the characters' lives.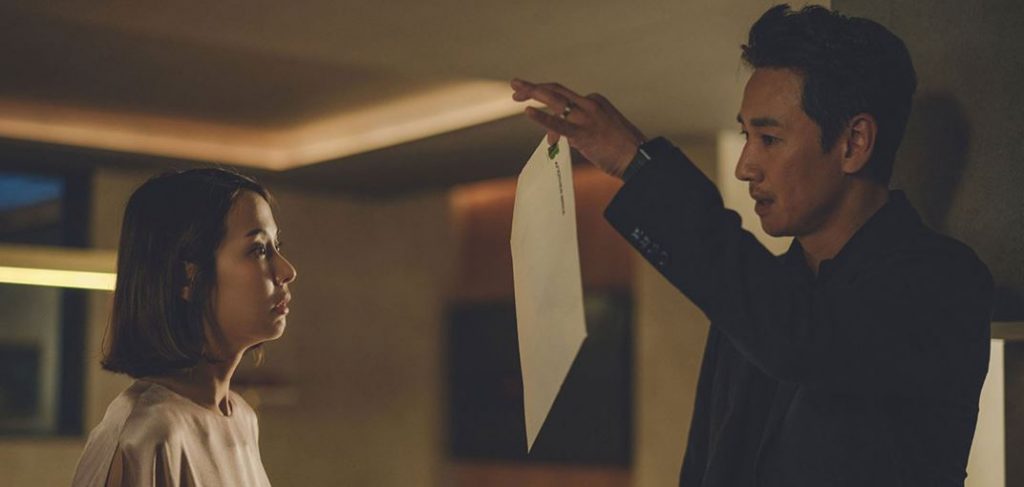 The design of the Park house is significant in creating a compelling chamber piece. The house consists of stone and glass textures and there are wide open spaces and narrow passages. The contrasting textures reflect the clash of history with the modern architecture. The film's production designer, Lee Ha Jun, also highlighted the necessity for the characters to be visible to the audience but hidden from others at crucial story moments. The visibility is imperative in building suspense and humour during the middle act, and the visuals enhance the story's thematic goals. The glass panes are a barrier to the outside world that shield the Park family from life's uncertainty. This is apparent when seeing the rain pelt down on the grass outside. The image reflects how sheltered the wealthy are from the outside world and echoes a strong coda about how the most carefully engineered plans in life can falter regardless of one's economic status.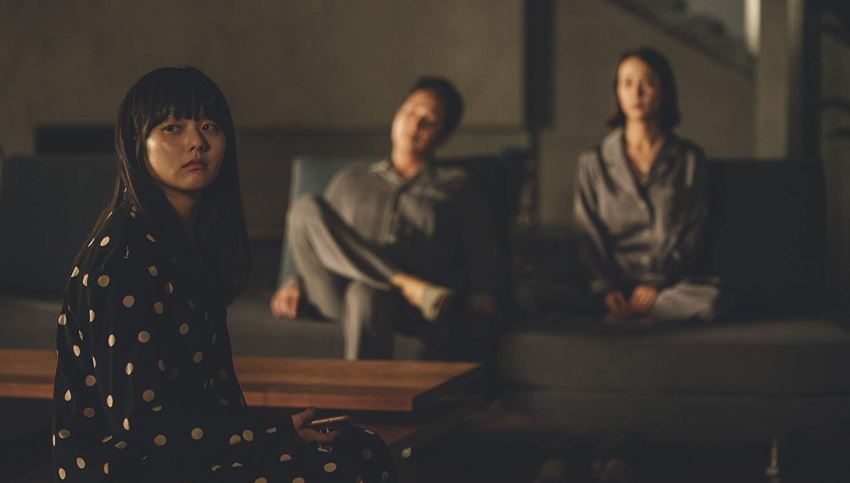 It is unique how Parasite's story constantly changes within the contained space of the Park house. The film starts as a black comedy where hilarious scenes mine the dramatic irony of the audience seeing something unknown to the Parks. What happens through the clashing class dynamics is comparable to the super pig in Okja storming through the shopping centre. It dramatises the challenge of the status quo and upper class. However, the film continues to evolve. It becomes infinitely more complex than a prank or a scheme. Its dramatic question is whether two classes can co-exist. The exploration of this through-line is original and unexpected, and then deeply disturbing. It seesaws between a dark comedy, a game of hide and seek, and finally a nail-biting psychological suspense thriller.
The performances between the families are strong courtesy of the charismatic ensemble. The main family evoke their scheming, plotting side without sacrificing our sympathy for their economic struggle. As a dramatisation of envy, Parasite is like Burning where unemployment pushes people into desperate actions. The Park family are gullible but display a much darker side too. There are scenes where they complain about the foul smell of people who belong to a lower class than them. Okja explored the craziness shared by animal rights activists and corporations, and Parasite is equally balanced. The controlling idea is that greed and envy are ingrained in human nature. People are prone to wanting what others have because they believe it will elevate their personal and economic well-being. Conversely, the wealthier someone is the more insulated and intolerant of others they become.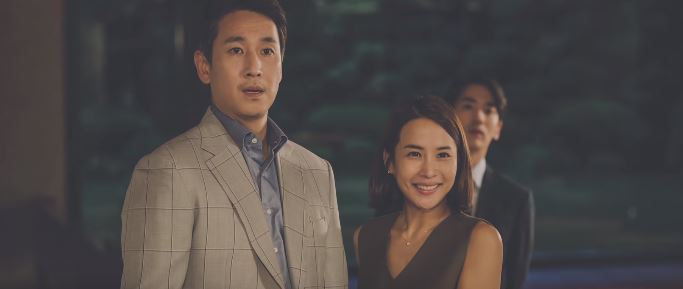 Parasite is a highly original and suspenseful film that benefits from fluid exploration of styles and genres. It is hilarious due to the elegantly crafted setup that combines absurdist comedy with class struggles and suspense. If there is one shortcoming it would be that on a first viewing the characters work better collectively rather than as uniquely constructed individuals. Burning was a longer film and offered a deeper exploration of its major players. Nonetheless, this story remains thoroughly entertaining and brims with interesting political and psychological ideas. The faster people see it, the less likely it will be spoiled for them. It is important for the plot to remain unknown because this is a rare film where it is impossible to predict what really lies deep in the shadows and in the depths of the characters' subconscious.
Summary: It is surprising, humorous, completely disturbing, and a thoroughly entertaining addition to this golden age of Asian cinema.