Blu-ray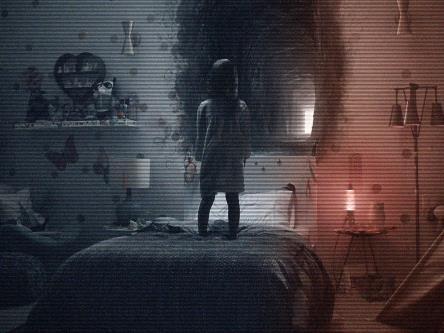 Published on October 15th, 2015 | by Admin
Paranormal Activity: Everything You Need to Know
The Paranormal Activity films have set the bar for spine-chilling horrors that focus on the unseen. They've blown out the box office and created a cult following for bringing fear out of graveyards and dungeons and right into your bedroom. You'll be kicking yourself this October if you miss out on watching the final Paranormal Activity film in terrifying 3D just because you missed one film. Save yourself the worry and catch-up quick with our guide to Paranormal Activity. We'll take you through the characters, let you know who Toby is, the timelines and the intertwining stories in time for you to see Paranormal Activity: The Ghost Dimension 3D in cinemas on October 22.
Paranormal Activity (2009)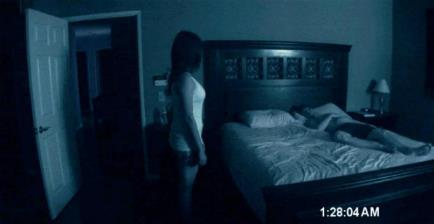 Paranormal Activity is set in September and October of 2006 and follows couple Katie (Featherston) and Micah (Sloat) as they move into a new house and experience an evil presence. Katie has had this presence following her since she was young, so to catch any strange happenings Micah sets up a camera in the bedroom. The camera catches some low-level, strange phenomena and, being the great boyfriend he is, Micah laughs it off and chooses to taunt the possible demon instead of fearing it. This leads to Katie falling into a catatonic state while sleeping and stands next to the bed watching Micah sleep for hours on end (which is eerie AF). They do all of the things that you should never do in a horror film: buy a Ouija board, disregard the advice of a psychic, burn a crucifix and stay in the house. As the demon takes further control of Katie, she murders Micah in true PA style, unseen and away from the camera, and then disappears.
Short Version: Katie is possessed by Toby and is led on a mission in a catatonic state to kill her family and find the first born son in her family.
Summary: Micah = Dead | Katie = Possessed & Missing
Paranormal Activity 2 (2010)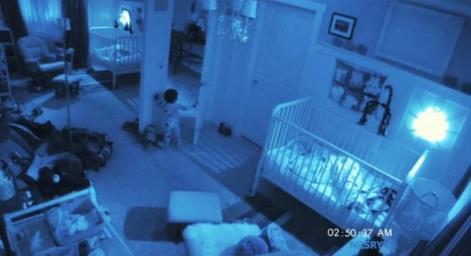 Paranormal Activity 2 is a prequel to the first and introduces us to Katie's sister, Kristi (Sprague Grayden), and her husband, Dan (Brian Boland). They have an infant son, Hunter, and Dan has a teenage daughter from a previous marriage, Ali (Molly Ephraim). There is a break-in at the family home and, worried for his loved ones, Dan installs security cameras around the home. Ali begins to experience small-time paranormal activity and is pretty switched on about it; she starts investigating deals with demons for first born sons (AKA Hunter). There are two main attacks which spark terror for the family, one with Abby the dog and Kristi who's dragged into the basement and messed around. Still sleuthing for answers, Ali shows footage to of Kristi's attack to Dan, who exorcises the house and agrees to have the curse passed on to Katie.
That night, Kristi attacks Dan as the lights go out, Dan then tracks Kristi and Hunter to the basement, where he touches her with a crucifix. The ground rumbles and shakes and demonic roars are heard until, finally, all of the activity stops. A few weeks later, Katie visits Kristi and tells her that some strange things have started happening in her house (gotcha!). Katie returns home and finds that Micah has bought a new video camera, which takes us into the events of the first "Paranormal Activity." The epilogue features a possessed Katie, her shirt bloodied after killing Micah, entering Kristi's house, where she murders both Kristi and Dan and kidnaps Hunter (bam!).
Short Version: Toby comes to claim Hunter as the first born son but Kristi's partner Dan passes the curse onto Katie and complicates matters. Katie then becomes possessed and must kill Kristi's family to kidnap Hunter.
Summary: Micah = Still Dead | Kristi = Dead | Dan = Dead | Ali = Alive | Hunter = Missing | Katie = Possessed & Missing
Paranormal Activity 3 (2011)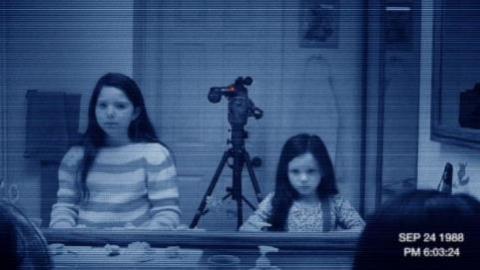 Paranormal Activity 3 goes full prequel and tells the tale of Katie (Chloe Csengery) and Kristi (Jessica Tyler Brown) as kids circa 1988. They live with their mother, Julie (Lauren Bittner), and her boyfriend, Dennis (Chris Smith). Kristi has an 'imaginary' friend Toby (piecing it together now?) who she talks to as paranormal occurrences begin to happen in the home. One instance is when filming an actual sex tape (they existed pre-Kim K?), Julie and Chris are interrupted by an earthquake and when watching the footage back, see a figure in the room. Dennis' friend Randy suggests putting cameras up around the house – and so it begins. Demonic witch symbols, ghost shenanigans and Bloody Mary games ensue and freak everyone out, but not enough to leave the house. Things get real when Katie is locked in the closet by an unseen force until Kristi does Toby's bidding and they all visit Grandma.
We then learn that Grandma Lois is a part of a witch's coven who made a mysterious pact with Toby. The film sparks rumours throughout about witches that curse women of child bearing age into having sons. Julie and Dennis are killed by unseen forces, in true PA style, as Dennis' body is contorted backwards until his back breaks. The girls are last seen with Lois as Kristi calls out to Toby to join them.
Short Version: Children Katie and Kristi are recruited by their witch grandma and cursed in order to produce male offspring for Toby's army.
Summary: Dennis = Dead | Julie = Dead | Lois = Alive | Kristi = Alive | Katie = Alive
Paranormal Activity 4 (2012)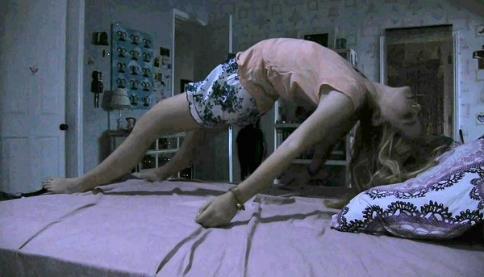 Paranormal Activity 4 is set five years after Katie's disappearance and follows a new family: mother Holly (Alexondra Lee), father Doug (Steven Dunham), their young son Wyatt (Aiden Lovecamp), teenage daughter Alex (Katherine Newton), and her boyfriend Ben (Matt Shively). A strange boy, Robbie (Brady Allen), has moved in across the street and they take him in after his mother goes to hospital. Ben and Alex use their computers' video camera to speak to each other, as teens do, and after seeing some strange happenings, set up cameras and computers around the house to watch Robbie.
The cameras capture some weird stuff, Wyatt yelling into his closet that his name is 'Wyatt' and not 'Hunter' and Robbie drawing symbols on Wyatt's. One day Robbie and Wyatt run away to Robbie's house and Alex follows behind them only to meet Robbie's mother. Although she doesn't seem ill and… she's Katie. Katie informs Wyatt that he's adopted and his name is really Hunter, and begins to shows up around Alex's house in true creepy style. Ready for the gore? Holly enters the house one day while Katie is slinking around, only to be lifted up by an unseen force and dropped to the ground, dead. Ben tries to find Alex and goes through her camera, only to have Katie come up behind him and snap his neck. Doug gets thrown around and disappears. Alex, truly freaked out by this point, sees this then gets chased by demon Katie. She flees to the backyard and sees Wyatt/Hunter being approached by a hoard of witches.
Short version: American teenager Alex finds out that her brother Wyatt is actually adopted 'Hunter' and her family meets a grisly end by their mysterious neighbours, Katie and Robbie. It becomes clearer that a coven of witches will not stop until they have the first born son of cursed families.
Summary: Alex = Presumed Dead | Ben = Dead | Holly = Dead | Doug = Presumed dead | Robbie = Unknown | Wyatt/Hunter = Unknown | Katie = Possessed
Paranormal Activity: The Ghost Dimension 3D (2015)
For the first time, see the unseen in Paranormal Activity: The Ghost Dimension – the horrifying conclusion to the Paranormal Activity films.