Comics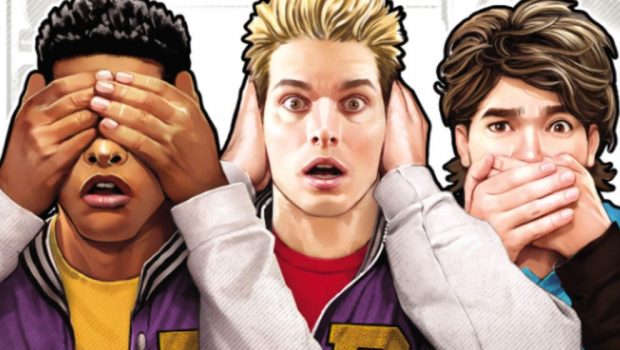 Published on October 26th, 2019 | by Adrian Gunning
Paramount Pictures Options Acclaimed Graphic Novel PLANET OF THE NERDS!
Paramount Players, a division of Paramount Pictures, has acquired the film rights to adapt the acclaimed graphic novel PLANET OF THE NERDS written by Paul Constant and illustrated by Alan Robinson, Randy Elliott and colorist Felipe Sobreiro. In PLANET OF THE NERDS, three high school jocks in the 1980s are accidentally frozen by an experimental cryogenics device, only to be revived almost 40 years later. They awake in today's computer-driven, superhero movie-loving world— in an era ruled by nerds.
PLANET OF THE NERDS is on sale in comic shops now and will be available at bookstores on Tuesday, October 29 from AHOY Comics, featuring a cover by David Nakayama and an introduction by Jeopardy! champion Ken Jennings.
The deal was brokered by Angela Cheng Caplan of Cheng Caplan Company, Inc.
AHOY Comics is led by Publisher Hart Seely, an award-winning reporter whose humor and satire has appeared in The New York Times and on National Public Radio; Editor-in-Chief Tom Peyer, a veteran of DC Comics' Vertigo imprint; Stuart Moore, Director of Ops; and Chief Creative Officer Frank Cammuso. Since its debut in September of 2018, AHOY Comics has pledged for readers to "expect more" from its line of comic book magazines and graphic novels with full length comic book stories, accompanied by "extras" including short prose fiction, the occasional recipes, and even a crossword puzzle.
What Critics Are Saying About PLANET OF THE NERDS:
"PLANET OF THE NERDS #1 captures the goofy joy of 80s classics like Revenge of the Nerds, Back To The Future, and Real Genius. Then, with the most elegant of plot twists, it updates the story for a different age. Smart, fast paced and beautifully drawn."—Gene Ha (Mae)
"Highly satisfying…. (with) sharp writing from Constant and well-executed art from Robinson and Elliott, plus spectacular coloring from Sobreiro."— COMICS BEAT
The art team of Alan Robinson and Randy Elliott (with covers by David Nakayama) have plenty of fun with scenes keyed to 1980s popcorn classics."—DEADLINE HOLLYWOOD
"We all know that nerds won the great nerd/jock battle of the 80s, but what if a bunch of Jocks were frozen in time and emerged not knowing the war was over? That's the question Planet of the Nerds asks, and the answer is, ironically, delightfully nerdy nerdy fun."—Arthur Wyatt, (Judge Dredd)
"Clever and profound."—io9
"The art by Robinson and the colors by Sobreiro conspire to provide just the right retro look reminiscent of the work of Ed Piskor."—COMICS GRINDER
"Amazing writing and stunning interior artwork."— READING WITH A FLIGHT RING
"This is a really good bit."— Daniel Kibblesmith (Santa's Husband)
"Paul Constant's writing is witty and insightful."—POP CULTURE SQUAD