Games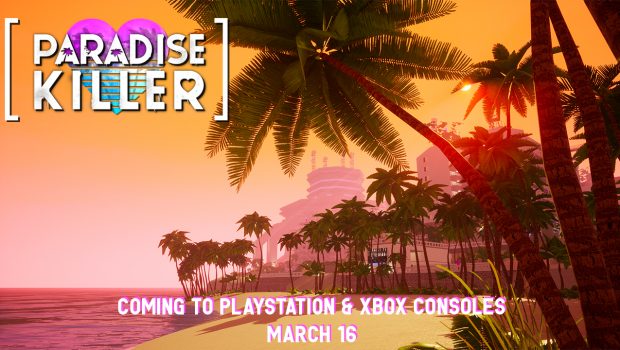 Published on March 5th, 2022 | by Adrian Gunning
Paradise Killer breathes life into the next generation
Today, indie publisher Fellow Traveller and developer Kaizen Game Works revealed the breakout indie hit Paradise Killer will be arriving on Xbox (coming soon) and PlayStation® consoles on March 16, 2022.
The Xbox Series X|S and PlayStation®5 (PS5™) versions will see the detective adventure expanded and improved with a suite of current-gen console feature support including 4K60, ray tracing, super-fast loading, Xbox Smart Delivery, haptics and a 'day/night' lightbar cycle for the PS5's DualSense™ Wireless controller, and much more. The game will also be available for Xbox One and PlayStation®4 (PS4™).
All available versions of Paradise Killer, including the PC and Switch versions released in 2020, will also feature brand-new content which includes new music, mysterious new beings, quests, rewards, collectables, and Steam achievements for PC players, as well as general performance enhancements. Alongside this exciting new content, the game will release on the Epic Games Store for the first time.
Kaizen Game Works will also release a new compilation album alongside the game on March 16. Entitled "About That… Paradise Killer B-Sides" the album will feature new tracks composed by Barry "Epoch" Topping which will be featured in the new version of the game*, vocal arrangements, remixes and bonus tracks.
The full track listing is as follows:
Moonrise Rapture
About That…
Unlimited∞Luv
Misunderstand
To The Heart [Vocal Version]
House of Bliss [Vocal Version]
08:00 ~ Another Last Day
Leaving [Piano Arr.]
Lady Blue [MEEBEE & Okumura. Remix]
Christmas With U
About That… [Instrumental]
Paradise (Stay Forever) [Instrumental]
*Not all tracks on the compilation album are included in the new update.
Originally released in September 2020 for PC and Switch, Paradise Killer received overwhelmingly positive critical acclaim for its vibrant open-world, rich lore, striking vaporwave aesthetic, stellar soundtrack and unique non-linear gameplay.
An open-world murder mystery, Paradise Killer takes place on the sun-drenched, dream-like world of Paradise Island, where, on the eve of the island's rebirth as Perfect 25, "investigation freak" Lady Love Dies has been summoned from exile to solve the crime to end all crimes; the sinister murder of the island's council.
On an island full of bizarre characters, immortal worshippers of dead alien gods and dark conspiracies, how will you navigate the rich world of Paradise Killer to uncover the elusive truth?