Blu-ray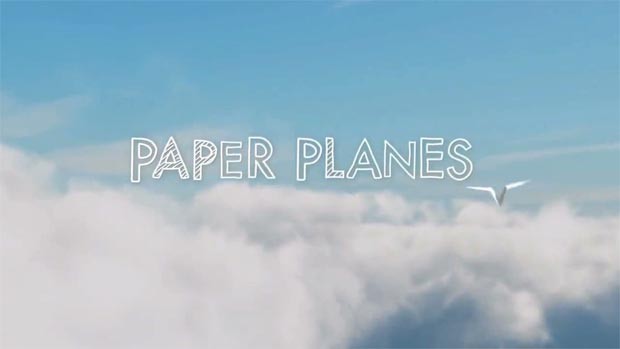 Published on June 8th, 2015 | by admin
Paper Planes Blu-ray Review
Summary: If you look past all the corniness, Paper Planes makes for a satisfactory viewing
Is it a paper bird? Is it a paper plane? Is it a… Well, yes, actually, it is – it's a paper plane. Australian director Robert Connolly (Three Dollars, Balibo) has managed to achieve what no Liberal Party politician of late has done – lived up to his word. According to his Twitter bio, Connolly had promised his kids four years ago that he'd "make a film for them." And now it's finally here for all families to enjoy during these mozzie-infested summer holidays.
Paper Planes tells the story of Dylan (Ed Oxenbould – Alexander and the Terrible, Horrible, No Good, Very Bad Day), an ambitious boy stuck in a sleepy rural town. However, his dreams are fulfilled when he gets the chance to travel afar and abroad – to Sydney and Tokyo – after qualifying in a paper planes competition. Sounds like a typically whimsical/absurd Aussie movie plot, eh? Well, nowhere as odd as that suburban man flying in a deckchair powered by helium-balloons. That's Danny Deckchair (2003) for all you readers giving me blank stares.
As you'd expect, for every quirky plot, there's a high degree of corniness – even for children. In this golden age of technology, where kids are playing violent games on their iPads and tweens are twerking to Miley Cyrus, the nouveau youth have a much stronger sense of self and reality than their predecessors. Consequently, when on-screen versions of themselves start to unanimously boo or cheer as per screenplay, these dot-com spectators can smell the cheesy pretty quickly. They can already predict Dylan will win the competition (seriously, that's not a spoiler) and will most probably laugh at the ridiculously impossible CGI moments. Yes, Paper Planes a children's film but don't treat your demographic like toddlers.
Despite these issues, the film does have its merits. The central character is a resilient little battler, setting a solid example for other young'uns. Dylan has a fiery willingness to learn, coupled with an eagerness to improve upon his plane designs. Through his visual diary, we see him researching many things, such as the shape of butterfly wings and the types of paper humans have used across the centuries. And unlike Icarus (another young man obsessed with flight – stop giving me those blank stares), Dylan heeds his father's advice and incorporates the Winged Keel design that led to Australia II's victory in the 1983 America's Cup.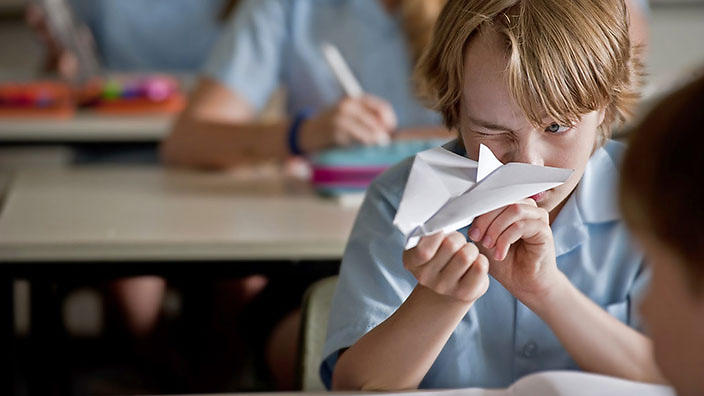 Now, the screenwriters must be praised for incorporating mature themes in Paper Planes. After the death of Dylan's mother, his father Jack (Sam Worthington) sinks into a deep depression, refusing to go to work, spending his days lying inert on the couch. The fact that this issue is dealt with constructively and appropriately should pose no problem for parents. Also, since this is a film based around a competition, themes of perseverance, sportsmanship and humility inevitably pop up. It's great to see these ideas being enacted because even some adults have trouble dealing with these – *cough* Bernard Tomic *cough*.
After the whole #OscarsSoWhite gaffe, where no coloured actors were nominated in the Academy's major categories, it's great to see some actual cultural diversity in Australian cinema. We see Ena Imai playing Dylan's female best friend, Kimi, as well as Deborah Mailman playing the competition's MC, Maureen. Rather, than being a passive love interest, Kimi is a Japanese paper planes champ herself, incorporating her gymnastic skills into her sport. Speaking of which, Maureen had also won her paper planes comp back in her day, with an unorthodox cylindrical aircraft. Not sure how realistic that is, but it's a strong symbol of victory via uniqueness.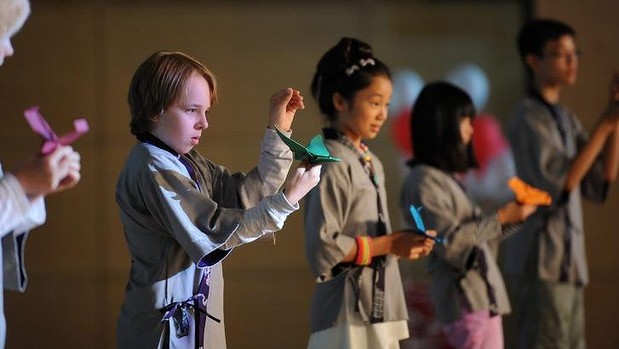 If you look past all the corniness, Paper Planes makes for a satisfactory viewing. The posse of grandmothers "bringing milkshakes to the yard" is guaranteed to bring out the biggest laughs. Ultimately, Paper Planes stands out prominently against the sea of other Australian kids' films – especially that one about that talking Labrador pup. Am I getting blank stares again? Napoleon, people! Napoleon!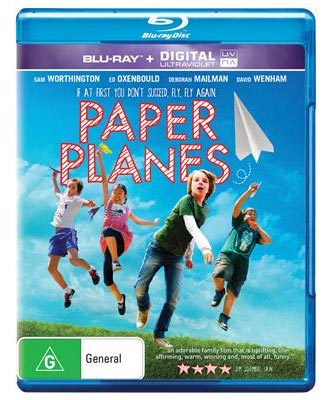 Blu-ray Details
Director – Robert Connolly
Actors – Ed Oxenbould/Sam Worthington/Deborah Mailman/Peter Rowsthorn/David Wenham/Nicholas Bakopoulos-Cooke
Film Genre – Australian Cinema
Label – Roadshow
Audio – English (DTS-HD 5.1)
Region Coding – B (Blu-Ray)
TV Standard – PAL
Rating – G
Year of Release – 2014
Primary Format – Movies/TV – Blu-Ray
Reviewer – Tony Phan