News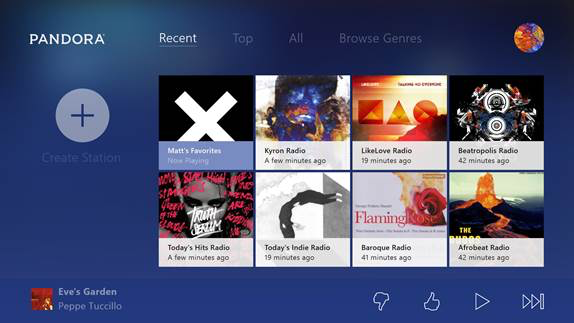 Published on February 25th, 2015 | by admin
Pandora Launches Xbox One Application in Australia and New Zealand
Pandora Internet Radio is available for download on Xbox One in Australia and New Zealand.
Pandora for Xbox One is a best-in-class application native to Xbox One and loaded with innovative new features. With a customized HTML5-based Pandora for TV interface, Pandora's mission to continue to be an effortless source of music for listeners has continued, even whilst gaming.
Taking advantage of all the functionality the platform has, Pandora on Xbox is a purpose built application to look and sound amazing on the big screen in your home.
With new display functions showing recently listened to stations and time spent on specific stations, as well as a persistent mini-player, which provides quick access to playback controls while browsing – Pandora's Xbox One application provides users with more ways to get their favourite music as quickly as possible.
Listeners can also interact with Pandora using Kinect Gestures and Voice Commands, and Xbox One listeners can Snap Pandora to the screen in order to simultaneously listen to Pandora and play a favourite game.
Jeremy Hinton, Business Group Lead for Interactive Entertainment at Microsoft Australia, said: "At Xbox we're committed to our vision of bringing the best entertainment features to the Xbox One. We're excited to add Pandora Internet Radio to the platform, a service dedicated to music discovery, giving our fans more choice than ever when it comes to streaming and discovering new music they love, in addition to watching and playing their favourite shows, movies and games."
Rick Gleave, director of business development, Pandora ANZ said of the new Pandora for Xbox One application:  "At Pandora our main aim is to provide audiences with the music they love, anytime, anywhere. Pandora's latest integration on Xbox One devices highlights how interconnected our home and lives have become.
With that said, gamers on Xbox One not only can continue to engage in a pastime they enjoy, but now thanks to the partnership with Pandora Internet Radio, users will have the ability to discover new music as well as curate their own personalised soundtrack on their gaming console, e.g. listen to 'The Raconteurs – Salute Your Solution' station whilst playing Call of Duty", Gleave concluded.