Games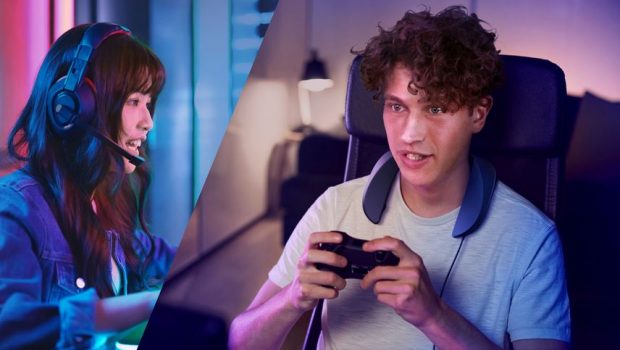 Published on April 12th, 2022 | by Admin
Panasonic unveils the next generation of immersive gaming with wearable surround sound speakers
Panasonic today announced the launch of its SoundSlayer Speaker (SC-GN01), an industry-first wearable gaming surround sound device. Designed for a range of gamers – from beginners to casual gamers, teenagers, families and up-and-coming eSports enthusiasts – the SoundSlayer is ergonomically positioned around the neck and shoulders to alleviate pressure on the ears and maximise comfort for longer hours of play.
The SoundSlayer delivers four-channel sound that comes from all directions, creating an immersive sound zone while leaving the user fully aware of their surroundings. The GN01 speaker replicates the natural and realistic sound quality of a speaker system, so users will feel as though they are immersed within the game.
Aaron Waters, Product Marketing Manager – Imaging & Technics at Panasonic Australia said: "We know more Australian gamers are searching for ways to immerse themselves in the fast-growing video gaming community which has never been more accessible, due to the rise of online gaming and vlogging on streaming platforms such as YouTube and Twitch."
"At the heart of every enjoyable video game experience is powerful and authentic sound and Panasonic is proud to support gamers with a rich audio experience and ultimate comfort via the SoundSlayer Speaker,"
Mr Waters said.
Panasonic has equipped the GN01 with a high-performance noise and echo cancelling dual microphone, to enhance multi-player compatibility. This allows users to chat with other players seamlessly and clearly without interference from the powerful sound of the speakers, while also helping parents to monitor their child's safety more closely – especially when playing in online forums.
A wired connection is offered with USB and AUX options, with a three-metre-long USB cable transmitting sound signals with low latency. Which enables sound signals to be transmitted without delay, further optimising the gaming experience.
It also offers three gaming modes which have been expertly created in partnership with the FINAL FANTASY® XIV Online sound team, allowing users to fully enjoy any style of gameplay. Switching between 'role-playing', 'first person shooter' and 'voice' modes, the three options push the boundaries of video gaming by creating an experience filled with intensity, tension and reality.
The SoundSlayer Speaker is available in Australian now via Amazon.com.au from RRP $329.
For more information visit https://www.panasonic.com/au/consumer/home-entertainment/gaming/sc-gn01e.html