Games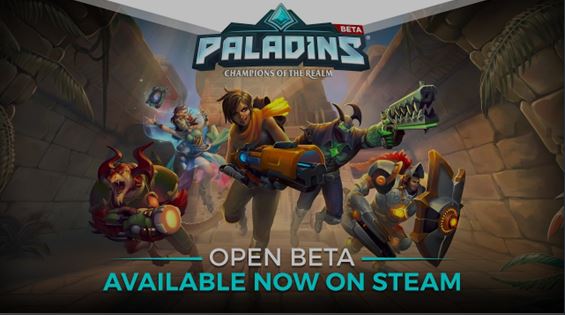 Published on September 19th, 2016 | by admin
PALADINS ENTERS OPEN BETA, AVAILABLE ON STEAM NOW
September 19, 2016 – Melbourne, AU – Paladins, the new team based shooter from Hi-Rez Studios, launches on steam today, officially transitioning to open beta. Initially unveiled in August of last year Paladins combines FPS gameplay with unique character customisation through collectible cards. Over the past few months Hi-Rez Studios has been working closely with the Paladins community to create something special and now invites everyone to experience Paladins' blend of fast paced shooter action, a diverse cast of champions and deep character customisation.
"Since the start of closed beta late last year we've been refining the core gameplay and the overall user experience", said Todd Harris, COO and co-founder of Hi-Rez Studios. "Paladins is a team shooter with a fantasy setting, a sense of humour, and a high degree of customisation and strategy. Paladins is now and always will be free-to-play and with our move to Open Beta anyone can download the game from the Paladins website or Steam. We look forward to continuing to shape and improve the game with an even larger community"
Some of the newest features of the Paladins Open Beta include a new user interface, new match lobby, 17 Champions, a third map ("Enchanted Forest"), a more robust in-match Item system, the ability to mix head, body, and weapon skins on each champion, and a new ranked Competitive queue with leaderboards. Paladins has been built from the ground up to support esports and features a robust spectator client. Hi-Rez Studios has plans to support the growing Paladins player base with servers in key locations across the Americas, Europe, Southeast Asia, and Australia.
The Paladins open beta on Steam is launching with Steam achievements, and Hi-Rez Studios also teamed up with Valve to offer players a special Team Fortress 2 Engineer skin for the Paladins character Barik. This skin can be unlocked by winning as the champion Barik 5 times through Steam.
Players interested in joining the Paladins open beta can download and play for free by visiting www.paladins.com or on Steam