Games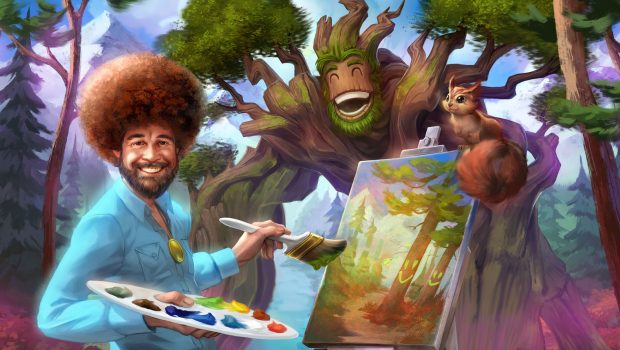 Published on May 11th, 2017 | by Admin
Painting Legend Bob Ross Joins The Gods Of SMITE
Twitch and Hi-Rez Studios have teamed up to create the happiest little accident in SMITE's history. Introducing the Bob Ross Sylvanus Bundle, starring – you guessed it – Bob Ross. This skin transforms the Roman god Sylvanus into Bob Ross' likeness complete with his own "happy little tree" and custom made watercolor ability effects.
"We've partnered with Twitch for special SMITE content in the past and this latest collaboration is something our dev team was really excited to work on," said Todd Harris, Co-founder and COO of Hi-Rez Studios. "The Joy of Painting inspired artists across the game industry and the Twitch livestreams introduced Bob to gamers worldwide. We're grateful to the Bob Ross estate and Twitch for enabling us to re-introduce and honor Bob Ross given the global Smite audience."
The Bob Ross Sylvanus bundle can be purchased in SMITE for 700 Gems or on Twitch Commerce for $9.99 USD. The bundle will include the Bob Ross Sylvanus skin, as well as a paint splatter jump stamp and painting loading frame. For a full breakdown of the bundle visit the the website at www.smitegame.com/bob-ross. You can also see Bob Ross Sylvanus in action in the "Joy of Ganking" video here.
For the latest updates on SMITE head to www.smitegame.com and follow the developers on Twitter @Smitegame.