Films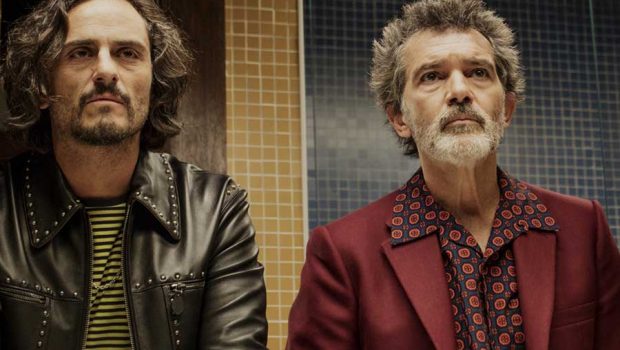 Published on November 19th, 2019 | by Damien Straker
Pain and Glory – Film Review
Reviewed by Damien Straker on the 19th of November 2019
Universal presents a film by Pedro Almodóvar
Produced by Agustín Almodóvar
Written by Pedro Almodóvar
Starring Antonio Banderas, Penélope Cruz, Asier Etxeandia, Leonardo Sbaraglia, Nora Navas, and Julieta Serrano
Music by Alberto Iglesias
Cinematography José Luis Alcaine
Edited by Teresa Font
Running Time: 113 minutes
Rating: MA15+
Release Date: the 7th of November 2019
Both Pedro Almodóvar and Martin Scorsese suffer from Catholic guilt. They were raised in Spain and the US, respectively, and their Catholic upbringing initially steered them towards the priesthood. While they wisely became filmmakers and masters of their craft, their separation from the religious upbringings remains central to their work. Many of Scorsese's films have explored the complex binary between men conflicted by their Italian heritage, including their faith, and their violent crimes.
Almodóvar, an openly gay man raised by his mother, has explored the difficulties of sexuality, strained family bonds, and Catholic education in his films. The creative liberties used to review these complex subjects were permitted by the cultural upheaval in Madrid in the 1980s. Almodóvar resided there early in his filmmaking career. The exploration of Catholic guilt resides throughout Pain and Glory. It is a film that benefits significantly from being less oppressive than Almodóvar most confronting features.
Pain employs transparent comparisons to Almodóvar's life and fictionalises key story details. Antonio Banderas channels Almodóvar by playing Salvador, a depressed filmmaker suffering from spinal issues and other physical traumas. His ailments make it impossible to be creatively inspired. His deterioration is also affected by being introduced to heroin. Almodóvar stated that despite the end of Spain's dictatorship he resisted drug use during the subsequent cultural revolution.
Salvador's addiction begins once he is reunited with Alberto (Asier Etxeandia). The men suffered a fallout years ago because Salvador disliked his performance in Sabor, a film they made together. They toy with the idea of revisiting Sabor and starting a new project if they can resolve their differences. Meanwhile, Pain intercuts with flashbacks to Salvador's childhood.
As a boy (Asier Flores), Salvador and his mother, Jacinta (Penelope Cruz), live a modest life in the countryside and move into a cave together. However, Salvador is distressed about venturing into the priesthood. He fears it will waste his gift of writing, which he explores by helping Eduardo (Cesar Vicente) with his literacy while he completes household chores. The story threads overlap as Salvador resolves the issues of his childhood and his guilt during the present day.
Almodóvar's deft stylistic choices evoke Salvador's trauma and personal resolutions. One example is the select use of primary colours. Almodóvar deliberately uses controlled placements of red throughout Salvador's apartment. The notable splashes of red suggest fleeting glimpses of inspiration within him that are unreachable. It also represents the repressed feelings of passion from the past that he still harbours.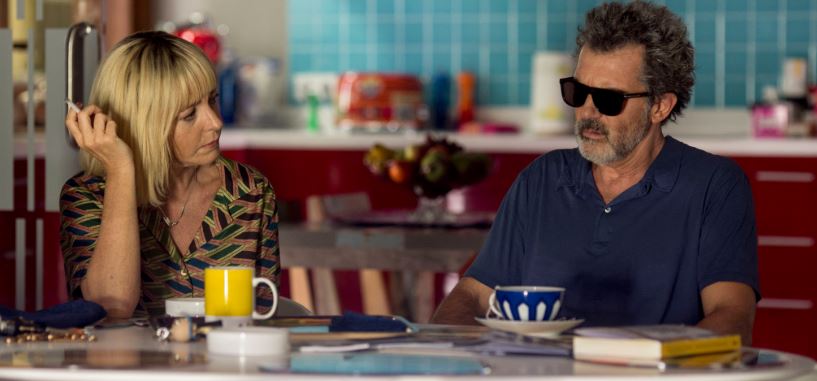 The juxtaposition of images further underlines Salvador's inner trauma. The film opens by cross-cutting between two timelines. As an adult, Salvador is photographed floating alone in a recovery pool. The blue palette reflects his melancholy and loneliness. The scene cuts away to a memory of Jacinta washing clothes in a river. The natural lighting and beauty of the riverbed infers the optimism of Salvador's childhood and love for his mother. The juxtaposition of the timelines inspires a third element: the need to resolve the past regrets that hinder his body and creativity as an adult.
Pain is further enriched by the symmetry drawn between real life and cinema. At one point, Salvador's voice over says that 'the cinema of my childhood smelt of piss, jasmine, and the summer breeze'. The dialogue's poetic language infers the differing fortunes of Salvador's life: the unpleasantness, the beauty, and unpredictability. The comparison is also echoed through the film's female characters.
Salvador says that as a child he longed to save the women of the screen, including Marilyn Monroe and Natalie Wood. The trauma is resolved through a clever resolution involving Salvador's mother and the preservation of her memory. Furthermore, Pain deliberately uses coincidences and organic shifts between different films genres, including a buddy comedy, a drug-crime movie, romance, family tragedy, and a hospital melodrama. The effect is that Salvador's life becomes increasingly intertwined with cinema, an idea realised by the film's conclusion.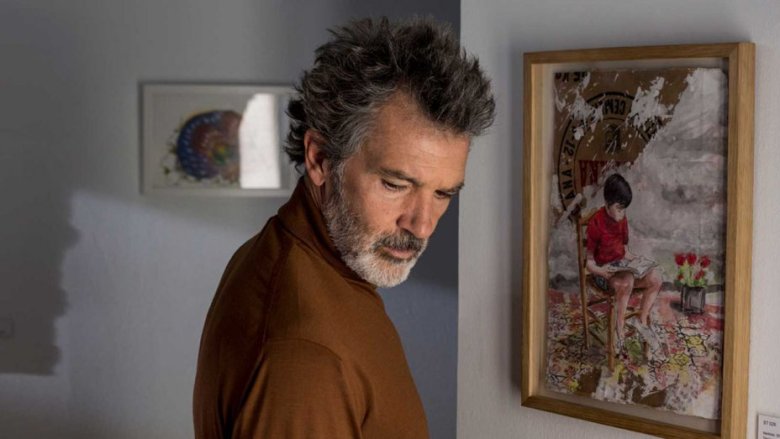 On a second viewing I had a stronger understanding of its subtleties and a greater appreciation for the performances. What further distinguishes Pain is that it is liberated from the brutality of some of Almodóvar's other films. For example, The Skin I Live In (2011) is effective and unsettling but its treatment is also overwhelming. Almodóvar's deft direction makes Pain effortless to watch. It explores conflicting moods and tones without lingering on difficult subjects, such as injury and drug addiction. The film's title aptly describes the balanced emotional registers it creates.
The performances are uniformly strong, including a career-best display by Antonio Banderas. Not only does he resemble Almodóvar and appears older and more dishevelled, he also thoroughly embodies Salvador's physically drained demeanour. Yet when his fortunes turn regarding his relationships he is reinvigorated by the love of others. The elation that Banderas shows when Salvador reunites with Federico (Leonardo Sbaraglia), a man he loved in Madrid, humanises the film's constantly shifting mood. It pleasantly demonstrates how Almodóvar subverts masculinity in Spanish culture.
There is a suitably charming performance by debut actor Asier Flores as the young Salvador and Nora Navas as Mercedes, Salvador's assistant, shows how affected she is by his wellbeing and his stories. Penelope Cruz underlines the strain and distress placed upon Jacinta when she is forced to live in a cave in the absence of Salvador's father. Asier Etxeandia brings passion, humour, and energy to Alberto who must forgive Salvador for past grievances and artfully partake in a new promising role. The cast and the direction, particularly the shifting moods, make the film worth several viewings.
Summary: The cast and the direction, particularly the shifting moods, make the film worth several viewings.