Comics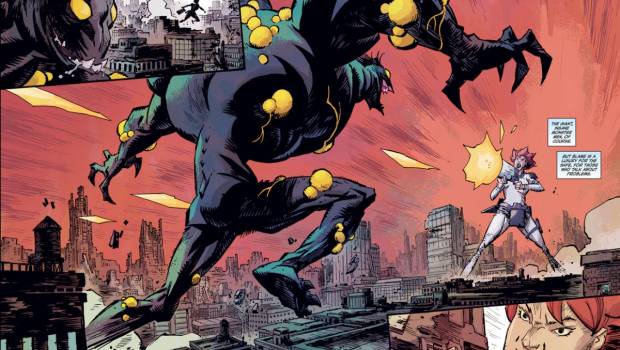 Published on May 24th, 2020 | by Adrian Gunning
PACIFIC RIM MEETS PAPER GIRLS IN NEW ACTION SERIES BIG GIRLS LAUNCHING IN AUGUST
Critically acclaimed artist Jason Howard (Trees) takes full creative control as the writer and artist of the forthcoming action series Big Girls. This new ongoing comic book series will launch from Image Comics in August.
When men become giant monsters hellbent on destroying the world, only girls can stop them—Big Girls. Meet Ember—she writes poetry, loves to read, and she's a 300-foot-tall full-time monster killer! She and the other big girls are all that stand in the way of our world's complete annihilation!
In an exclusive scoop on the Big Girls announcement with The Hollywood Reporter, Howard said of the series: "[this is] the perfect comic for both the dynamic sci-fi I like to draw and for my writer side to examine questions of power, inequality and the complexity of growing up."
Featuring the fast-paced action—similar to such films as John Wick and series like Paper Girls—and the bigger than life characters of Godzilla and Pacific Rim, this series is set to be a Summer hit readers won't want to miss.
Big Girls #1 (Diamond Code JUN200012) will be available at comic book shops on Wednesday, August 12.
Big Girls #1 will also be available for purchase across many digital platforms, including the official Image Comics iOS app, Amazon Kindle, Apple Books, comiXology, and Google Play.