Games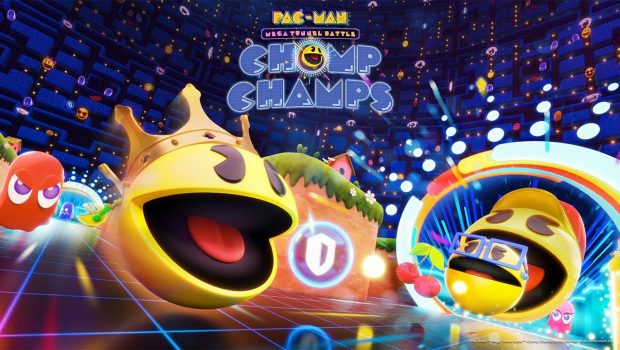 Published on October 11th, 2023 | by Adrian Gunning
PAC-MAN™ MEGA TUNNEL BATTLE: CHOMP CHAMPS BRINGS MULTIPLAYER COMPETITIVE EATING TO CONSOLES AND PC
Video game publisher and developer Bandai Namco Europe S.A.S. today announced PAC-MAN MEGA TUNNEL BATTLE: CHOMP CHAMPS, bringing the multiplayer PAC-MAN Battle Royale series to modern game platforms with enhanced visuals, new game play modes, a host of customization options, and new music. The game also promises to level up the competition with cross-platform play that allows up to 64-players competing and adds custom matchmaking with a Friend system, ranked mode, and global leaderboards. PAC-MAN MEGA TUNNEL BATTLE: CHOMP CHAMPS is devouring its way to Nintendo Switch, PlayStation®5, PlayStation®4, Xbox Series X | S, and PC via Steam®.
Watch the Trailer – https://youtu.be/kTQ9aS5bWY4
PAC-MAN MEGA TUNNEL BATTLE: CHOMP CHAMPS brings a lot of variety and features that make playing its uniquely PAC-MAN take on Battle Royale even more fun. In the game, players must eat their way through multiple interconnected mazes to become the Chomp Champ – a.k.a. the last PAC standing at the end of each match. Gain the upper hand on other players or turn the tables against Ghosts by utilizing a variety of Power Items which give PAC-MAN shields, enhanced speed and more. Players can also sabotage their competition by using Power Items that help the Ghosts. Not only will they be able to chomp through PAC-MAN's regular diet of dots and the occasional fruit, but they can also chomp through other player-controlled PAC-MAN characters. Additionally, players can assert their own unique style by personalizing their PAC with a fun variety of body, head, and face cosmetics.
For those who enjoy healthy competition, PAC-MAN MEGA TUNNEL BATTLE: CHOMP CHAMPS lets players compete in Ranked or Elimination modes, or spectate matches either regionally or from the global leaderboard. The 64-player Battle Royale game is further enhanced with cross-platform play and skill-based matchmaking, broadening the field for competition while also letting players choose who they want to compete against.
For more information on PAC-MAN MEGA TUNNEL BATTLE: CHOMP CHAMPS and other products from Bandai Namco Europe please visit: www.bandainamcoent.eu. Join the conversation on X at: https://twitter.com/officialpacman