Games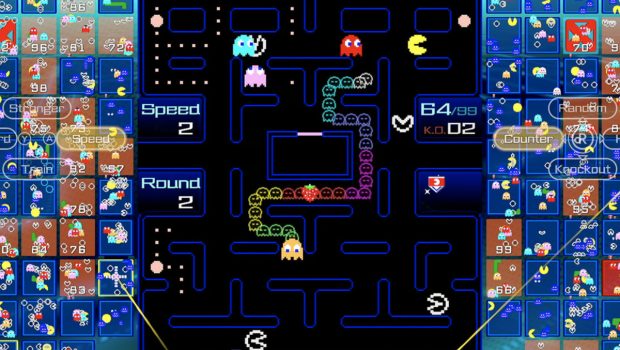 Published on April 9th, 2021 | by Adrian Gunning
PAC-MAN 99 IS AVAILABLE NOW ON NINTENDO SWITCH
Leading video game publisher and developer BANDAI NAMCO Entertainment Europe has announced that PAC-MAN™ 99 is available now for the Nintendo Switch. PAC-MAN 99 is the latest entry in the long-running PAC-MAN franchise with an online multiplayer experience unlike any other in the series' history. Ninety-nine PAC-MAN players compete against each other until one remains. Chomp down on Power Pellets to activate special power-ups and send Jammer Pac-Man to opponents' mazes to become the last PAC standing. PAC-MAN 99 is a special offer for Nintendo Switch Online* members at no additional cost.
Developed by Arika Co., Ltd., PAC-MAN 99 takes the classic PAC-MAN arcade gameplay that has been loved by millions around the world for the past 40 years and creates a brand-new multiplayer battle royale experience against 98 other players. Knock out other players by sending Jammer Pac-Man to opponents' mazes by touching a Power Pellet and defeating ghosts. Jammer Pac-Man will clog up the competition's maze and slow their Pac-Man down, making it harder for them to avoid ghosts and clear out their maze of Pac-Dots. In addition to making ghosts vulnerable, Power Pellets also give Pac-Man special abilities including increasing his speed or sending more Jammer Pac-Man to other payer's mazes. Each ability comes with a drawback so choose your strategy wisely.
"With PAC-MAN 99, we continue to grow and expand the PAC-MAN brand that fans have been loving for more than 40 years now. The game also highlights a new milestone in our long-standing relationship with Nintendo to deliver more fun experiences for players", said Herve Hoerdt, Senior Vice President, Marketing, Digital & Content at BANDAI NAMCO Entertainment Europe. "PAC-MAN 99 is a new take on the storied PAC-MAN gameplay, with the quick pick-up and play structure the franchise is known for coupled with the capability to play anywhere thanks to the Nintendo Switch as well as some competitive gameplay for everyone to enjoy."
A paid DLC bundle will be available at launch to enhance the PAC-MAN 99 experience with additional modes including an offline CPU Battle mode, private matches to play against friends, special score and time-attack challenges, and 20 alternate skins of classic BANDAI NAMCO Entertainment Inc. games including DIG DUG®, GALAGA®, and more!  The PAC-MAN 99 DLC can be purchased as a bundle and the classic character skins can be purchased individually through the Nintendo eShop.