Games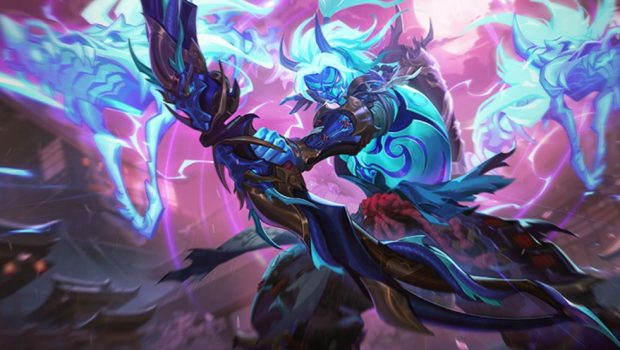 Published on October 5th, 2023 | by Admin
Overwatch 2: The Rise of Darkness Begins 11 October AEDT!
Overwatch 2: The Rise of Darkness Begins 11 October AEDT!
Season 7 begins next week, and we're bringing a frighteningly huge amount of new content and seasonal theme that is darker than ever before! We're introducing a new Blizzard crossover game mode in Trials of Sanctuary, the Halloween Terror 2023 event, and a hot new control map featuring the tropical island of Samoa. We're also bringing a massive balance update, including a reworked ability kit for Sombra, and new changes to the Route 66 Map! Keep reading to find out what Overwatch 2: The Rise of Darkness has in store.
Battle against Lilith Moira in Trials of Sanctuary!
In our first-ever Blizzard crossover game mode launching with our Halloween Terror event, you'll descend into a battle against the demons of the Burning Hells in an all-new Co-op survival brawl, Trials of Sanctuary. Fight as one of six different heroes: Demon Hunter Sombra, Barbarian Zarya, Night Raven Illari, Cleric Lifeweaver, Imperious Reinhardt, and Inarius Pharah, while facing an onslaught of unrelenting forces in a fierce battle for survival. Challenging bosses wait along the way, including Azmodan Wrecking Ball, Butcher Roadhog, and the Blessed Mother herself – Lilith Moira.
Halloween Terror Modes Makes Their Frightening Return!
Along with Trials of Sanctuary, fan-favourite event modes Junkenstein's Revenge and Wrath of the Bride return. Take part in all-new challenges and earn bonus Battle Pass XP, Overwatch Credits, and a plethora of spooky cosmetics. Enjoy this spooky celebration from 11 October to 2 November AEDT.
As you complete the tricky challenges in this event, we'll have some great treats for you to spend your credits on. For the first time, you'll be able to spend your Credits to unlock Overwatch 2 heroes: Sojourn, Junker Queen, Kiriko, Ramattra, and Lifeweaver. This special opportunity is available for one week only, through 18 October AEDT. Your earned Overwatch Credits can also purchase returning skins in a limited-time Halloween Terror Credits Shop, including the new Gilded Hunter Sombra Legendary Skin, a new remix of Demon Hunter Sombra! Hurry though—these limited-time items in the Halloween Terror Credits Shop will return to the grave on 8 November AEDT.
The Floor is Lava in the Hot New Map of Samoa!
This season, we're bringing one of our most complex battlefields yet to Overwatch 2. Samoa is a new Control map where you'll fight on tropical beaches, villages, and even inside a volcano! Watch out for deadly pitfalls, or you might just be swimming in lava! Samoa will be available to play right away in a dedicated Arcade card and will appear in Quick Play and other unranked modes starting on 11 October AEDT with it appearing in Competitive Play later in the season.
Unlock a Sinister Collection of Loot, Including the Onryō Hanzo Mythic Skin!
This season's Battle Pass takes you on a dark and spooky path, featuring themed cosmetics that will send chills to your opponents and teammates. Everyone will be able to earn new Epic skins like Victorian Ghost Lucio and Crimson Clown Soldier: 76. Unlocking the Premium Battle Pass includes terrifying Legendary skins like Azmondan Wrecking Ball, Victorian Doll Echo, and Diesel Barron Ramattra. If you can brave all 80 tiers, you'll earn the Mythic Onryō Hanzo.
Also available in this season's Ultimate Battle Pass bundle are the Legendary Lilith Moira Skin and the Legendary Inarius Pharah skin, along with a new Epic Pumpkin-Spice themed skin for Bastion (yeah, it's a thing), and with a head start to collecting other bewitching cosmetics with 1,000 Overwatch Coins and 20 Tier Skips. Expect more scary surprises in store in the in-game premium shop in the weeks to come!
Hack the Planet with a Newly Reworked Ability Kit for Sombra!
Overwatch 2 comes with dozens of new balance changes, but notably, we're introducing a whole new ability kit for Sombra. We've removed Opportunist and adjusted her Stealth ability to be a passive that starts automatically when Sombra is not taking damage or dealing damage or abilities. Her Translocator is also reworked to instantly teleport her wherever it is thrown. Finally, she has a new ability—Virus—which is a skill shot that deals damage over time to the target it hits and does double damage and at a faster rate if they are already hacked. Along with tuning to her Machine Pistol, Hack, and EMP, you'll find that she will be more engaging t play with and play against.
Our goal is to allow Sombra to be more committed to the targets she engages with and have a more active feel to her kit, all the while maintaining her character identity and playstyle as the world's greatest hacker. We'll have more details about Sombra's rework in an upcoming blog.
Hero Balance Preview for Season 7
We're also bringing in balance changes for an assortment of other heroes. Notable changes affect Mei, where we are rolling back the changes we first introduced in Season 5, bringing her back to her previous kit and no longer having the Deep Chill passive. We're also partly reverting the changes to Zarya's Projectile Barrier we introduced last season so that she can't build up energy more quickly, but still has a faster cooldown to protect her allies. Plus tuning for Orisa, Ramattra, Wrecking Ball, Cassidy, Torbjorn, Brigitte, and Illari. Learn about these balance changes for season 7 in our latest Director's Take blog.
Get Your Kicks on the All-New Route 66!
Route 66, one of the original Escort Maps for Overwatch, is getting some adjustments that should give better protection for attackers to exit their initial spawn. Despite having issues with the overhanging rail cars, the Panorama Diner is pleased to announce that they are open for business and offers additional cover from either the hot sun or the barrage of weapon fire from the Defending team. As you push the Payload past the first checkpoint, the doors will now malfunction and only close part way giving attackers more options to work through the difficult choke points. Defenders will have more options to stop teams from capping with additional cargo stashed in the Deadlock Gang's lair to take cover behind. You'll also be able to cool off with new overcast lighting for the map. We look forward to seeing you all cruise the payload down the new Route 66.
More to Come!
Everything we've talked about so far will be available to jump into for all platforms when Season 7 launches on Tuesday, October 10, but don't be scared! We've got even more great content and updates in the weeks to come, including some new surprises you'll learn about in BlizzCon 2023.