Games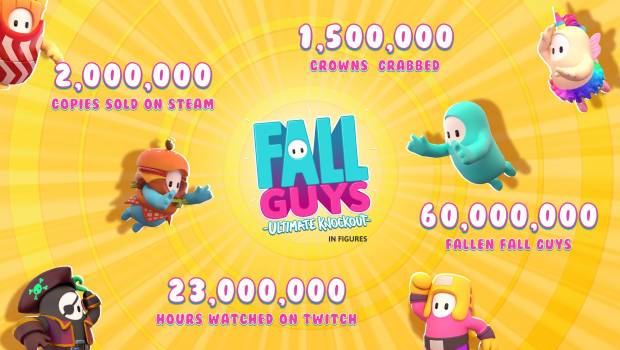 Published on August 11th, 2020 | by Alex Novus
Over 2 Million Jelly Beans Have Stumbled Into Fall Guys on Steam
The euphoric team of Mediatonic and Devolver Digital are thrilled to announce that Fall Guys: Ultimate Knockout has welcomed over 2 million players on Steam since its release on August 4th, making it the companies' most successful launch ever.
To celebrate the milestone, the dynamic duo has collected a plethora of eye-popping Fall Guys figures from the game's launch week in a transparent attempt to garner even more attention for their little jelly beans.
"It has been overwhelming and humbling to watch the launch and reception of Fall Guys. We're incredibly grateful to all of our players for their support and have big plans for the game in the future," beamed Mediatonic's Co-Founder & Chief Games Officer, Paul Croft. "We're thrilled by the response and can't quite believe how beloved our little jelly beans have already become!"
Fall Guys has also garnered critical acclaim from gaming and mainstream media, as well as grabbing the attention of the world's most watched streamers on it's unstoppable stumble toward greatness.
"I get the feeling this thing is going to be big" – Forbes
"This is an unmissable, sugary treat, bursting with kaleidoscopic entertainment" – The Guardian
"In a crowded and self-serious genre, an utterly tangential, silly sort of survival-slash-battle-royale game is welcome." – WIRED
"Fall Guys is a delightful and colorful trifle: the perfect counter programming to the year 2020." – The Verge
"Deserves to be placed on the pedestal with all the other phenomenal titles that debuted this year." – Esquire
"A collection of exciting minigames and a burst of every colour under the rainbow makes Fall Guys a consistent delight." – IGN
"When I'm not playing Fall Guys, I'm watching other people play Fall Guys." – Polygon
"As casual and silly and fun to play as Fortnite looks like it should be." – PC Gamer
"Fall Guys made my daughter laugh so much and so quickly that it must be a kind of magic." – Eurogamer
"It's how battle royale games should be, and it's been great to see such a pure example of it from a game that doesn't, for once, involve grenades or assault rifles." – Kotaku
"I haven't had this much fun with friends in an online game in all of 2020" – Ars Technica
Fall Guys: Ultimate Knockout is out now on PlayStation 4 and PC via Steam. PS+ subscribers can jump in for FREE throughout August. Stumble over to fallguys.com, join Discord and follow @FallGuysGame for regular updates and prepare for your inevitable failure in front of the whole world!