Games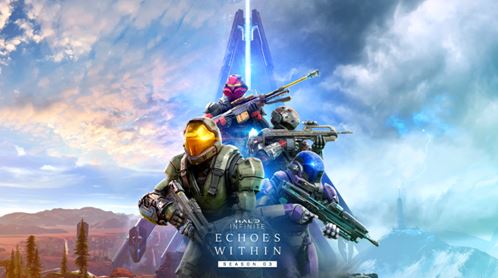 Published on March 8th, 2023 | by Adrian Gunning
OUT NOW: Halo Infinite Season 3: Echoes Within
Halo Infinite Season 3: Echoes Within is now available, bringing with it the biggest multiplayer update to the game since launch, including – for the first time – a new weapon and equipment item.
Starting today, players can jump into three new maps, slay with the new M392 Bandit Rifle, conceal themselves inside the new Shroud Screen equipment, progress through a 100-tier Battle Pass, and much more (launch trailer).
Here's a quick overview on what's added to Halo Infinite multiplayer with Season 3: Echoes Within:
New Maps: Three new maps join the rotation, including arena maps Cliffhanger (ONI research site) and Chasm (Zeta Halo substructure), and Big Team Battle map Oasis (rekindled creation engines).
New Weapon – Bandit Rifle: Halo Infinite's first new weapon has arrived! Designed to reward accuracy and precision, the semi-automatic M392 Bandit rifle is perfect for mid-ranged encounters. Touting formidable stopping power fit only for a super-soldier, the Bandit Rifle is at its deadliest with well-timed and well-placed shots.
New Equipment – Shroud Screen: The Shroud Screen is the first new equipment item in Halo Infinite, and features a hand-held launcher that enables a player to aim and fire an opaque, spherical shroud. While projectiles can still pierce the shroud, players outside it can't see through the veil and vice versa. In addition, players inside the shroud are concealed from their opponents' motion sensors. Tactical positioning, map knowledge and timing will be key to gaining an edge over your enemies with the Shroud Screen.
New Mode – Escalation Slayer: Inspired by the beloved classic "gun game" mode, Escalation Slayer comes to Halo Infinite as an all-new arena game mode! Available as both a team-based and FFA variant, Escalation Slayer requires players to eliminate their opponents to progress through a wide range of armaments. With each kill comes a new weapon before culminating in the final challenge to win, eliminating an enemy player with the Oddball.
100-Tier Battle Pass: Purchase the Echoes Within Premium Battle Pass to instantly unlock the Redsteel Splinter Legendary Armor Coating for all available Cores! Featuring over 100 tiers of rewards, including 1,000 Halo Credits, the Echoes Within Premium Battle Pass also offers players a fourth challenge slot and bonus XP throughout Season 3.
Last week, we also announced that Halo Infinite's Forge Beta surpassed 1 million creations, and 8.5 million custom games played since the launch of Custom Game Browser. And yesterday on Xbox Wire, 343 Industries' Head of Live Service, Sean Baron, shared more insights on what to expect in Season 3: Echoes Within.
For an in-depth breakdown of Halo Infinite Season 3: Echoes Within, check out Halo Waypoint.