Games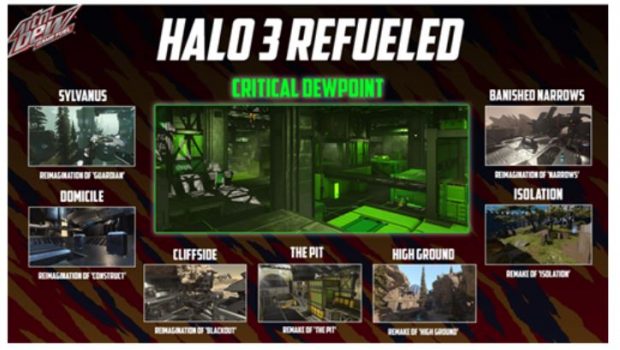 Published on November 15th, 2023 | by Adrian Gunning
OUT NOW: Halo 3 Refueled Playlist in Halo Infinite
Today, we're partying like it's 2007, as the "Halo 3 Refueled" playlist is now live in Halo Infinite Season 5: Reckoning.
In partnership with MTN DEW, "Halo 3 Refueled" features seven remade and reimagined fan-favorite Halo 3 maps created by community Forgers as well as the brand-new custom DEW-themed map, Critical Dewpoint, created by ArturBloodshot and inspired by the Foundry map canvas. The playlist releases on the heels of the recent relaunch of the iconic MTN DEW GAME FUEL flavor, Citrus Cherry, first introduced in 2007.
Other maps featured in "Halo 3 Refueled" include:
Sylvanus – a reimagination of Guardian
Domicile – a reimagination of Construct
Banished Narrows – a reimagination of Narrows
Cliffside – a reimagination of Blackout
And remakes of The Pit, High Ground, and Isolation
Check out moredetails on Halo's partnership with MTN DEW, as well as an interview with ArturBloodshot, over on Xbox Wire. Also, from November 16-17, Halo fans can play for a $25,000 prize pool in the open-to-all "Halo 3 Refueled" playlist event.
Additionally, today marks the launch of Operation: Combined Arms, which runs through December 18 and offers players a FREE 20-tier Battle Pass packed full of RHAKSHASA-themed rewards while the Operation is ongoing. Players can buy the Combined Arms Premium Pass to keep and complete the pass at their leisure and obtain the exclusive instant-unlock Grey Hunter Cross Core Armor Coating.
For more on Halo Infinite and all things Halo, stay tuned to Halo Waypoint.