Films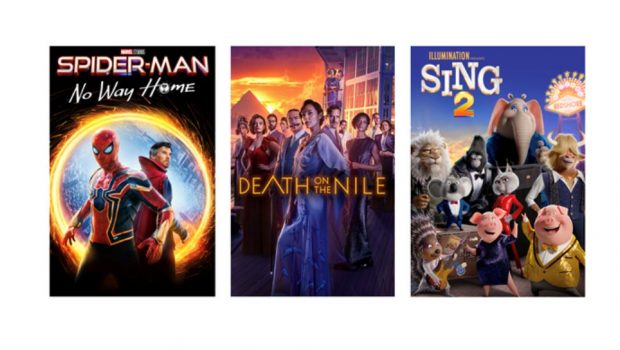 Published on March 23rd, 2022 | by Admin
Our Spidey Senses Are Tingling; The Latest Movie Releases Now Available For Digital Purchase
These epic new titles are now available to watch at home in March, across all digital platforms. 
Buying and renting new movie releases has never been easier. With no subscription required, all new release titles are available via an a la carte style service. The answer to "what are we watching tonight?" just became more exciting.
Find yourself falling deeper into the Marvel universe? Spider-Man: No Way Home will let you follow the high stakes adventure of Peter Parker as he attempts to undo his unmasking, calling on fellow superhero elite, Doctor Strange. If you're serious about sleuthing, Death On The Nile, brings Agatha Christie's classic to life, with a picture perfect honeymoon tragically cut short by a mysterious murder. Or, if light-hearted family fun is more your style, Sing 2, shares the dazzling stage extravaganza courtesy of the can-do koala Buster Moon. Featuring an all-star cast of Bono, Halsey, Scarlett Johansson, Pharrell Williams and more.
Available across a variety of digital platforms including the Apple TV app, Google Play, Fetch, Foxtel Store, iTunes, Amazon Prime Video, Telstra TV Box Office, YouTube and Microsoft Store, these blockbusters cater to a wide range of viewers and movie buffs.
Here's the selection of titles available to buy, starting this week:
Simply head to your favourite digital platform to buy the above, starting today.
ABOUT THE AUSTRALIAN HOME ENTERTAINMENT DISTRIBUTORS ASSOCIATION (AHEDA): 
The Australian Home Entertainment Distributors Association (AHEDA) represents the Australian film & TV home entertainment industry in digital content and packaged goods (4K Ultra HD, Blu-ray & DVD). We advocate for our members on issues affecting the industry, including intellectual property theft and enforcement, classification, copyright and media convergence. Our industry gives consumers their first opportunity to access entertainment at home and we are committed to supporting and advancing this unique sector.