Hardware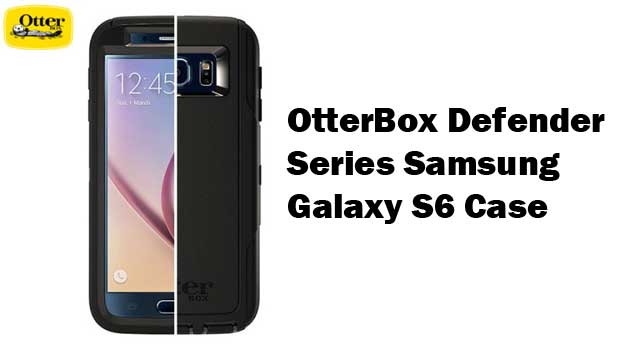 Published on June 22nd, 2015 | by Admin
OtterBox Defender (Rugged Protection) for the Samsung Galaxy S6 Review
Summary: The OtterBox Defender (Rugged Protection) for the Samsung Galaxy S6 is almost post apocalyptic proof!
With the Samsung Galaxy S6 being one of the most powerful smartphones on the market at the moment, not to mention quite costly, users definitely need additional protection should the unthinkable happen like dropping their phone. Fortunately there are a variety of protective cases available for the Galaxy S6 and if you want some true rugged protection, than the OtterBox Defender may be your solution. It's like getting a suit of armour for your smartphone!
Features
Ultra-rugged protective case for maximum enjoyment of daily adventures
Built-in screen protector guards Galaxy S6 touchscreen against scratches
Port plugs allow for easy access while locking out dust and debris
Holster clips to most straps and belts, plus locks in place for hands-free viewing
The case also offers users drop protection, dust protection, scratch protection, triple layer protection and screen protection, although unlike some other items, it is not waterproof. The triple layer protection basically boasts three layers of protection that include a built-in screen protector, a twin polycarbonate shell and a synthetic rubber slipcover which gives the Galaxy S6 some unprecedented protection. It even comes with a belt clip/holster!
Installation. In terms of installation, it is a little tricky because it does require some force (for me anyway) to take the Defender apart in order to install the Galaxy S6 into the case. With that said, I do recommend you check out some of the YouTube videos for installation so that you don't break the product while trying to install your phone. Given that, the instructions are not the easiest to follow but once installed, wow… you're phone feels thoroughly protected! The case even feels good in your hands and definitely gives your Galaxy 6 additional grip and you have full access to all ports, buttons and cameras.
However once your phone is installed, the OtterBox Defender adds some additional weight to your Galaxy s6 thanks to its sturdy design. As the case uses TPU and rubber, it definitely helps in diverting the shock should you accidentally drop the phone but once installed, it feels very sturdy. The case also comes in a myriad of different colours but for this review, we tested the black version which also has this military inspired look to it.
Materials Used
Two-piece internal polycarbonate shell snaps around Galaxy S6
Synthetic rubber slipcover wraps around the shell to absorb shock
Built-in clear membrane screen protector guards Galaxy S6 display against scratches
The OtterBox Defender even comes with a screen protector that actually boasts decent responsiveness, although I must admit that some of the responsiveness of the screen is slightly diminished once your Galaxy S6 is installed into the case. Nonetheless, the Defender offers users total protection of their phone and you know by the materials used and the weight of it that it definitely would protect your phone should a drop occur. And yes… I actually did have an accident happen. I accidentally dropped my phone onto the kitchen tiles but thankfully the Samsung Galaxy S6 was protected from the drop.
There are a couple of downsides to the case and the first one is the screen protector itself as I don't believe there is a way to replace this should it get scratched and given that it's plastic, there is a real possibility. The clip is also a little bulky but thankfully this can be removed and for some people, it may be a little too heavy. Even so, the case has definitely been designed for those users who work outside or for people that want the total protection of their Samsung Galaxy S6.
So if you want a suit of armour for your excellent Samsung Galaxy S6 than check out the OtterBox Defender!
Recommended!
Defender Series Rugged Protection Case
Product: Protective Case
Compatibility: Samsung Galaxy S6
Company: Otterbox
Distributor: MobileZap
Price: $53.99
Reviewer: Tony Smith
The OtterBox Defender (Rugged Protection) case is available at MobileZap