Comics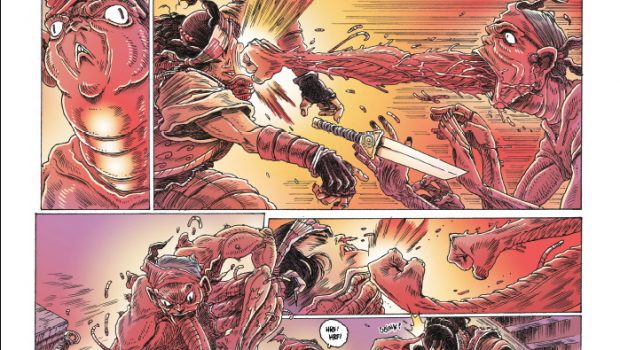 Published on February 23rd, 2022 | by Tim Chuma
Orphan and the Five Beasts #4 (2021) Review
Summary: Didn't think I would be able to follow the story this far into it but I was able to since this is pretty self-contained. Weird looking art and cool action to go along with it.
Orphan Mo's hunt for the five former disciples of his school who have turned to evil ends in a decisive battle with a once curious student who has been possessed by a demon and eating his flesh turns people into zombies.
I had not heard of this series before so I thought I would try it out given this was the last one in the series and I could always go back and read the rest later. As usual I was expecting to have trouble picking up the story but I need not have worried as although there has been events before this part of the storyline this section seems to be self-contained.
The story and art of this are a standout, it is a cross between the Five Venoms and a David Cronenberg movie and gets weirder as it goes along. You have to be on board with the art style and concept to get the most out of it but if you go looking for this sort of thing you will enjoy it.
In terms of the action it works quite well and does remind me of a lot of the old Shaw Brothers kung fu revenge movies that were popular back in the day.
I would recommend this one if you are a fan of old school kung fu movies with an extra twist of weirdness thrown in.
Comic details:
Writer: James Stokoe
Artist: James Stokoe
Cover Artist: James Stokoe
Publisher: Dark Horse
Publication Date: February 23, 2022
Format: FC, 32 pages; Miniseries