Events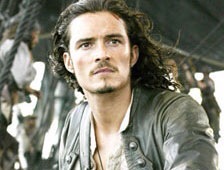 Published on August 21st, 2014 | by admin
Orlando Bloom to appear at Oz Comic-Con Brisbane and Sydney
Yo ho, it's a pirate's life for Oz Comic-Con
Orlando Bloom to appear in Brisbane and Sydney
Batten down the hatches and raise the pirate flag: British heartthrob Orlando Bloom is coming to Oz Comic-Con Brisbane and Sydney this September. Bloom is best known for his unforgettable roles as Legolas in The Lord of the Rings and The Hobbit trilogies and as Will Turner in The Pirates of the Caribbean film series, as well as for his parts in films such as Elizabethtown and Troy.
Exploding onto the Hollywood scene with his screen-debut as the elf Legolas in Peter Jackson's The Lord of the Rings films, Bloom quickly cemented himself as someone to watch, even giving a hilarious performance as himself in an episode of the comedy series Extras. As the star of three hugely-successful film franchises, Bloom has also amassed a passionate fan-following.
Joining Bloom in Brisbane and Sydney will be his The Hobbit co-stars Stephen Hunter, who portrays dwarf Bombur and Dean O'Gorman, as dwarf Fili, in the epic trilogy. The trio will take part in professional photograph and autograph opportunities across the weekends, as well as question and answer panels on each day of their appearances at Oz Comic-Con.
It's exciting times for fans as the first ever Oz Comic-Con Brisbane and Sydney fast approach. Guest announcements have been coming left, right and centre, with other additions to the line-up in just the last week being Jason Dohring (Logan Echolls in Veronica Mars), Percy Daggs (Wallace Fennel in Veronica Mars), Michael Muhney (Sherriff Lamb in Veronica Mars, Adam Newman in The Young and the Restless), Nicholas Brendon (Xander in Buffy The Vampire Slayer), Emma Caulfield (Anya in Buffy The Vampire Slayer) and Monica Rial (Bulma from Dragon Ball Z).
These guests are just the latest to be added to the fantastic line-up for Oz Comic-Con Brisbane and Sydney. Other stars appearing at the events include William Shatner (Star Trek, Boston Legal), Jason Momoa (Game of Thrones), Chris Judge (Stargate SG-1), Booboo Stewart (The Twilight Saga, X-Men Days of Future Past), Colin Ferguson (Eureka, Haven), Allison Scagliotti (Warehouse 13, Drake and Josh), Bill Farmer (the voice of Goofy) and Jim Cummings (the voice of Winnie The Pooh and Tigger).
Oz Comic-Con will be held at the Brisbane Exhibition and Convention Centre on September 6-7, and in Sydney at the Sydney Exhibition Centre at Glebe Island on September 13-14, with doors open from 9am to 6pm each day of the event. Tickets to both shows are available now through Showclix (www.showclix.com/events/18185) and will also be available at the door.
For more information please visit www.ozcomiccon.com.
About Oz Comic-Con
Oz Comic-Con produces pop culture expos across Australia that celebrate TV shows, movies, comic books, graphic novels, anime and gaming. The events feature multi-genre content from across the spectrum – appearances by film and television stars, comic book artists and voice actors; gaming demonstrations and cosplay competitions; creative workshops and master classes; and hard-to-find merchandise. Oz Comic-Con proudly supports local Australian talent and businesses in many areas, providing a platform to showcase Australian creativity and endeavours. Oz Comic-Con was created by Sydney-based company DCA Enterprises, who now work in partnership with international event organisers ReedPOP to produce the Oz Comic-Con shows. The ReedPOP portfolio includes New York Comic Con, C2E2, PAX (Prime, East and Australia), Star Wars Celebration and the UFC Fan Expo.