Comics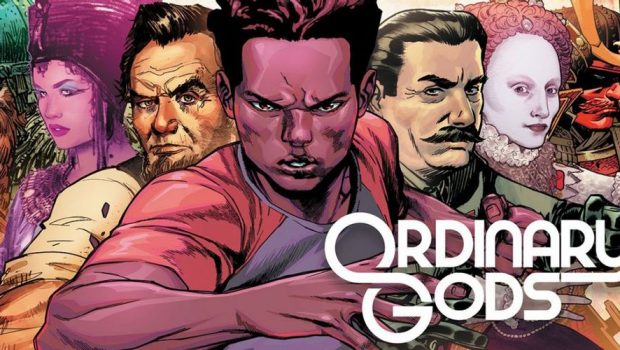 Published on July 6th, 2021 | by Kevin Mwenda
Ordinary Gods #1 Review
Summary: An interesting take to the whole mythology story—excellent writing, lighting, and character exposition
Contains SPOILERS!!!
Summary
Ordinary Gods #1 seems like it's another story where Gods or immortals fight each other through the ends of time, and in most cases, humanity is caught in between? Well, Ordinary Gods #1 follows the same narrative. In the comic, there were thirteen Gods united under One King. Everything changes when five, The Luminary, The Prodigy, The Brute, The Trickster, and The Innovator, chose to betray the other Gods and liberate territories controlled by the other eight Gods. This starts the endless cycle of war, death, and rebirth in normal people, as they get imprisoned on earth.
Despite this, writer Kyle Higgins and artist Felipe Watanabe do an excellent job in the narrative's presentation where it is divided into different parts, each exploring a different aspect of the story. In the prologue, the reader is introduced to Matsuda, a Japanese triad boss who is on the run from an American man claiming to want to save him. However, it ends with his death, killed by one of the Gods. In the second "As The World Turns," the writers introduce the protagonist of the story, Christopher, who is secretly God, but he does not know that yet.
It is in this section also when the artwork shifts across time as we see God's fighting, wars fought by human beings, and the psychological struggle Christopher has for being weak. In the last, "Flip of a Coin," writer Jana Tropper takes a unique approach to explain events that occurred in the prologue through a short story that explores the choices that people make, such as a coin toss.
Final Thoughts

Ordinary Gods #1 provides an interesting perspective to the mythology about Gods through the Gods, their territories drawing from human emotions and virtues, and the introduction of the protagonist (Christopher) who might save or destroy the world. The inclusion of a short story at the end is unique to the comic genre, and this compliments the narrative's overall structure.
Preview
Comics Information
Release Date: July 7th, 2021
Writer: Kyle Higgins
Artist: Felipe Watanabe
Colorist: Frank William
Backup Story: Jana Tropper