Comics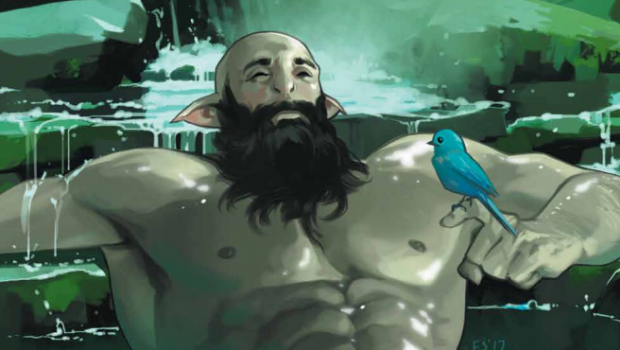 Published on September 27th, 2017 | by Dana Folkard
RAT QUEENS SPECIAL: ORC DAVE #1 (ONE-SHOT) REVIEW
Summary: A highly enjoyable read that delves into Orc Dave's past, before he joined the Four Dave's.
Before Orc Dave went dungeon delving with the Four Dave's for coin, he lived in the mystical Green Wilds with his father, protecting all creatures living within the forest. This one-shot Rat Queens special explores Orc Dave's life before Palisade, the Queens and the Four Dave's, revealing a life of seclusion, responsibilities and an immense burden that each guardian must bear.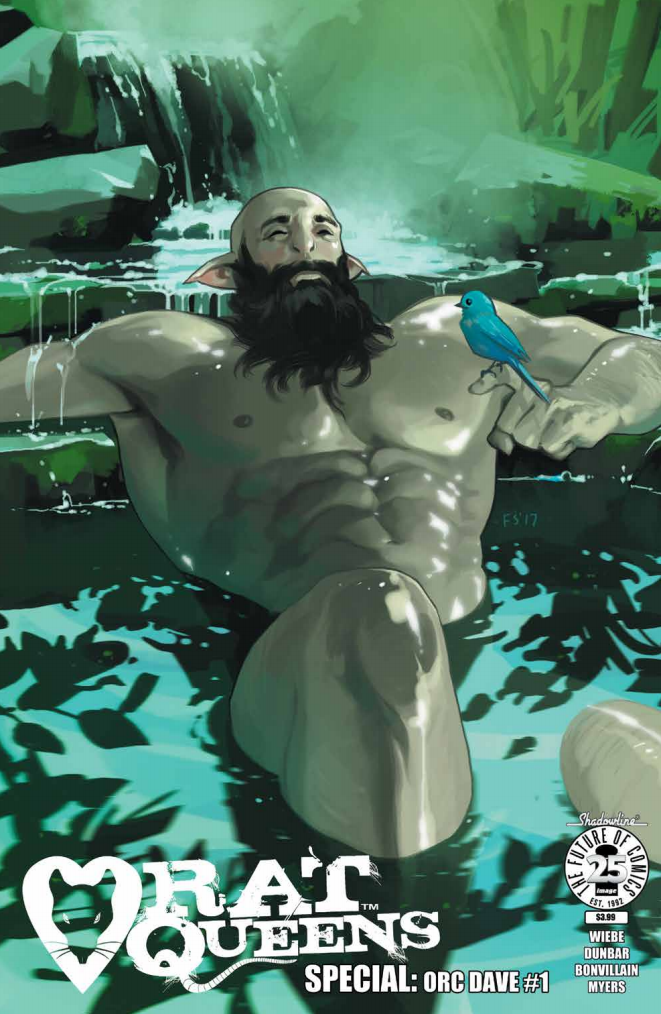 This story begins with Orc Dave beginning his morning with a relaxing soak in a natural heated spring…no better way to start the day. His blissful morning, however, is interrupted by his father, who urges Dave to get dressed, as they have important work to do. Dave's father has been summoned by the ancient Tarbark's, a kind of sentient community of trees, who wish to speak to him about a small problem that needs tending to. When the Tarbark's whisper, Dave and his father must always answer. Once in the Grove of Tarbarks, they are informed about a threat that has been building in the Northern Grove, warning them of a savagery that spreads among the animals, like some kind of vile plague. Dave is chastised by the trees, claiming that he is inexperienced and young, and needs to prove himself capable of protecting them and all the creatures living within the forest. After this meeting with the Tarbark's, they hit the road heading north, however, an unexpected encounter with the Rat Queens heralds a shift in Dave's outlook on his life, and the life he craves to have. They part ways, Dave and his father must focus on the task at hand, as Dave's life is about to change forever, as he accepts the mantle from his father, fulfilling his destiny of becoming the future guardian of the wilds.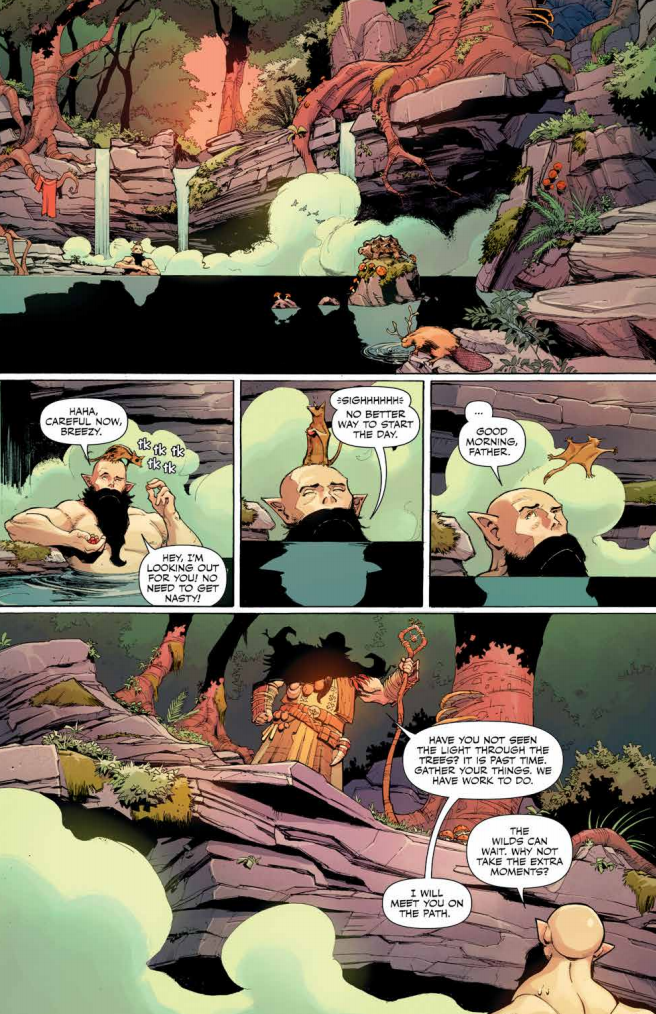 I really love that Kurtis J. Wiebe has written this one-shot Orc Dave special, which delves into his past, revealing a side to him we haven't seen before. I was already a fan of Orc Dave before reading this issue, but now I'm like Violet, and completely smitten with the sweet-natured orc. Dave is a dreamer, striking me as someone who is a bit of an idealist and filled with an optimistic perspective on life. It was nice to see him talk philosophically about his outlook on things, which reveals a lot about his character and his kind and gentle nature. I also enjoyed seeing Dave and his father interact with one another, as I found their dynamic to be well-rounded and genuine feeling. They greatly differ from each other, with both possessing polarising opinions on how things should be handled, but never allowing these differences to get in the way of their friendship. I'm also very intrigued with the role that Dave and his father have as being the guardians of the Green Wilds. They remind me of forest mages or healers, which I find an interesting role for an orc to have, as I'm used to seeing orcs as warriors, like Braga's tribe. Seeing how they inherit their role was also interesting, with father passing it on to the son through a ritualistic binding with nature. This "recycling" of their roles is an interesting concept, and I rather like how Wiebe has entwined this ritual with the change of seasons. There is also a moment when we see the blue birds pass from his father's beard and onto Dave's, and I found this moment to be very beautiful and poetic.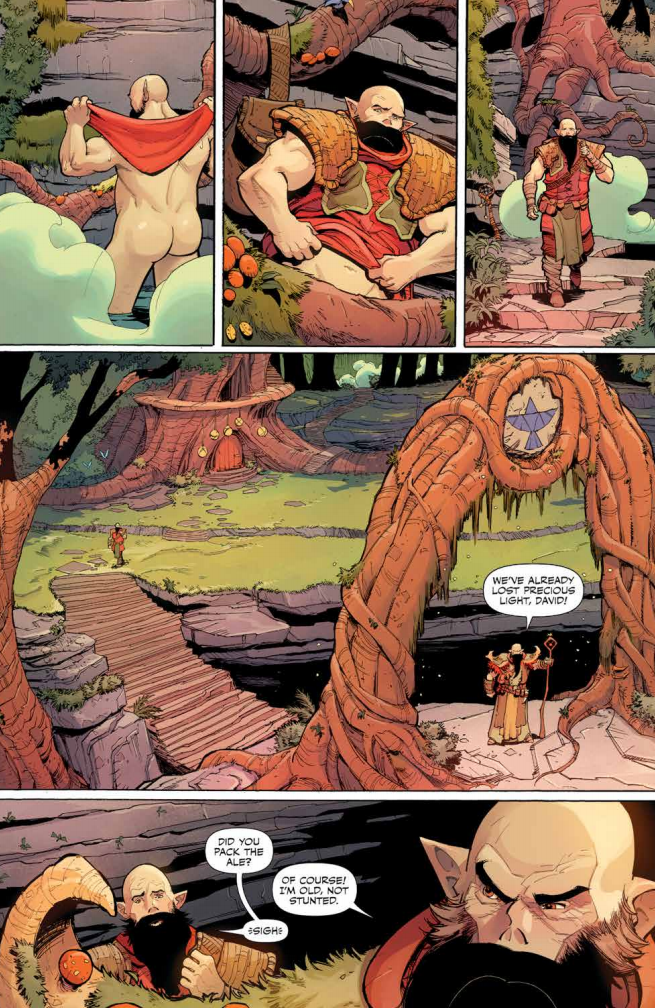 The artist for this one-shot issue is Max Dunbar, bringing his detailed and energetic illustrations to the Rat Queens Universe. His art lends itself to the high-fantasy setting, with his rich and lush looking landscapes taking centre stage. The forest feels ancient and alive and is filled with so many wonderful details, making it very easy to become lost within them. I also really liked how Orc Dave and his father were drawn, in particular the ritualistic garb that his father was wearing. I liked how the forest was incorporated within his robes, making them look earthy and organic. I also need to commend Dunbar's ability of being able to making Dave and his father have a look of deep wisdom and intelligence. The details on their faces and their expressions give them both a shrewd look, and I enjoyed that sometimes they didn't even need to say anything to one another, as a knowing look, or a sharp glance was enough. The colouring by Tamra Bonvillain is rich and vibrant, with the forest coming alive with the lively palette that has been used. I particularly love the colouring we see in the grove, with the palette having warmer tones, and possessing an almost magical aura. It gave the impression of the light at sundown, when everything is bathed in a golden glow.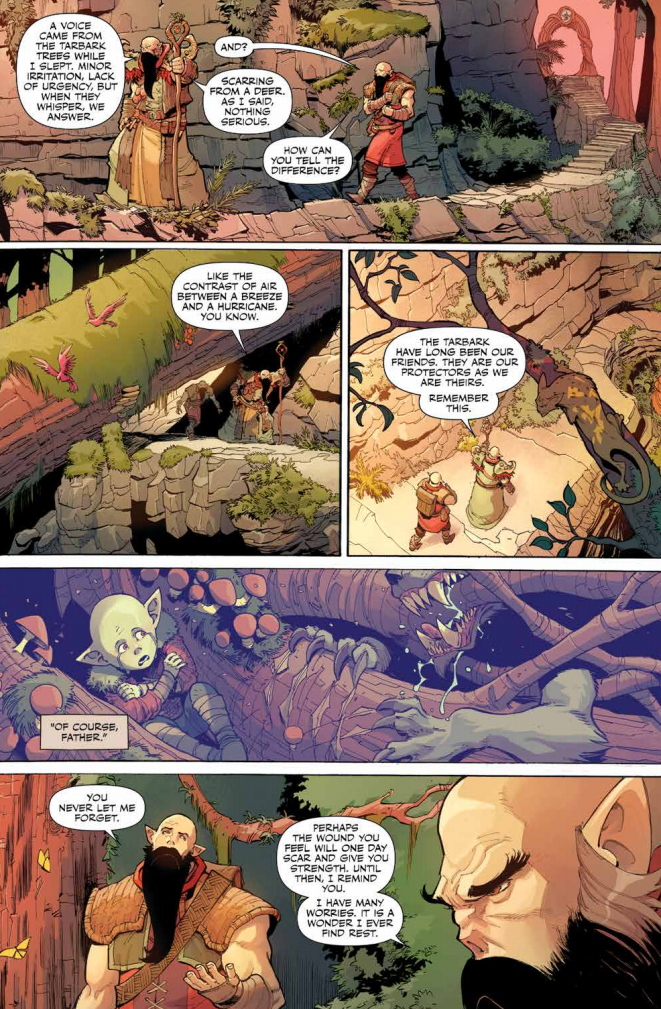 Overall, I absolutely loved this one-shot Orc Dave special. Delving into Dave's past proved to be a delightful and unexpected journey, filled with a lot of emotion and genuine pathos. I highly recommend grabbing a copy of this one-shot, so you can immerse yourself in some forest orc lore.
Oh, and I can guarantee that after reading this you'll develop a bit of a thing for Orc Dave…it's unavoidable! *swoon*
I'm giving this issue 5 out of 5 stars!
---
COMIC DETAILS
CREATIVE TEAM: Kurtis J. Wiebe, Max Dunbar,Tamra Bonvillain and Micah Myers
PUBLISHER: Image Comics/Shadowline Comics
PUBLICATION DATE: September 27, 2017
REVIEWER: Dana Folkard