Blu-ray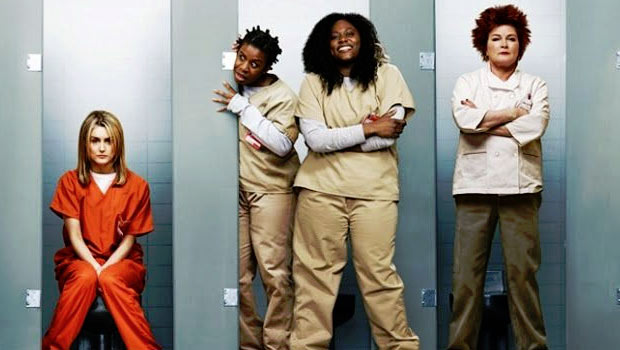 Published on May 13th, 2015 | by admin
Orange is the New Black Season One Blu-ray Review
Summary: If you're looking for an original and very entertaining series than Orange is the New Black is that series and gives the viewer a unique and colourful insight into the American prison system
The popular Netflix TV series ORANGE IS THE NEW BLACK, a drama comedy has arrived on Blu-ray that takes place in an American female prison. Created by Jenfi Kohan (WEEDS), Orange is the New Black definitely has a similar atmosphere but ironically this TV series is actually based on the autobiographical book by Piper Chapman, a woman who was incarcerated for just over a year due to supporting her ex-girlfriend drug dealer (Laura Prepon) in transporting money which happened over ten years ago.
Unfortunately for Piper (Taylor Schilling), this crime has never been forgotten and her perfect life as a Brooklynite falls apart when the law finally catches up with her. If two years passed, Piper would have been free due to the statute of limitations. As the series revolves around Piper, she is the catalyst of most stories and it's interesting to see the prison life through her eye that begins quite innocently in the early episodes but definitely hardens her as the stories progress.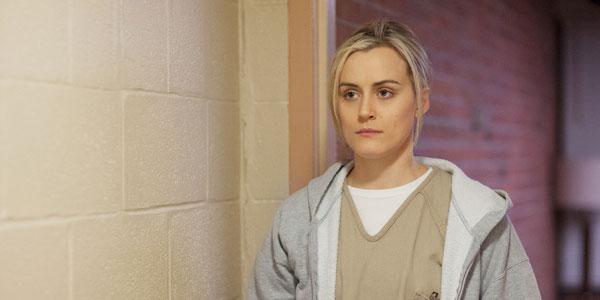 Orange is the New Black also has some parallels to the Australian TV series Wentworth as it features a strong female protagonist and explores the various people and subgroups of the female prison system. However unlike Wentworth which is quite serious, Orange is the New Black successfully injects humour into some of the plots which creates this interesting level of black comedy. At times you don't know if you want to cringe or laugh! With that said, Orange is the New Black contains some course language and graphic sex scenes which may not be everyone's cup of tea.
The series also introduces the main characters early in the piece such as Piper's straight as an arrow fiancé Larry (Jason Biggs) who not only finds out that his future wife had a lesbian lover over a decade ago but was also the polar opposite to what she is now. This causes Larry to question their future together especially when his family find out about Piper's past. Piper's family isn't any more helpful either, especially her mum who says her eggs are ageing. Then you have Piper's prison acquaintances such as Tasha 'Taystee' Jefferson (Danielle Brooks) and Tiffany 'Pennsatucky' Doggett (Taryn Manning) who all cause some friction in her prison life and even though they had a harder life than Piper, there are many similarities between all prison inmates.
Apart from the interesting and entertaining story of Piper, what I enjoyed about Orange is the New Black is the class and race system of the American prison system that unfortunately mirrors this country out of bars with its societal structures. It's almost like a snapshot of America but deep down everyone is the same and we are all human. Also in a similar to vein to Wentworth, the series touches upon the colourful characters who make up prison system and the creators give us snippets into their lives out of prison as well. This just fuels the enjoyment factor of the series as you want to know everything about the characters.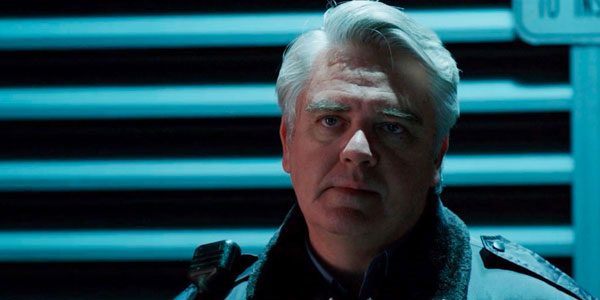 This insight gives us a great picture into their motivations and although the series has a touch of black comedy in the stories, it is actually quite a realistic glimpse of prison system. Whether it's the "Russian" matriarch "Red" (Kate Mulgrew) or Sophia the transgender hairdresser, each story is quite engaging and really gives the series a group of powerful and interesting characters. Of course, the prison guards and the authority are sometimes as equally as dangerous and at times more so than the prisoners themselves which is quite a scary prospect.
Besides the excellent plots and dialogue, the acting of Orange is the New Black is brilliant, especially Schilling who portrays this real-world character with charisma, flaws and beauty. Even though Schilling does bring a sense of naivety into the story, especially with lines such as "Promise me you're not watching Mad Men without me" as she discloses to her finance, she is a very likeable character from the get-go and is quite infectious.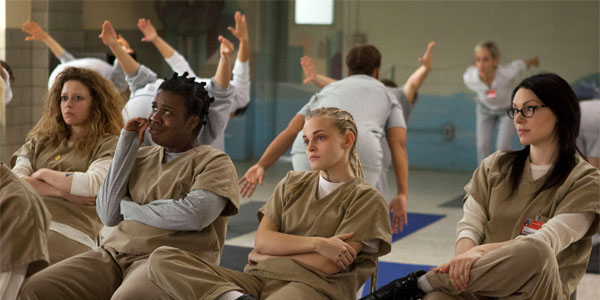 Other characters like Taystee bring a more hardened view to the series or Kate Mulgrew's Red who plays the perfect alpha female that would make anyone scared if you met her in a dark alley but deep down, there is more to her story than the angry woman she is. Besides Piper, my favourite character in the series is Miss Claudette Pelage (Michelle Hurst) who is another alpha female and when our heroine becomes her bunk mate, she discovers that this convicted murderer has a soft spot for her.
I also love the dynamics that Laura Prepon brings as Alex Vause, Piper's ex-girlfriend and whether she "ratted" Piper out remains to be seen. For humour, Natasha Lyonne as lesbian Nicky Nichols and Uzo Aduba as Suzanne 'Crazy Eyes' Warren definitely bring a unique type of humour to this adult's only TV series. Seeing Crazy Eyes urinating next to Piper's bunk will unfortunately remain with me till the day I die.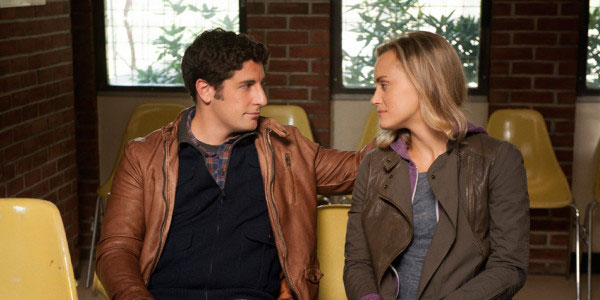 Final Thoughts?
If you're looking for an original and very entertaining series than Orange is the New Black is that series and gives the viewer a unique and colourful insight into the American prison system. More importantly, this series is about the characters themselves and how they ended up where they are today. It's powerful, funny and at times a little disturbing but all in all, it ticks all the right boxes for a great drama comedy series. Jason Biggs also has another "American Pie" moment or should we say another American Piper moment!
Brilliant!
Orange is the New Black
Distributor: Roadshow
Genre: TV Drama Comedy
Region Coding – B (Blu-Ray)
Running Time: 780 Minutes
Rating: MA15+
Reviewer: Tony Smith