Comps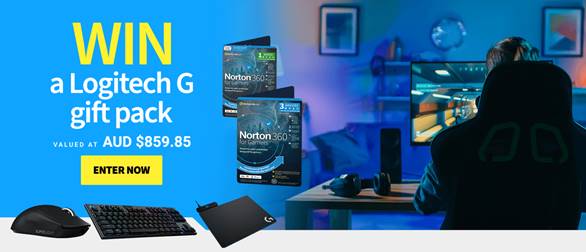 Published on November 2nd, 2021 | by Admin
Optimising your game play experience without compromising your online security
The past year has seen most of Australia come in and out of lockdown in some capacity and while people have been confined to their houses, the number of people gaming and the time spent playing games, has been on the rise.
The amount of time spent gaming online has skyrocketed and gamers are now looking for new and innovative ways to enhance their gaming experience. Any serious gamer knows the frustration of having their gameplay disrupted by running applications in the background which use up precious CPU power, creating a CPU bottleneck that can only be solved by closing down the application. Discouraging as this may be, there is software on the market available to address this very problem.
Norton 360 for Gamers features Game Optimiser which was introduced to address some of the most common complaints amongst gamers, especially around how to maxmise CPU output without jeopardising gamers online security. The patented technology directs more power to your game, minimising lag and maximising the immersive experience. The result is a boost in performance for a smoother gameplay to allow users to get the most out of any gaming rig.
To put it to the test, Norton commissioned independent software development group Passmark to undergo performance testing of the   Game Optimiser, one of the features of Norton 360 for Gamers,  benchmarking against similar products in the market. Throughout the testing process, PassMark Software assigned a score to each product tested which depended on its ranking of the average FPS metric compared to other products in the category. Norton received the highest possible score of 30 with Webroot Secure, Anywhere AntiVirus for PC Gamers coming in at second with 20 points.
What does this mean? The results concluded that the Game Optimiser feature could help improve frame rate performance in games and benefit when there are high CPU usage activities running in the background during the game play and the CPU is creating a bottleneck.
Mark Gorrie, Senior Director APAC at NortonLifeLock says using a solution like Norton 360 for Gamers which comes withGame Optimiser can c certainly help improve the gameplay performance, but gamers still need to be vigilant when sharing personal details online.
"Gamers are especially vulnerable to cybercriminals and bad actors so the ideal solution is to implement technology which both enhances the gameplay experience while simultaneously protecting your online wellbeing. The Game Optimiser feature addresses both of these concerns, giving gamers peace of mind that their details are safe, allowing them to focus efforts on the game at hand."
Gamers are often astonished at the features available on the market. Products such as Norton N360 for Gamers are specifically designed to bridge the gap between an immersive gaming experience and bolstering cyber security, a feat achieved by installing additional features like VPNs, Password Manager, Online Storage and Dark Web Monitoring.
It looks as though the rise in gaming isn't going away anytime soon so now is the time for gamers to consider what the next step is in evolving their rigs to be more powerful and more secure.
Purchase, install and activate a Retail Box product or Attach Offer of Norton 360 for Gamers, 3 Devices or 1 Device, from a participating Australian or New Zealand retail store before November 14, 2021 to enter the prize draw to win 1 of 50 Logitech G gift packs, valued at $859.85 each.
https://claim.norton.com/anz/prizedraw/howtoenter.html