Hardware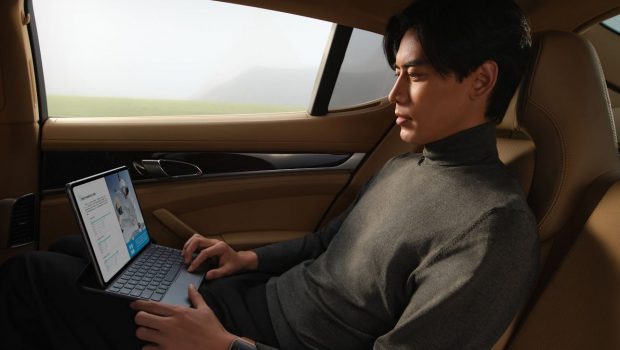 Published on July 27th, 2023 | by Adrian Gunning
OPPO's Launch Pad into the Flagship Tablet Market: The OPPO Pad 2
OPPO today announced the launch of its new tablet – the OPPO Pad 2 – in Australia. Boasting an industry-first 7:5 aspect ratio display, a powerful Dimensity 9000 platform, and an upgraded operating and interaction experience, the OPPO Pad 2 sets a new benchmark for the global flagship tablet market.
An industry-first ratio display for an unprecedented viewing experience
The OPPO Pad 2 is the first tablet to apply a 7:5 aspect ratio display, sharing a similar aspect ratio to that of many other office tools, such as PCs, A4 paper, and books, thus offering a comfortable and familiar reading experience to users. Compared to conventional 16:10 Android tablets, the OPPO Pad 2 offers a similar screen size with nearly 10% expanded viewing area.
The 11.61-inch screen also comes with a series of flagship-level parameters, including a high resolution of 2800×2000 for ultra-clarity and enhanced image details. Supporting a 144Hz ultra-high refresh rate and five levels of adaptive refresh rate adjustment, the display guarantees smoother visuals with more efficient power consumption across different usage scenarios. The screen supports 1.07 billion colours, delivering more lifelike, vibrant visuals. Certified by TÜV Rheinland to meet its Low Blue Light (Hardware Solution) standard, the display enables users to comfortably enjoy visual content for longer stretches of time.
To match this outstanding display and offer a more immersive entertainment experience, the OPPO Pad 2 is equipped with four symmetrical-placed speakers with 8.0cc sound cavities, along with support for Dolby Vision™ HDR as well as Dolby Atmos®. These elements work together to deliver theatre-like audiovisual enjoyment with vivid pictures and captivating audio.
Top-tier hardware for a superior performance
The OPPO Pad 2 is among the first tablets to integrate the flagship MediaTek Dimensity 9000 platform. Built upon advanced 4nm process technology, the platform comes with an ultra-core running at up to 3.05GHz. Paired with LPDDR5 high-speed memory and UFS3.1 flash memory, this platform offers industry-leading performance with efficient power consumption, ensuring smooth operations even with resource-intensive apps and multitasking.
For those who rely on a tablet for work and entertainment throughout the day, the OPPO Pad 2 is also designed to power through an entire workday with extended battery life and increased charging speed. The tablet houses a large 9510mAh battery that can support up to 12.4 hours of continuous video playback on a full charge. Going further, the incredible 67W SUPERVOOC™ flash charge can charge the battery back to 100% in just 81 minutes – empowering users to enjoy their tablet without having to constantly worry about battery life.
Smarter and more efficient work across multiple devices
The new OPPO Pad 2, provides an intuitive and seamless experience for working across multiple devices. The Multi-Screen Connect 2.0 supports auto-connect between the OPPO Pad 2 and any smartphone running ColorOS 13.1 and above.
Similar convenience can also be found through continuous screencast. In just one click, users can seamlessly switch from watching a video on their phone to watching the video on the more immersive and expanded OPPO Pad 2 screen without interruption. This feature provides a convenient and uninterrupted multimedia experience, ensuring a smooth flow of content across devices.
Designed with a thin, lightweight metal unibody
Despite all of the features packed into the OPPO Pad 2, the tablet is designed to be thin and lightweight with a thickness of just 6.54mm and weighing 552g, making it portable and effortless to use in any situation.
More efficient productivity tools
To further boost productivity with the OPPO Pad 2, OPPO introduces a range of cutting-edge accessories, including the OPPO Pad 2 Smart Touchpad Keyboard, the OPPO Pencil, and the OPPO Pad 2 Smart Case.
Pricing & Availability
The OPPO Pad 2 (8GB+256GB) is priced at $699. For the accessories, the OPPO Pad 2 Smart Touchpad Keyboard is priced at $159, the OPPO Pencil is priced at $79 and the OPPO Pad 2 Smart Case is priced at $79.
The OPPO Pad 2 and supporting accessories are available to purchase from today at OPPO Australia's online store.