Hardware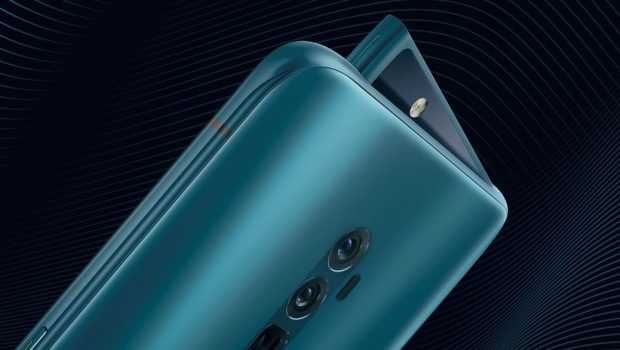 Published on July 27th, 2019 | by Andrew Bistak
Oppo Reno 5G Review
Summary: Oppo Reno 5G kicks some serious goals when it comes to performance and photography
4.6
Photographic performance
Welcome to the amazing Reno 5G from Oppo that is jam packed with features, including a very impressive multiple camera system for taking high-quality images plus it supports the super-fast 5G network. The Oppo Reno 5G retails for $1499AUD (July 2019) which is extraordinary value for a smartphone of this calibre when compared to its competitors. Furthermore, the Reno 5G comes in two colours that include Jet Black and Ocean Green (reviewed) which both shimmer.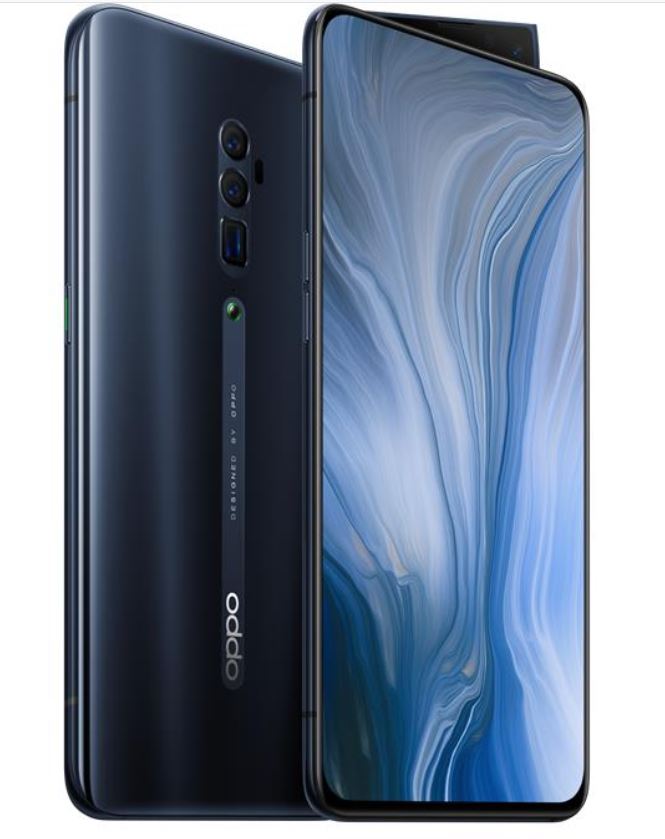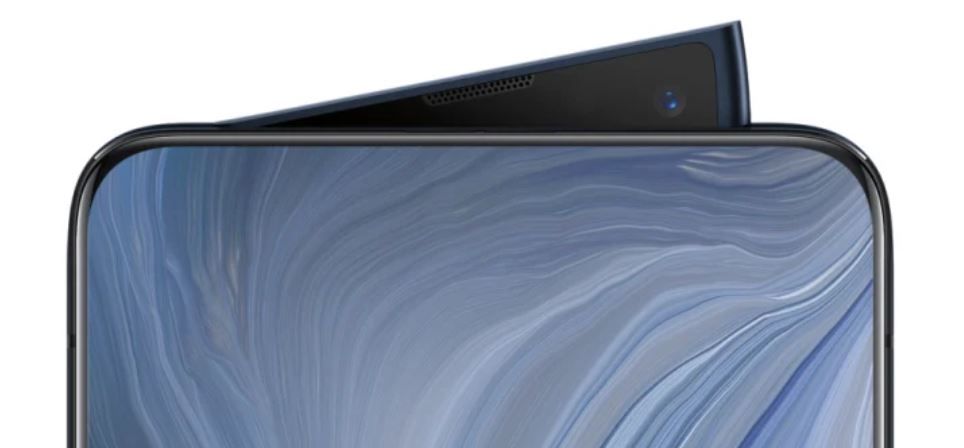 Aesthetically it's also a very attractive smartphone and boasts a 6" AMOLED display (1080 x 2340) with no notch or teardrop for the front camera… rather it has a discrete almost spy-like James Bond pop-up front camera. Interestingly for a moving part, this pop-up camera that looks like a shark fin is quite fast and surprisingly, you don't even notice it when it pops out. Very cool indeed Oppo!
While it is powered by Android 9.0 Pie which is the latest version of this operating system, Oppo also include their ColorOS which does have some parallels to Apple's iOS and is basically a "skin" that works on top of the base system and it functions quite well. Thankfully there is no additional bloatware on this phone, unlike some other companies which pile their intrusive apps into the operating system. As a result, it makes the experience on using the Oppo Reno 5G a much more streamlined one. Showcasing the power of this phone is a fun augmented reality app that does highlight the features of this high-end phone from Oppo!
Adding to the features of the Oppo Reno 5G is the powerful Qualcomm Snapdragon 855 processor with the Adreno 640 for graphical processing, including an impressive 8GB of RAM and 256GB of storage. This makes the Reno 5G a very fast phone that gamers will totally appreciate or anyone who wants a very responsive experience while using a smartphone.
For gamers, there is a Game Boost Mode that adds additional power, however given the already powerful specifications of the Reno 5G, we really didn't notice any real improvements. Games such as Call of Duty, Asphalt 9, PUBG Mobile, Injustice 2, ARK: Survival Evolved and The Elder Scrolls: Blades also channeled that high-end console experience. Needless to say, the specs of the Reno 5g add an element of future proofing this smartphone.
Then you have the camera and wow did Oppo deliver on this model. Like its Android competitors (Samsung, Huawei), the Reno 5G boasts a triple-camera design on the back which takes phenomenal photos. The main camera is 48 megapixels (f/1.7, 26mm lens, 1/2.0" sensor), followed by a 13 megapixel telephoto camera (f/3.0, 130mm) plus a 8 megapixel ultrawide camera (f/2.2, 16mm lens). It's definitely a high-end camera system for a smartphone and gives some digital-SLR cameras a run for their money.
Oppo Reno 5G Zoom Images (10X)

There's also image stabilisation and the zoom is a combination of 5 x optical and a 10 x hybrid zoom that adds a 60 x digital zoom that is impressive, however it does lack a little clarity when you fully zoom out… also, it's hard to sometimes keep the phone stable if it's a little windy. The front facing camera is 16 megapixels (f/2.0, 26mm) which houses the flashes. As a result, the images taken from the Oppo Reno 5G are amazing for a smartphone, even in low-light which many phones struggle with. Add in the ability to film 4K videos at 60 frames per second and your videos will look crystal clear!
There is however one bugbear with the Oppo Reno 5G… and that is 5G which is NOT the phones fault. While Australia is slowly implementing 5G into its communication architecture, not all access to 5G is equal. In Melbourne CBD, we got some super-quick speeds that put NBN to shame and even in the outer suburbs such as Geelong, it was still faster than 4G.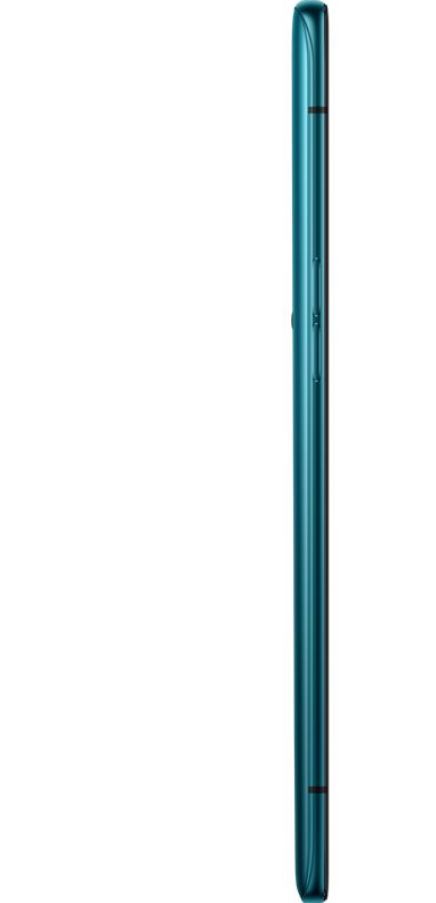 According to a report from Business Insider, we are 62 in the global broadband ranking, however our mobile network sits at number 5… and yes, Kazakhstan does have a better broadband network. Nonetheless, the speeds achieved through the 5G are still impressive and while the rollout is in its infancy, it is far superior than 4G… however let's not talk about the pricing of mobile phone download quotas!
Specifications
Display size: 6.6-inches
Display type:  AMOLED
Processor: Snapdragon 855
Operating System: Android 9.0 Pie with
Fingerprint Sensor: Yes, in-display
RAM:  8GB
Storage: 256GB
MicroSD slot: Yes
Durability: N/A
Ports: USB Type-C
SIM: Single / Dual
Battery: 4065mAh
Connectivity: 4G, 5G, Wi-Fi (802.11 a/b/g/n/ac), NFC and Bluetooth 5
Rear Camera: 48-megapixel (f/1.7) + 13-megapixel (f/3.0) + 8-megapixel (f/2.2)
Front-Facing Camera: 16-megapixel (f/2.0)
Colors: Ocean Green
Dimensions: 162 x 77.2 x 9.3 mm
Weight: 215g
Price:  $1499
Out of the box, this smartphone looks and feels like a high-end product and Oppo even include a case to protect the Reno 5G because without it, it's actually quite slippery. While it does feel good in your hands (better with the case), it is a little on the heavy side with 215 grams. The size of the phone measures at 162 x 77.2 x 9.3mm and it comes with a 4065mAh battery which easily lasts a day with heavy mobile use.
Add in Oppo's Fast VOOC charging and you'll be powered up in no time (around 90 minutes from zero charge) and surprisingly, there is no wireless charging or a headphone jack, however for a limited time, you can redeem a pair of Bose wireless earphones. This Bose offer is great value for money, considering that for $1499, you're getting one of Australia's top smartphones plus Bose wireless earphones.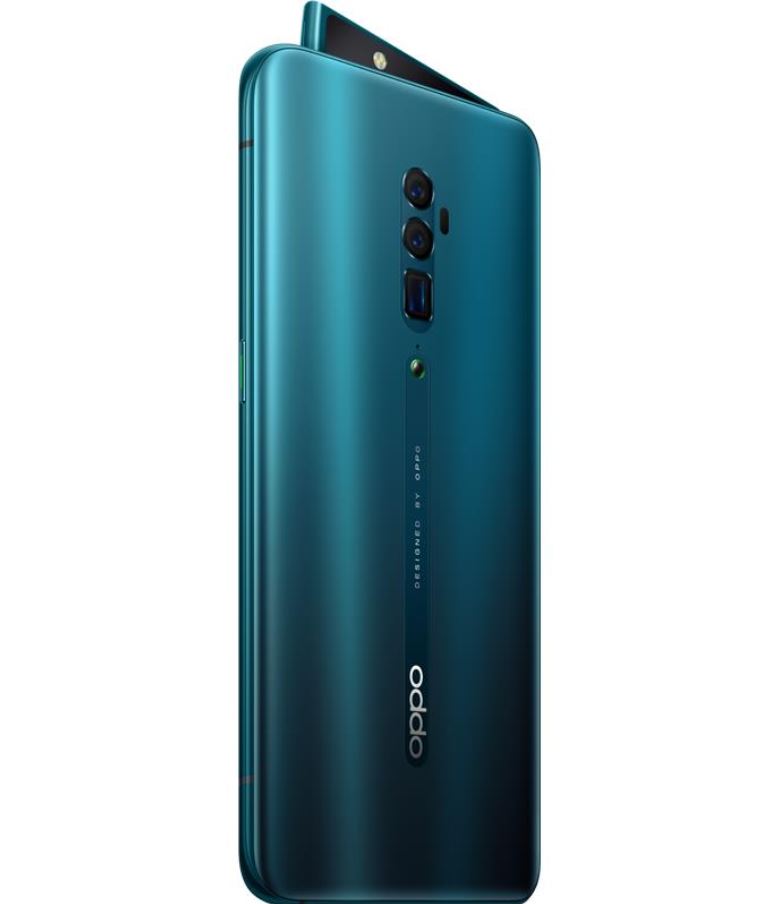 While it has an in-built fingerprint reader like Samsung and Huawei, the only thing missing is water resistance but this is due to the pop-up camera on the front which is no big deal for us. In terms of physical controls, there is a power button on the right side of the unit with volume buttons on the left which are well placed. At the bottom is the speaker, USB-C connection and SIM card tray. The speaker is quite good and it can produce some volume if needed.
Given that this was a high-end phone, we already knew how the benchmarking would go, however we did test the Oppo Reno 5G on 3DMark, PCMark and of course AnTuTu Benchmark plus AnTuTu 3DBench. As predicated, the Reno 5g was well in the upper echelon of smartphones thanks to its Snapdragon 855 CPU, Adreno 640 GPU and 8GB of RAM. According to AnTuTu Benchmark, this smartphone defeated 94% of users for CPU and 89% of users for GPU and ranked this phone #6 in the world.
PCMark scored 8944 with the Apple iPhone XR at 5612 and the Samsung Galaxy S10e at 7327 which makes the Oppo Reno 5G one of the most powerful phones in the world when it comes to application grunt. For 3DMark, the Sling Shot Extreme test scored 5767 that made this phone 99% faster than all other devices and for the Ice Storm Extreme test, this benchmarking program said it was too powerful to score.
Final Thoughts?
There's no doubt about it… the Oppo Reno 5G is an impressive phone, particularly when it comes to performance and photography. However with 5G in its infancy in Australia, it's a little early to jump on board, unless you live in a major city and even so, 5G speeds will vary throughout the day. Nonetheless, the Reno 5G has future proofed itself well and out of all the other 5G smartphones available, it's the best value around!
Recommended!
Overview
Reno 5G is about seeing the world from completely new perspectives. The technology behind Reno 5G elevates photography and mobile entertainment to all-new heights. Let Reno 5G further your vision.
10x Hybrid Zoom
Bringing You Closer To The World Around You
Creativity is no longer limited by distance. A 48MP ultra-clear main camera, 13MP telephoto lens and 8MP wide-angle lens make up the Reno 5G tri-lens setup. By combining three lenses over different focal ranges, this achieves a full bandwidth of 16-160mm, an effective focal length 10 times that of an ultra-wide-angle lens. The tri-camera setup is complemented by dual OIS for ensuring stability even when fully zoomed during hand-held operation.
Seize the Night with Ultra Night Mode 2.0
Reno 5G is equipped with a Sony IMX 586 48MP ultra-clear camera. Its 1/2.0″ ultra-large sensors and f/1.7 ultra-large aperture combine with MFNR and HDR software algorithms, protecting users from over-exposure to ensure stunning detail in low-light conditions. The new addition of AI portrait optimisation for night photography can differentiate between subject and background, ensuring skin tones remain consistent and that professional-grade photos are delivered.
True Beauty Revealed in 48MP Super High Definition
We've equipped Reno 5G with a 48MP super HD lens that delivers super high resolution and greater colour accuracy for more vivid detail in your photos.
Periscope Telephoto Lens Structure
To innovate, you have to take a different direction – literally. The Reno 5G uses a dispersive prism, dispersing light sideways rather than outwards as on traditional telephoto lenses. Combined with a d-cut lens array, space is saved making the entire module just 6.76mm thick.
Dual OIS
Reno 5G is equipped with ball-bearing dual OIS. The prism image stabiliser uses movement of the prism in the telephoto lens to compensate for camera shake through prism movement, achieving an image stabilisation accuracy of 0.001445°. Users can now enjoy the same focused photos even when the 10x Zoom is fully extended and operating by hand. When shooting videos, with advanced EIS combined with OIS image stabilisation technology, which we call 'HIS', Hybrid Image Stabilisation technology, smooth and clear videos are easy to create day or night.
More Friends in Your Frame – 120° Wide-angle Lens
The Reno 5G comes with a 120° wide-angle lens, perfect for large group photos and landscapes alike. The lens adopts a closed loop motor for faster precision focus while eliminating blur.
Start A Creative Journey In 4K Video
Reno 5G can film super HD 4K at 60 fps. It is also equipped with three microphones to achieve 3D stereo sound recordings. Audio Focus balances gain levels based on the distance of the object you are focusing on. This makes a true-to-life recording which is perfectly in sync with the high-definition video footage.
A Balance of Simplicity and Detail
Reno solves common design problems, turning them into simplistic, yet ingenious detail. The pivot rising structure is our answer to an uninterrupted, full-screen experience.
The camera bump has been flattened completely. Instead, a smooth surface and O-Dot structure adds protection and serves as an alluring focal point. Marrying original design with precision technology – Reno is a unique take on modern beauty.
Panoramic Screen
See the Details of Your Imagination
Reno 5G offers you a completely uninterrupted screen experience. There are no holes or other distractions and a bezel of only 3.5mm which makes a huge screen-to-body ratio of 93.1%.
Hi, Reno
The front camera, Front-facing Soft Light, receiver and rear flash are all cleverly housed within the compact rising structure. The pivot structure movement is incredibly intricate, first moving fast then slow. Less mechanical, more graceful. All of this is accomplished in 0.8s and in absolute silence
Unlock at the Speed of Light using the Hidden Fingerprint Unlock
An upgraded recognition structure combined with a more efficient algorithm enables even faster unlocking. The speed for fingerprint unlocking has been increased by 28.5%.
The brightness of unlock area has been increased by 10%.
The speed for fingerprint unlocking has been increased by 28.5%.
High Performance Experience
The Reno 5G is equipped with the Qualcomm Snapdragon 855 processor to effortlessly satisfy your need for speed. With up to 8GM RAM you can stream, game and chat with smooth and efficient results. It not only integrates a 4th generation AI engine but also demonstrates a giant leap in CPU smartphone performance, increased in power by 45%.
VOOC 3.0: Faster and Just As Safe
Reno 5G is equipped with a newer and better VOOC 3.0 that uses the latest VFC algorithm, increasing trickle-charge efficiency. The charging speed is increased by 100% at the trickle charging stage. With VOOC 3.0, you can game and charge at the same time. Coupled with the 4065mAh battery found in Reno 5G, you can now charge faster and last longer.
ColorOS 6
Based on Android 9.0, the latest generation of ColorOS adds Smart Riding Mode, Swipe-up Gesture Navigation, Smart Assistant and Cloud Service to a borderless design.

Key Features
6.6" AMOLED panoramic screen with Gorilla Glass 6
2340 x 1080 resolution
Qualcomm Snapdragon 855 processor
8GB RAM
256GB storage and MicroSD card slot (support up to 256GB)
16MP front facing camera
48MP + 8MP + 13MP triple rear camera setup
10x Hybrid Zoom
4065mAh battery + VOOC 3.0
Bluetooth v5.0
ColorOS 6 (based on Android 9)