Hardware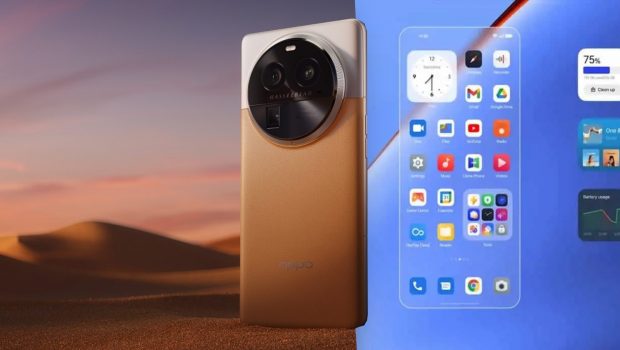 Published on November 16th, 2023 | by Adrian Gunning
OPPO Officially Rollouts Global Version ColorOS 14
Based on Android 14, ColorOS 14 introduces an optimised design, AI-powered smart features & ultra-smooth performance.
November 16, 2023: OPPO today announced the official rollout of the ColorOS 14 Global Version. As one of the first operating systems based on Android 14, ColorOS 14 introduces an optimised Aquamographic Design, AI-powered smart features for improved efficiency, ultra-smooth performance, and easy-to-use tools for enhanced user safety and privacy protection. Since the launch of ColorOS in 2013, ColorOS has more than 600 million monthly active users, with this year marking the 10th anniversary of the OPPO operating system.
More concise and intuitive UI with optimised Aquamographic Design
Inspired by water, OPPO introduced a new design language in ColorOS 13, Aquamographic Design. Building upon the awarded ColorOS 13, ColorOS 14 has optimised its Aquamorphic Design with new sound effects, colour systems, interactions and more, making the experience more concise and intuitive.
OPPO partnered with professional academies to study users' audio preferences and collaborated with the world's top sound design team to bring new sound effects to ColorOS 14. This includes ten sets of Aquamorphic-themed ringtones for calls, alarms and notifications, as well as seven global UI sound designs to provide users with a harmonious audio experience across OPPO's devices.
A brand-new Aqua Dynamics design, introduced by ColorOS 14, enables more intuitive interactions for users. This feature integrates common forms of interaction into bubbles, capsules, and panels that expand from the status bar to present information in a way that naturally flows and merges with minimal disruption.
ColorOS 14 continues to enhance the award-winning Always-On Display by introducing a new GO Green Always-On Display, helping raise climate awareness and environmental protection. The Go Green AOD includes three sets of Environment Vision pages, where each set includes five environment-related animations that can change based on users' daily step count, demonstrating their reduced carbon emissions from walking instead of taking other forms of transport.
Boosting Efficiency with AI-powered Smart Features
ColorOS 14 is packed with a suite of impressive AI-powered smart features to help improve daily task efficiency.
AI-powered Smart Touch enables users to select content like text, images, and videos and collect them on the File Dock, or even consolidate them into a single note by simple select and drag gestures.
The new File Dock on the Smart Sidebar allows users to share content across apps more easily via split-screen, floating windows, or the Dock itself. Content can be stored automatically in the File Dock and can be synced across different devices such as smartphones and tablets.
Smart Image Matting is a feature that enables users to crop multiple subjects out of a single image or paused video. The first time on any smartphone users can edit the cutouts in the File Pocket, File Dock, and split-screen mode.
Ultra-smooth Performance with Upgraded Trinity Engine
Trinity Engine in ColorOS 14 enhances the smartphone's smoothness and stability by efficiently managing computing resources, memory, and storage. The three key features of Trinity Engine include ROM Vitalisation, RAM Vitalisation, and CPU Vitalisation.
ROM Vitalisation can free up memory space by compressing app and file data through App Compression and File Compression within the Phone Manager. Smartphones equipped with ROM Vitalisation can save up to 20GB of storage space.
RAM Vitalisation can accelerate memory performance to boost multi-app efficiency and keep more applications running in the background. By reconstructing Android's underlying RAM mechanism and using OPPO's proprietary technologies, RAM Vitalisation can keep frequently used apps running in the background for up to 72 hours.
CPU Vitalisation is OPPO's industry-leading system-level power scheduling technology. Using sophisticated computing power models, it can precisely schedule power resources while determining the best balance between performance and power consumption.
With the help of AI, ColorOS 14 features Smart Charging that can automatically adjust the charging rate based on the smartphone's charge status to help prevent unnecessary battery wear.
Meticulous Safety and Privacy Protection
ColorOS has been recognised by authorised third-party organisations such as ISO, ePrivacy, TrustArc and others. ColorOS 14 integrates the underlying privacy capabilities of Android 14 and introduces a new feature: Picture Keeper. This is designed to prevent apps from misusing permissions towards personal photos or videos. Apps will need to obtain permission from the user to access selected photos or videos each time the user has enabled the new permission.
Last year, OPPO partnered with Snapchat to launch the Bitmoji AOD on ColorOS 13. This smart Always-On Display is fully personalised to your Bitmoji, and is able to showcase scenario-based stickers throughout the day, including weather, physical activity, and many more.
ColorOS 14 rollout plan
Starting in October, ColorOS 14 Global Beta Version has begun to roll out in selected regions. The official Global Version will first come to Find N2 Flip in selected regions.