Hardware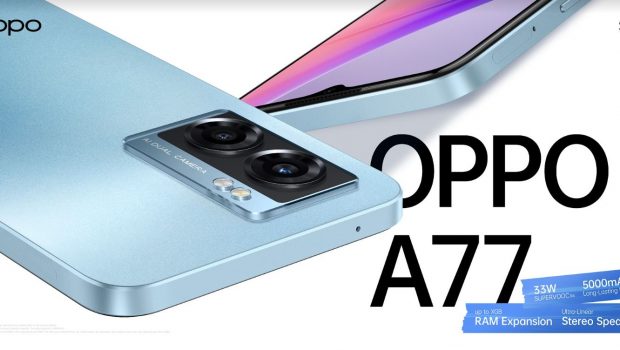 Published on August 4th, 2022 | by Adrian Gunning
OPPO Launches A77 5G – the Perfect Pocket Partner
OPPO Australia is pleased to announce the launch of the OPPO A77 5G, the latest A Series addition, in which users have a choice of two models, a 4GB+64GB (RRP: $449) and a 6GB+128GB (RRP: $499) option, to suit a range of both budgets and lifestyles.
The combination of 33W SUPERVOOCTM and 5000mAh Long-Lasting Battery spells the end of battery anxiety. Its Ultra-linear Stereo Speaker array increases sound output by 100% over the previous generation, while the ColorOS 12.1 software with AI System Booster provides lag-free navigation made all the more responsive by the smooth 90Hz Colour-Rich Display.
The OPPO A77 5G is a catalogue of innovation. The new A Series addition represents the perfect merging of technology and style. Its striking finish is matched with an ergonomic and easy-to-use design, and 5G connectivity provides an affordable way to keep up with the pace of change.
OPPO's Next-Generation Battery Solution
Long battery life is a key component of every OPPO A-series phone but the OPPO A77 5G takes several huge strides over the last generation. Its 33W SUPERVOOCTM charging technology, combined with the 5000mAh Long-Lasting Battery enables a full charge in just 68 minutes, at up to twice the rate of the previous model. A 5-minute charge is enough for 1.68 hours of YouTube video streaming.
Users can head to bed safe in the knowledge the OPPO A77's battery will last through the night too. OPPO's Super Night-time Standby technology means the phone will only lose 2 percent charge overnight. Plug in instead and OPPO's Optimised Night Charging uses an AI algorithm to learn the user's daily routine, to work out when to recharge the battery in order to maintain peak battery health.
Stylish Design
Despite its high battery capacity, the OPPO A77 5G is just 7.99mm thin. And for all the attention paid to real-world performance and stamina, the phone is still made to dazzle at the very first glance and touch.
It has on-trend straight-cut sides, for the narrowest possible frame. The OPPO Glow Design finish imbues each OPPO A77 5G with a galaxy of tiny sparkling stars, coming in two colourways, Midnight Black and Ocean Blue.
The design has undergone more than 130 reliability tests and over 320 quality tests to prove the phone can more than match up to the trials of real-world use.
These include a total of 28,000 drops from a height of 10cm, on all sides, and 32 drops from 1m. The OPPO A77 5G is also tested in 55 degree and -15 degree temperatures, plus at 95% humidity, to guarantee excellent real-world resilience.
The OPPO A775G  also offers IPx4 resistance for everyday waterproofing, making it safe to use in all weather.
90HZ Colour-Rich Display
OPPO's 90Hz Colour-Rich Display delivers the smoothness of a high refresh rate and the extreme responsiveness of 180Hz touch sampling. It also has exceptional color depth, able to render 100% of the tones in the DCI P3 color space. This is crucial for bringing movies to life, rendering life-like skin tones and the powerful colors of a sunset.
The Bright Mode with 600 nits of screen brightness keeps the OPPO A77 5G display clear and vibrant when users head outside to exercise or take in some sunshine. In direct sunlight each pixel of the screen is optimised for the best possible visibility, using dynamic contrast adjustment.
Enhancing the Beauty of Photography
The advanced features of the OPPO A77 5G camera also make use of the added power of the next-generation MediaTek Dimensity 810 SoC. Its 48MP Dual Camera has an additional depth sensor for background-blurred images, perfect for eye-catching portraits of friends and family.
OPPO's Portrait Retouching mode can instantly make any portrait more flattering, using a complex algorithmic process with eight areas of customization and 100 levels of intensity for each. It can soften fine lines and tweak the reproduction of facial features.
The goal is to make images taken with the OPPO A77 appear just as the photographer intended. OPPO's AI Scene Enhancement performs similar feats with other styles of image. It automatically recognizes 22 different kinds of scene, like a sunset photo, a grassy field or blue sky, and tailors the image handling for the most eye-catching result.
ColorOS 12.1 Features
To see the phone in action is to witness a harmonious duet of cutting-edge hardware and carefully tailored software. OPPO's ColorOS 12.1 has AI System Booster technology, which uses AI performance management for the smoothest performance in everything from basic system navigation to high-end gaming.
All of this is powered by the latest MediaTek Dimensity 810 SoC. It is an octa-core powerhouse with six efficiency-led 2.0 GHz Cortex-A55 cores and two 2.4 GHz Cortex-A76 performance cores, plus a Mali-G57 MC2 graphics chipset.
Pricing & Availability
OPPO A77 5G is available from today in selected retailers across Australi
OPPO A77 5G 4GB+64GB
RRP: $449
Retailers: OPPO Australia online store, Officeworks
OPPO A77 5G 6GB+128GB
RRP: $499
Retailers: OPPO Australia online store, JB Hi-Fi, Big W, Australia Post, The Good Guys (Midnight Black only), Bing Lee (Midnight Black only), Harvey Norman, Woolworths