Hardware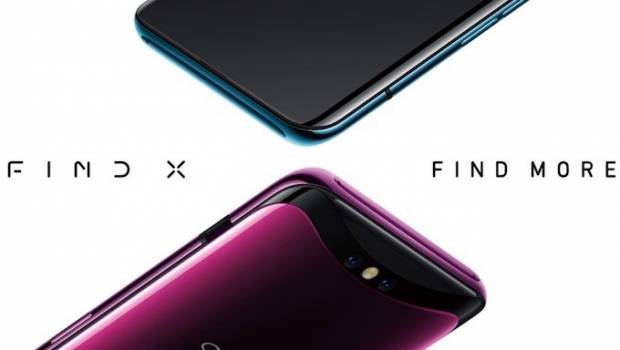 Published on June 20th, 2018 | by Admin
OPPO Introduces 3D Stealth Cameras
Super Fast Facial Recognition & Super VOOC in Find X Devices
Sydney, Australia – 20 June 2018 – Leading global smartphone brand, OPPO, today launched the OPPO Find X at the Louvre Museum in Paris. The new flagship device combines innovative technologies with groundbreaking design, pushing the boundaries of what is possible in a smartphone.
The Find series has brought many industry firsts to market, from rotating cameras to fast flash charging technology. The Find X continues this trend and features a number of new innovations including a new smartphone design, improved 3D camera technology and Artificial Intelligence (AI) performance enhancements. Together, these technologies bring smartphone user experience to a new level.
"We're excited to be announcing our latest device in the OPPO Find Series and we look forward to bringing it to the Australian market. The device will be sure to challenge what Aussie consumers think is possible with a smartphone," said Michael Tran, Executive Director at OPPO Australia.
"OPPO's relentless efforts in creating smartphones that push the boundaries led to the creation of the Find Series. The Find X continues this trend and has delivered new innovations that will resonate with Aussie consumers and challenge the status quo in the Australiansmartphone market."
Stealth 3D Cameras Ups OPPOs Selfie Game
The Find X uses an innovative sliding structure that completely disguises the cameras within the body of the phone. The Find X sports a 25-megapixel front camera and 16MP+20MP dual rear cameras. Additionally a 3D Structured light module is included, which can project 15,000 dots to build a precise and complete 3D model of a user's face, with millimeter-level accuracy.
This has helped to further improve OPPO's selfie game. The Find X introduces 3D Smart Selfie Capture. Based on the 3D model of a user's face, AI technology intelligently analyzes facial characteristics such as face shapes and features, providing suggestions to make faces look more natural and realistic.
Moreover, OPPO Find X makes it easier to take high quality photos. With the assistance of AI Scene Recognition, it intelligently identifies scenes and objects while optimizing the image. It supports over 20 scenarios of photography and over 800 scenario combinations including snow, food, pets, and so on.
3D Facial Recognition: O My, That Was Quick
Not only do the 3D cameras help users take better photos, but its built-in facial recognition technology has a higher level of security than fingerprint identification. The false acceptance rate of fingerprint recognition is 1/50,000, while the false acceptance rate of 3D Face Recognition is 1/1,000,000.
3D facial recognition not only makes unlocking safer but also more convenient, while also offering support for mobile payments. OPPO has now made it possible to pay through facial recognition, with Alibaba's Alipay, making Find X the first Android phone to support payment through facial recognition.
A Panoramic and Unified Design
The Find X introduces a unique and beautiful Panoramic Arc Screen, an all-screen display with no compromises. OPPO used COP flexible screen packing technology in the Find X bringing the visual screen ratio to 93.8%. With the front almost all-screen, the Find X and its panoramic screen brings the user an unprecedented visual experience, whilst offering an elegant look and feel.
The new device will come in two gradient colour combinations — Bordeaux Red and Glacier Blue. The Multifaceted Colour Process used by OPPO realises a perfect blend of gradient design with a 3D arc on the rear. In the light, the Find X shines, presenting a colorful effect that changes with your surroundings.
Exploring Intelligence: ColorOS 5.1 AI System
Based on Android 8.1, OPPO ColorOS 5.1 is deeply integrated with the AIE engine of the Snapdragon 845 mobile platform. The AI capability of this arrangement helps ColorOS 5.1 understand user needs better than ever before.
As the third generation of Qualcomm Mobile AI Platform, Snapdragon 845 mobile platform is engineered with every forward-looking feature, including camera, gaming, an intelligent personal assistant and advanced vault-like security. With the brand new Qualcomm® Hexagon™ 685 DSP, enhanced CPU and GPU, Snapdragon 845 mobile platform is stronger, faster and smarter than ever before.
OPPO Find X features the built-in Google Assistant and the smart low-power-consumption MIC with DSP module. This means OPPO Find X can not only identify the magnitude of ambient noise intelligently but can also adjust the performance automatically to ensure high activation success rate for Google Assistant.
OPPO Find X Meets Automobili Lamborghini Edition – Introduces Super VOOC
OPPO has also today announced a three-year exclusive global strategic partnership with world top supercar brand Automobili Lamborghini at the Product Launch. In the OPPO Find X Automobili Lamborghini Edition, features have been specifically designed to embody the look of a Lamborghini sports car. This includes the carbon fiber texture which covers the phone body, the 3D engraved logo, and the woven pattern of the charging cable inspired by the V12 ignition coil design, to name a few.
The limited edition device also has super fast charging, as it introduces OPPO's unique charging technology Super VOOC flash charge. Super VOOC enables the charge power of mobile phone to exceed 50W for the first time and charges the phone to 100 per cent in just 35 minutes.
Pricing & Availability
Pricing and availability is to be confirmed for Australia.
For more Find X information, please visit: http://www.oppo.com/en/smartphone-find_x