Hardware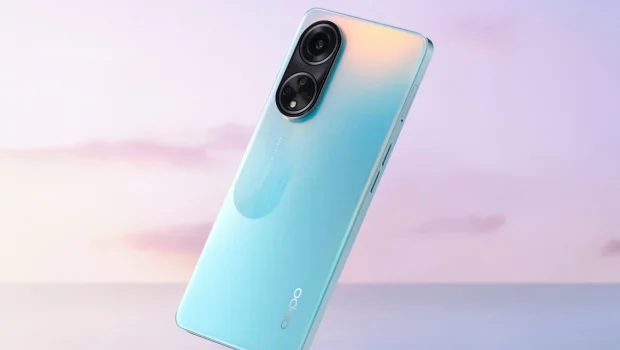 Published on August 27th, 2023 | by Andrew Paul
OPPO A98 5G A5 REVIEW
Summary: The OPPO A98 5G A5 is an all-round midrange smartphone that does it all.
The new OPPO A98 5G smartphone is here and Impulse Gamer was given an exclusive hands on to check out this new device. Like previous OPPO smartphones, this company continues to refine and improve their designs and I can safely report that the A98 5G is no exception as it comes with a wealth of features and benefits to the end-user.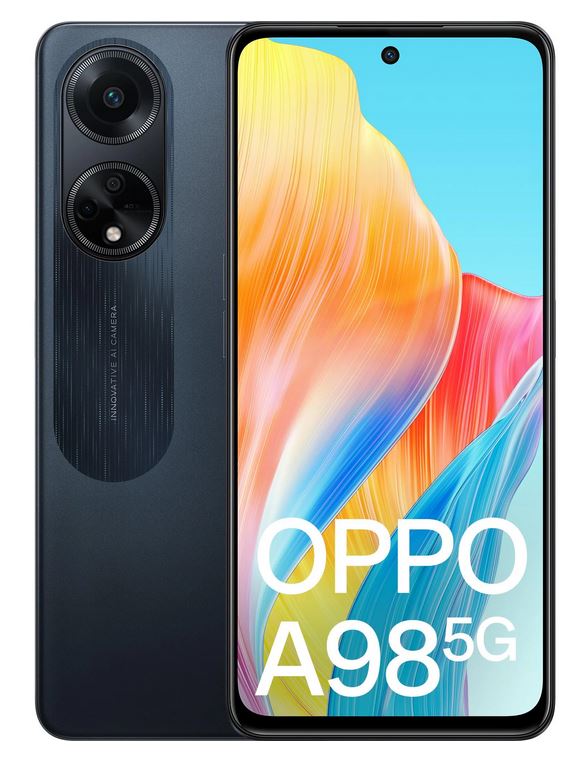 It is also available in two colours, "cool black" (reviewed) or "dreamy blue" with some impressive high-end aesthetics that makes an impact, particularly with its Glow Design that changes the colour of the back of the phone, depending on its angle and lighting. In Australia the OPPO A98 5G retails for 649AUD (August 2023) which is classified as a midrange smartphone that is great value opposed to those overpriced top-end phones from Apple and Samsung.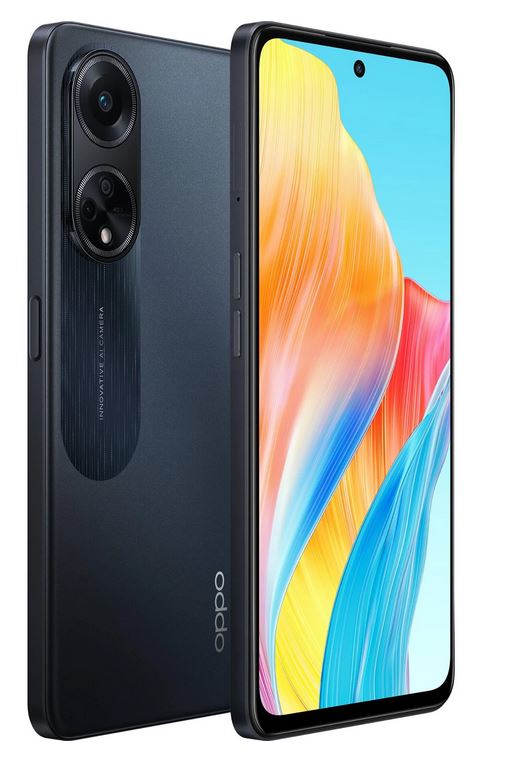 In terms of performance, the OPPO A98 5G is powered by the Qualcomm Snapdragon 695 5G octa-core processor which uses 6NM manufacturing to ensure improved performance and reduced power consumption. This is broken down into two 2.2 GHz Kryo 660 gold cores, six 1.7 GHz Kryo 660 silver cores and lastly n 840 MHz Adreno 619 graphics accelerator. Further supporting the CPU is 8GB of RAM which really makes this phone quite a zippy (fast) device.
This smartphone comes with Android 13 with OPPO's proprietary Color OS 13.1 that is basically a skin over the base Android operating system and adds some additional features and shortcuts to make it a smoother experience when operating this smartphone. This includes highlights such as an Aquamorphic Design, Smart Always-on Display, Meeting Assistant and Multi-screen Connect to name a few of the features… including turning you into an animated character.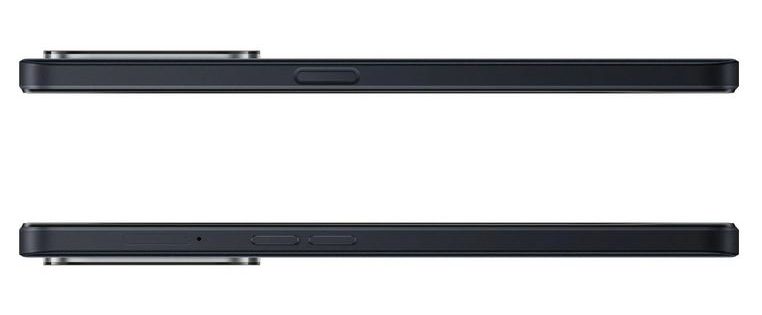 Add in a 5000mAh battery and this phone will definitely ensure your needs are met throughout the day. When you do need to charge, it offers supercharging (67W SUPERVOOCTM) that in 18-minutes gives you 50% battery or 44-mintues to fully charge the battery. The only caveat for this feature is that you do need to use the included charger or a third party equivalent.
Further, gamers and streamers will enjoy the 120Hz 6.72″ screen that reduces tear and ensures the best possible framerate. The quality of the screen boasts sharp images, clear text and vibrant colours thanks to the 2400×1080 resolution that again makes it ideal for all-round usage. In terms of screen size to phone, it is 91.4% with a thin bezel around it that gives you quite a bit of workable real estate.
For audio, the in-built speakers work okay and whether this was playing games, watching Disney+ or listening to music, its overall sound quality is acceptable for a smartphone of this caliber, however you still can't beat external speakers or headsets. For those that still like wired headphones, the A98 comes with a headphone jack.
OPPO A98 5G Key Features
67W SUPERVOOCTM fast charge
120Hz 6.72″ Silky Smooth Large Screen
64MP AI Camera
40x Microlens
256GB storage with up to 1TB with MicroSD
48-Month Fluency Protection
OS powered by ColorOS 13.1
Unboxing
Nicely packed from OPPO, the A98 5G comes with everything you need to start your smartphone adventure that includes a USB-C cable, charger, pre-installed screen protector and a SIM eject tool. The only thing missing is a case that will need to be purchased as an add-on.
For size, the phone itself measures at 165.6 x 76.1 x 8.2 mm with a weight of just 192 grams. As a result, weight distribution is good and it doesn't feel top heavy and its overall plastic design nicely fits in your hand. For buttons, there is a power button on the right that doubles as a finger print reader and on the left, volume buttons and the dual-SIM tray. Lastly, there is a speaker on the bottom, a USB-C connector and also the 3.5mm headphone jack.
All in all, everything is well placed for convenience.
Setup is like any other Android phone that connects to your Wi-Fi and/or Mobile Carrier with the option of setting the A98 as a new device or you can import data from your previous smartphone. The transfer of data also works on both Apple and Android devices, although the transferring of data from Apple phone is more limited, e.g. photos and contacts.
There are also a number of different unlocking options from the fingerprint reader, facial recognition or traditional codes which nicely rounds out the setup process. Once completed, we were treated to Android 13 with ColorOS and as an existing Android user, everything was where it should be and more importantly, the A98 5G was a quick device
Games such as Call of Duty Mobile, Diablo Immortal and Super Mario Run worked well on this phone, however as this is a midrange phone, some of the more resource hungry games like Genshin Impact and Grid Autosport will require some graphical tweaking but nonetheless, it is a phone that allows for both casual and hardcore gaming with the later more than likely requiring changes to settings.
Benchmarking
The first test was Geekbench that cemented this phone as a midrange phone. The similar ranked Google Pixel A6 slightly beat this OPPO phone with a single-core speed of 986 and Multi-Core Score 2387.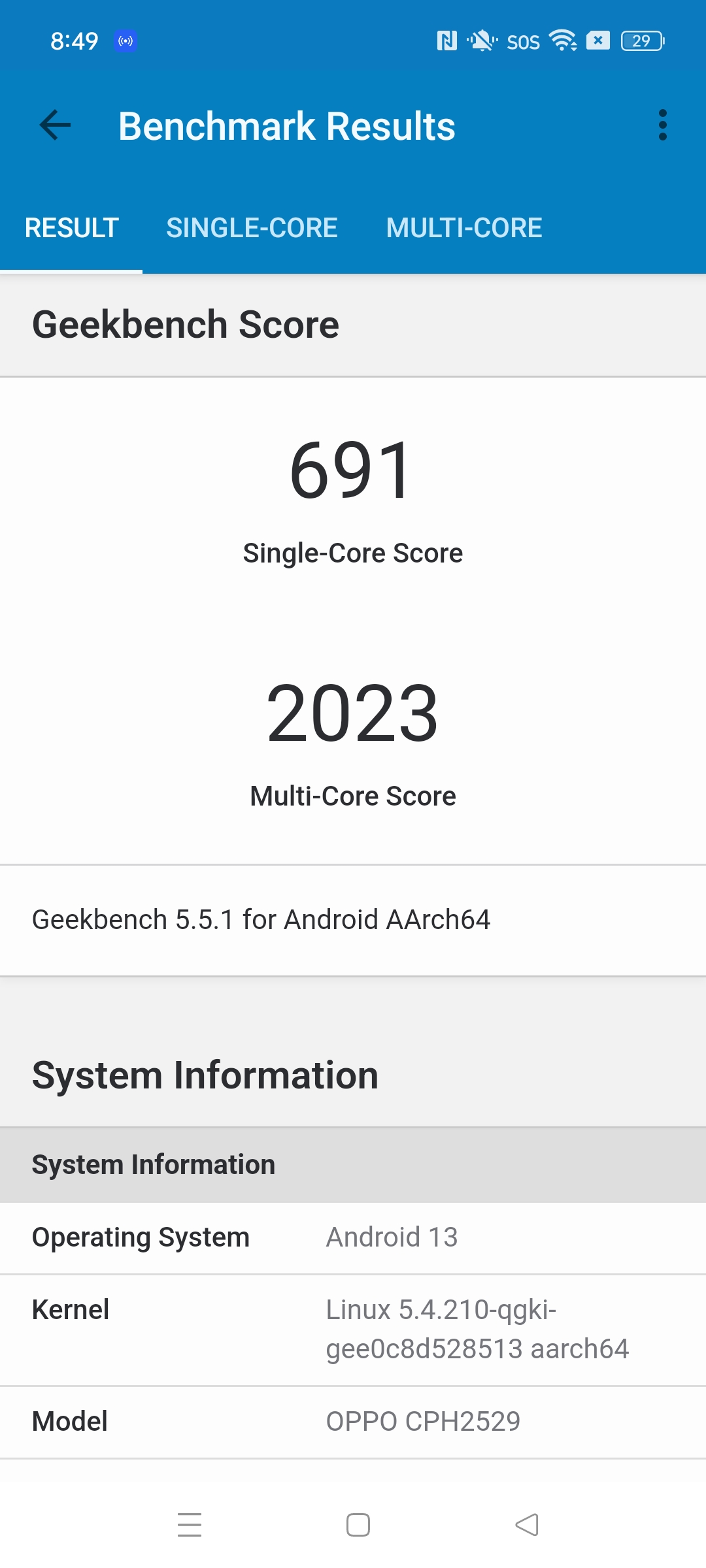 3DMark is another great tool to test smartphones and the Wild Life benchmark was a little on the lower side that does add some weight on where this sits as a gaming phone. Again it's not a gaming phone, however it will allow you to play most games with tweaks however.
Benchmarking under PCMark pings this phone for excellent general usage and compared to the Pixel 6a that scored 8555, the OPPO A98 5G is more of a workhouse.
For Antutu benchmark, we wanted to test the storage device and while not the fastest phone on the market in terms of read / write speeds, we had no issues with downloads, accessing videos or general app use.
Lastly the Wi-Fi Anaylser test provided excellent connection to our Wi-Fi network that makes it ideal for streaming videos, music plus general downloads.
Cameras, cameras everywhere!
OPPO have been a leader in photography on their smartphones and the A98 5G comes with four cameras to help you capture everything around you from the macro level to impressive distances and front facing cameras for the perfect selfie. While the cameras support a maximum resolution of 64MP (9216 x 6912), OPPO include their super resolution algorithms that in essence redefine the image to a whopping 108MP. Like other OPPO smartphones, their photography hardware is supported by various algorithms to improve overall quality by enhancements and adjustments.
The main camera on the back is a 64 MP lens with a  f/1.7 aperture, 26 mm (EFV) with PDAF phase detection autofocus. Supporting this camera is a 2MP, f/3.3, 34mm microscope camera with 20x and 40x modes plus another 2MP f/2.4 depth sensor. The later captures  1080p video at 30 frames per second, so no 4K videos here sorry. Lastly, the front camera (aka selfie camera) at 32MP, f/2.4, 22mm does take some good selfies.
For overall quality, the cameras capture photos quite well in strong lighting and surprising the night mode does an okay job with low light images. Although no optical zoom, the phone does support digital of up to 40x which is not the greatest like all digital zooms. However I must admit that the microscope ability is weirdly different and impressive… check out gallery images 2 and 4.
Gallery
Final Thoughts?
If you're on a budget, then the OPPO A98 5g offer value for money with its quality cameras and overall speediness of the system. If you're a hardcore gamer, you might want to check something out a little more powerful but for most users, the A98 delivers on most fronts.
Recommended!
OPPO A98 5G Highlights
Supercharge Your Day
A charging speed that will make your head spin. Fast charge your phone to 50% in 18 minutes, the time it takes to have a coffee break. And 44 minutes is all you'll need to power up to a full charge and be out the door, your phone ready for hours of calling, work and play.1
The Battery That Keeps on Giving
This big, robust battery will power you through your day, however that might look. Text, talk, stream and game – the 5000mAh capacity means your phone will be there for you, from its morning charge long into the night, and then some.4
Snapdragon™ 5G SoC by Qualcomm® 9
Rev up your apps in a blink but without guzzling power. Advanced 6nm process low-power technology ensures lower power consumption however you use your phone.
Flow with The Glow
OPPO Glow Design brings a gleaming galaxy to your phone, inspiring awe and turning heads. Not just a looker, the smooth shimmering surface also stands tough to fingerprints, scratches and wear. The 3D curved back cover fits like a glove in your hand for a comfortable, sure grip.
Such a Smoothie!
The 120Hz ultra-high refresh rate means your screen is doing some lightning-fast moves so that what you see looks simply smooth and amazing. But it keeps its cool with a 6-level adaptive frame rate for low power consumption and maximum visual effect.
Surround Yourself with Sound
Your ears will love life in stereo and a sound that's louder, clearer and totally immersive. Gaming feels more real while videos and music sound bigger and better.
Ultra-Clear Imaging System
One phone with four cameras equals fabulous photos with a guaranteed wow factor. Get your visual creativity on, deep dive into the micro world or zoom out for the big picture.
Dazzling Details
64MP of AI-powered photography produces photos with the richest detail, the most vibrant colours and perfectly balanced lighting.
Jaw-Dropping Clear
Your stunning photos will be the talk of your social feed. Super-resolution algorithms do some heavy lifting, crunching image data at the sub-pixel level and stitching together ultra-high-definition images of up to an astounding 108MP.
Bring The Night to Life
Composite multi-frame noise reduction and HDR technology reduce noise and increase image clarity to create nightscapes that dazzle.
Stand-Out Personality
Portrait Mode analyses the depth of field in an image, blurs the background and renders the figure in stunning clarity. The result is a vivid cinematic portrait shot that stands out from the crowd.
Closer Than Ever
Go places you've yet to see with OPPO's unparalleled Microlens. The invisible microscopic world is yours for the image taking. Things you might miss with your eye become the subject of detailed, awe-inspiring photos