Games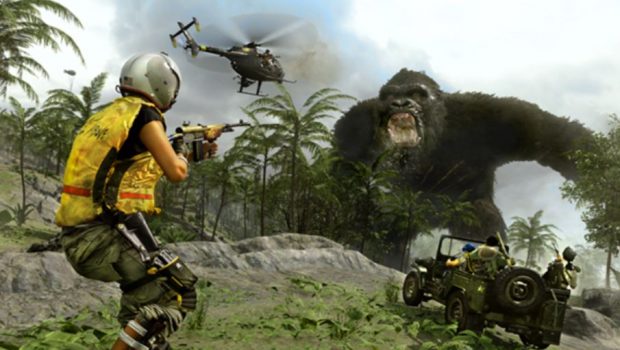 Published on May 12th, 2022 | by Adrian Gunning
Operation Monarch in Call of Duty Warzone | Surviving the Monsterverse inspired by Godzilla vs. Kong
Despite battling across multiple continents, Call of Duty operators have never faced two colossal threats like Kong and Godzilla before.
From 12 May to 25 May, Call of Duty: Warzone players can stand toe-to-toe with Kong and Godzilla in the Operation Monarch limited-time mode. Exciting rewards are up for grabs by participating in matches, collecting Monarch Intel, completing challenges, and purchasing limited-time Monsterverse bundles inspired by Godzilla vs. Kong.
Godzilla
The King of the Monsters has risen from the darkest depths of the ocean to unleash devastating attacks and a thunderous roar on unsuspecting shores, and no one, not even the secretive monster defence agency, Monarch, knows why Godzilla is so enraged. With his target set on Caldera, Godzilla patrols the island with Heat Ray Breath, unleashing a deadly beam of energy that puts Operators in the line of fire mere seconds before getting blasted.
Kong
The ruler of Skull Island, now all-powerful, his strength forges in the fire of combat. Kong has developed an epic brawler style fight, using sheer strength to confuse and disorient his opponents. As to why he's on Skull Island, that's for you to find out. Kong will leap and jump around the island, in patterns and landing spots able to be predicted through research, in order to escape his deadly attacks.
What to expect in this limited-time mode event
Players are advised to have a full quad team, but the rules are simple… be the last team standing. On the ground, players will find Monarch Intel, special drops, and fallen enemies. Use these to charge a special meter that unlocks items such as Killstreaks and Loadout Drops, along with a unique and powerful Titan Killstreak reward by filling it up completely. While collecting intel and eliminating enemies, be on the watch for Kong and Godzilla, as dealing damage to the giants provides an additional reward.
Titan Frenzy
At the beginning of an Operation Monarch match, and at any point during, Kong and Godzilla may become enraged and recklessly attack. After receiving a Titan Frenzy alert, Operators have two options: tactically flee from these dangerous creatures, or attempt to suppress them by dealing direct damage. The squad that deals the most damage will automatically be rewarded for their fearless fight and receive Monarch's S.C.R.E.A.M. Device. The Titan S.C.R.E.A.M. Device (Sonic Communication Radar and Echolocation Array Module) is a prototypical device that lets Operatives unleash the awesome power of Godzilla and Kong in battle – a Killstreak granting one of the two powers of the Titans: Godzilla's Heat Ray Breath, or Kong's Ground Pound.
Watch the trailer here or for more information on Operation Monarch intel and tips for success, visit the Call of Duty blog here.