Hardware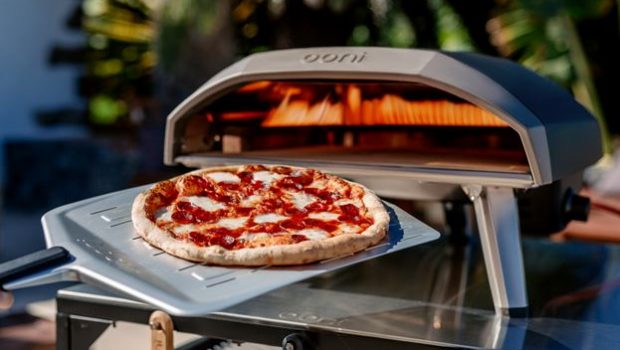 Published on September 16th, 2022 | by Adrian Gunning
Ooni® Pizza Ovens Gives Australia a Slice of the Action With Local Launch
Making it easier than ever for Aussies to experience the joy of great pizza from their own backyard, Ooni® Pizza Ovens has officially launched in Australia.
With the official launch of its new local website, au.ooni.com, Australians can now easily purchase Ooni's range of multi-fuelled portable, outdoor ovens, famous for their ability to reach a temperature of 500°C in under 20 minutes and cook incredible pizzas in 60 seconds.
The world's number one pizza oven brand, Ooni was created in 2012 by husband and wife duo Kristian Tapaninaho and Darina Garland and has a cult following across the USA, the UK and Europe. Ooni is also the only brand to have one of its home pizza ovens, the Ooni Karu 16, approved by the True Neapolitan Pizza Association, a not-for-profit organisation in Italy that promotes and protects true Neapolitan pizza worldwide.
On the launch, newly appointed General Manager of Ooni Australia, Jeff Morrison, said: "We're incredibly excited to finally launch in Australia. We know that Aussies have a famous love for food and the outdoors, and we're coming to market at a fantastic time ahead of the summer season. We can't wait to help even more Aussies make pizza with our ovens."
Kristian Tapaninaho, Founder and Co-CEO of Ooni, said that Australians have much to look forward to from the brand. "Ooni was founded on the simple idea that everyone deserves great pizza. From our backyard beginnings, we've gone on to sell our pizza ovens all over the world and we're proud to add Australia to the list."
Included in Ooni's lineup of award-winning pizza ovens include:
Ooni Karu 16 Multi-Fuel Pizza Oven:
Ooni's signature Pizza Oven with flexible fuel options
Huge cooking area to cook 16" pizzas
Reaches 500°C in 15 minutes
Glass drop-down door and mounted thermometer
Ooni Koda 12 Gas Powered Pizza Oven:
A compact, powerful outdoor oven created for convenience
Fits in any outdoor space
Cooks a 12" pizza in just 60 seconds
Perfect for camping, weighing under 10kg (9.25kg)
Connects directly to your gas bottle
Read more HERE
Also available on the Ooni website is a range of accessories and recipes to further optimise your Ooni experience.
Australians can visit au.ooni.com today to learn more and find the Ooni Pizza Oven best suited for them.