Games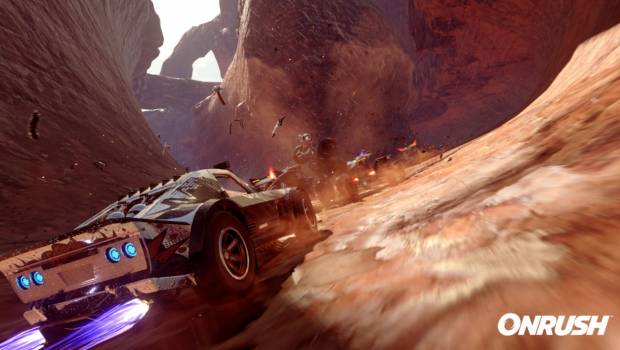 Published on June 6th, 2018 | by Admin
ONRUSH Out Now & Launch Trailer
SYDNEY, 6th June 2018 – ONRUSH, the action packed, arcade racer from Codemasters has today smashed its way onto the PlayStation® 4 computer entertainment system and the Xbox One family of devices including the Xbox One X. To celebrate the launch of ONRUSH Codemasters has released a brand new gameplay trailer, available to view now at www.codemasters.com/onrush, showcasing the total carnage that you can unleash in the game.
A brand new take on the racing genre, ONRUSH emphasises teamplay as it removes traditional racing staples such as the start/finish line and offers fresh new game modes designed to accentuate fun, creativity and raw adrenaline. Players will have to work together with their team mates, utilising the games different vehicle classes, each with their own unique strengths and abilities to wreak carnage and take the win for their team.
"We've had a blast creating this completely original take on what the racing genre can do," said Paul Rustchynsky, Game Director, ONRUSH. "We can't wait for players to get their hands on ONRUSH and experience the thrill of takedowns, risky stunts and, of course, RUSH.
"We set out to create a racing game that was designed to be played together, with friends and against rivals," Paul continued. "A game that's inclusive, so people of all skill levels can enjoy playing together, including those that typically don't play racing games, achieved by keeping players at the heart of the action at all times."
Designed with accessibility and playability at its core ONRUSH's innovative system, the Stampede, ensures that players are always in the fight by dropping them straight into the action if they get away from the pack.
Each of the eight vehicle classes in ONRUSH has its own unique style and feel. This includes the vehicle's RUSH state with each class having different effects and abilities that can help their side claim the victory. The player can also customise their vehicle in a wide variety of ways to reflect their own personality and play style.
With four innovative game modes (Overdrive, Switch, Lockdown and Countdown) and 12 stunning multi-route locations, ONRUSH offers great depth in for both single and multiplayer gaming. Players can then use the comprehensive Photo Mode to showcase their best moments and killer takedowns.
Available to buy now on PS4 and Xbox One, the ONRUSH DAY ONE EDITION includes the unique 'Vortex' buggy design to really stand out in the Stampede.
For more information about the game, visit www.onrushgame.com. Fans can keep up to date with all the latest news by joining our communities on Facebook, Twitter and Reddit.