Events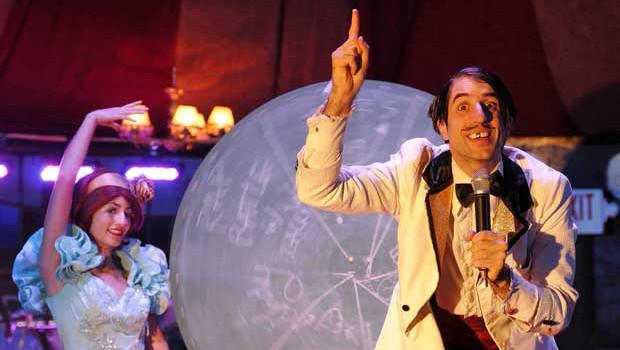 Published on October 2nd, 2015 | by admin
Only Three Weeks Left To See ABSINTHE + Adam Sandler loves the show!
Sydney-siders only have three weeks left to catch smash-hit Las Vegas show ABSINTHE by Spiegelworld, which is currently playing under the beautiful spiegeltent in Hyde Park. The final performance of the Sydney season will take place on Sunday October 25, with no further extensions possible.
The host and producer of the show, The Gazillionaire, says, "It's been a blast Sydney. I'll miss your beautiful beaches and… oh, wait, who am I kidding? I hate the beach. I'll miss the bar scene but sadly Vegas beckons. If you want to come and see some very cool sh*t you better hurry up."
ABSINTHE has been wowing audiences since it launched with a star-studded opening night on September 17 2015.
It's not just Australian celebrities that love ABSINTHE. A-listers regularly attend the Las Vegas production of the show which has been playing at Caesars Palace for over four years.
Just last week Adam Sandler and his wife Jackie attended ABSINTHE in Vegas to celebrate Jackie's birthday. Sandler was so impressed he sent the performers flowers and penned a hand written thank-you note saying, "To the cast of ABSINTHE. I truly can't believe how great every one of you are. FU*K!"
Tickets for the three remaining weeks of Sydney shows are available through www.Ticketek.com.au. From 8 to 25 October, patrons can also enjoy the nearby Night Noodle Markets before or after the show.