Films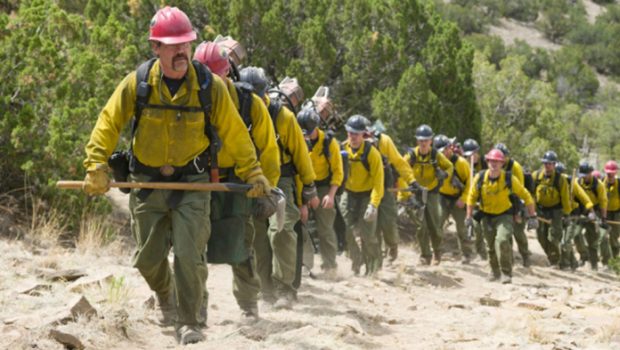 Published on November 27th, 2017 | by Curtis Mayfield
Only the Brave – Film Review
Reviewed by Curtis Mayfield M-H on November 13th, 2017
StudioCanal presents a film by Joseph Kosinki
Written by Sean Flyn (based on the article by) & Ken Nolan
Produced by Lorenzo di Bonaventura, Thad Luckinbill, Trent Luckinbill, Michael Menchel, Dawn Ostroff, Molly Smith & Jeremy Steckler
Starring: Josh Brolin, Jennifer Connelly Miles Teller & Jeff Bridges
Music by Joseph Trapanese
Cinematography: Claudio Miranda
Edited by Billy Fox
Running Time: 133 minutes
Rating: M
Release Date: the 30th of November 2017
Biopics about real life American heroes can come off as a tad tacky, especially to non-American audiences. US bravado is on full display, mixed in with a whole lot of testosterone and a bountiful amount of "hell yeahs" in Only the Brave. On the surface this movie comes off as one such example of male driven adventure but given a chance there's a lot more on offer with this true story about fire fighters battling bushfires that threaten homes and small towns. It might take viewers some patience to see through the boasting visuals of young guys preparing to fight mother nature while AC/DC is blaring but given the chance the characters on screen become endearing and even relatable. Those who've seen Everybody Wants Some!! will get the idea. Their triumphs become ours, their failures hit us even harder.
One thing that sets Only the Brave apart from other movies about fire fighters is not only its exploration into character but also the uniqueness of the adversity that the characters face. A team of 20 young fire fighters is led by the tough but fair supervisor Eric Marsh (a role the great Josh Brolin was destined to play). What sets this team of do-gooders apart from the rest is that they go against life threatening fire armed with nothing but shovels, a good strategy and more fire as they back burn and guide the blaze away from populated areas. Their use of fighting fire with fire earns them the unofficial nickname of 'Hotshots' referring to those on the frontline, a coveted title that Eric wants his team to achieve despite the bureaucratic red tape that stands in his way.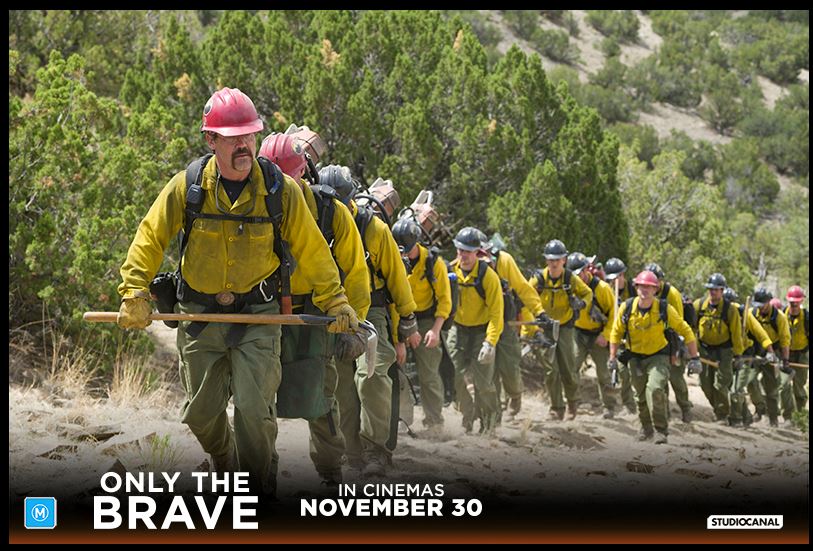 Another creative choice that saves this movie from being the bro-tastic mess it could have been is the decision to include character's stories that don't exactly fit in with the overall narrative straight away. While we're watching the stoic Eric drill his team and push them to do better, not unlike an army drill sergeant, we also see the meth-addicted Brendan (a fantastic Miles Teller) throw his life away to drugs and other poor choices that end with him in jail. As director Joseph Kosinki takes the audience through this curiously weaved first half of the story, it becomes an instantly engaging experience wondering how Teller's character fits in with this narrative about strong, athletic men going to war against dangerous flames.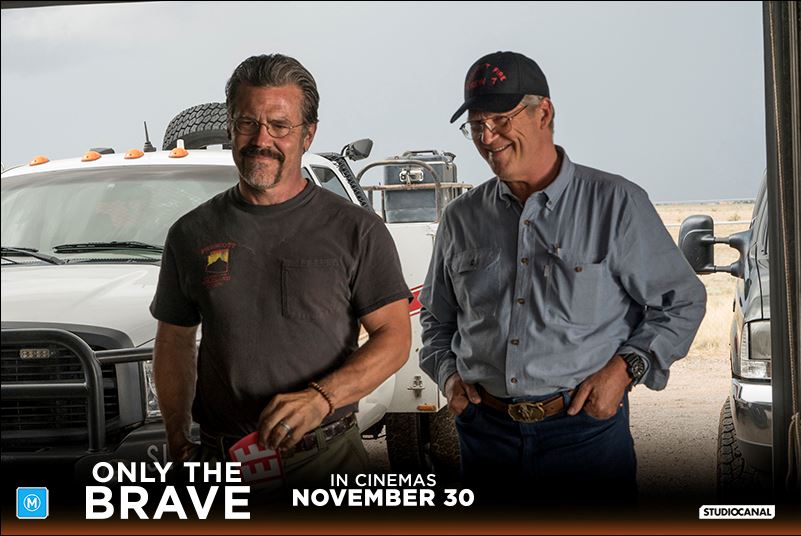 Brendan cleans up his act after becoming an unexpected father and joins the team of Hotshots, which result in some much-needed moments of comic relief. He's not accepted as a serious contender at first but perceivers to become one of the shit talking fellas. Naturally when it comes to a true story about a group of 20 plus men, the female character ratio is more than a little off. Andie Macdowell plays the background to Jeff Bridges' character—who looks like he walked straight off the set of Hell or High Water and onto this one—by playing the caring wife but not much else. The same could almost be said about Eric's wife Amanda (a wonderfully engaging Jennifer Connelly) but thankfully she's written with a bit more depth. Some tropes are present with her playing the concerned wife to a husband who risks life and limb everyday but Amanda showcases more than just worry. She's a gutsy and determined horse trainer who specialises in treating injured or mistreated horses. There's definitely a metaphor in there in regards to her being married to an unflappable but still vulnerable man.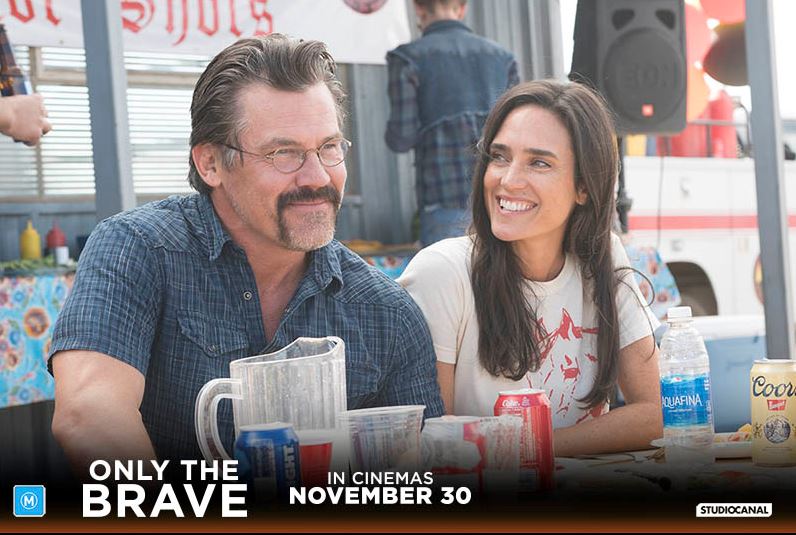 Despite all the fun the fire fighting characters have while training and bonding there is always this sense of danger on the horizon. From the second the movie starts we're given intense images of flames and the dramatic cracks and pops of a blaze that can only surround our heroes at some point. But again this isn't an action movie by any means. This story is packed with a lot of humanity, mainly focusing on three or four of the main characters, and the human element far outweighs the action on screen without it falling into the melodramatic. Hats off to screenwriters Ken Nolan and Eric Warren Singer, as well as Sean Flynn who wrote the GQ article upon which this movie is based.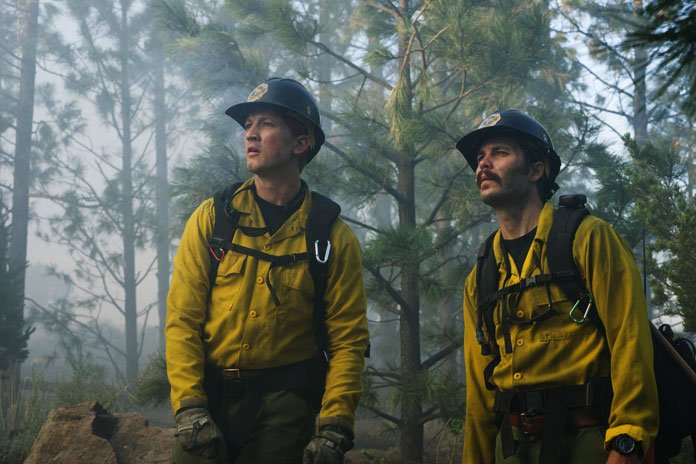 Taylor Kitsch does a fine job of playing the enemy turned best friend to Teller's character but it's the performances of Brolin, Connelly and Teller himself who steal the spotlight one at a time. It's also not surprising that writer Nolan wrote the screenplay for Black Hawk Down considering how these fire fighters are presented (and trained) much like a small army of soldiers going to war against the elements. And that's what this movie can be boiled down to: battle. Brolin's character battles marriage problems, career blockades from the higher ups as well as fighting off dangerous forest fires. While Teller's character goes against the battle of addiction and the stigma of being an ex-junkie. What makes Only the Brave so great is not only its avoidance of Vin Diesel-style action moments but also its choice to focus on real life people who deserve to have their story told without the embellishments for which Hollywood is known. Though it's not guaranteed that the producers didn't take some liberties with the facts of this story, it's just presented in a very realistic way. This will go down as a milestone for everybody involved, especially Brolin who's given one killer of a monologue about the beauty of nature as well as its horrors. Speaking of beauty, it's not too bad watching roaming scenes of the amazing Arizona mountains. See this one if you're keen for some action with a little more depth than what Hollywood is used to giving out.
Summary: What makes Only the Brave so great is not only its avoidance of Vin Diesel-style action moments but also its choice to focus on real life people who deserve to have their story told without the embellishments for which Hollywood is known.