Games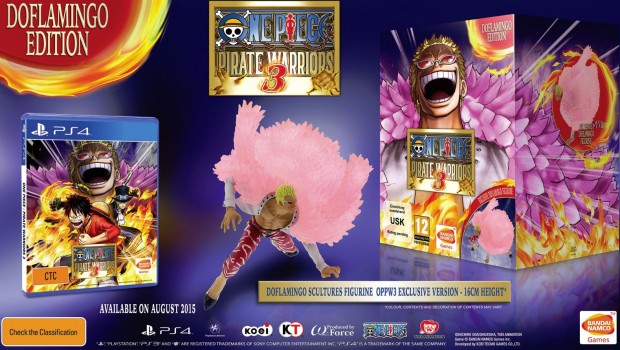 Published on April 7th, 2015 | by admin
ONE PIECE PIRATE WARRIORS 3 ANNOUNCES ITS DOFLAMINGO EDITION AND ITS PRE-ORDER OFFER!
Coming out in August 2015, the third episode in the successful PIRATE WARRIORS series is surely following the path of its precursors thanks to a series of new characters, new moves and the unique ONE PIECE storyline!
PRE ORDER OFFER:

An Exclusive DLC Pack*:

2 Costumes: Luffy as a giant fish & Sabo dressed as Lucy
2 Quests

1 unique "3 Brothers" Metal Case (not available on STEAM)
DOFLAMINGO EDITION (for PlayStation®3 & PlayStation®4):

Full Game
DOFLAMINGO Scultures Figurine – OPPW3 Exclusive Version (16cm)
Fans can prepare themselves for ONE PIECE: PIRATE WARRIORS 3 from now on, as the original games ONE PIECE: PIRATE WARRIORS and ONE PIECE: PIRATE WARRIORS 2 are on sale on the PlayStation®Network.
ONE PIECE: PIRATE WARRIORS 3 for PlayStation®4, Playstation®3, PlayStation®Vita and STEAM will be reaching Australia and New Zealand shores in August 2015!
*This DLC pack won't be available for sale later.
All DLCs are cross-compatible between PlayStation®4, PlayStation®3 and PlayStation®Vita. 
Continue the adventure on: