Games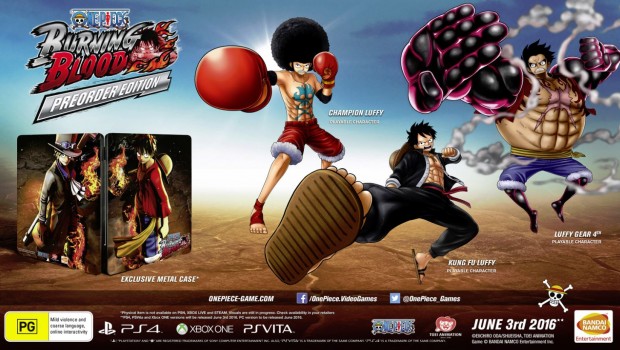 Published on February 16th, 2016 | by admin
ONE PIECE BURNING BLOOD release date and trade offers revealed
BANDAI NAMCO Entertainment Europe can now confirm that One Piece Burning Blood will launch on June 3rd 2016 for PlayStation 4, Xbox One and PS Vita! (Note: The PC release will also occur in June 2016, with precise date to be confirmed)
Fans could vote for which item they would like to see added to the Pre-order edition and the result is… an exclusive 13,5cm x 17cm metal case – plus Champion Luffy (from Davy Back Fight arc), Luffy Gear 4th (With this character, players will be in Gear 4th during the whole fight), and Kung Fu Luffy (Drawing from Eiichiro Oda – Chapter 710 of the official manga) as playable characters!
Also available is the Marineford Collectors Edition which contains an exclusive figurine of Whitebeard and his grave, the official artbook and One Piece Burning Blood game on PS4 or Xbox One.
Players can Pre-order now and start setting their dream team. Stay tuned for more additions to the One Piece Burning Blood roster!
Click here to watch the latest trailer for One Piece Burning Blood here: https://www.youtube.com/watch?v=qwjdPYOxs2Y
More information on:
Official website: OnePiece-Game.com
Official Facebook: /OnePiece.VideoGames
Official Twitter: @OnePiece_Games