Events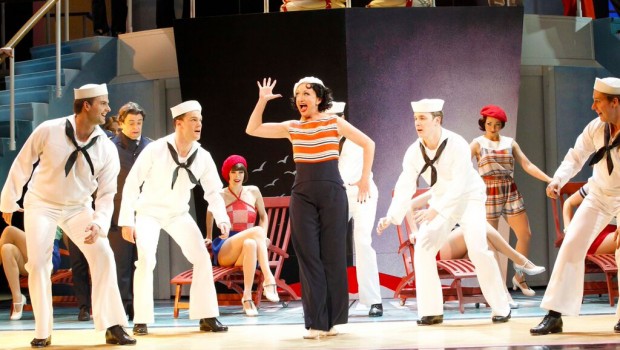 Published on July 10th, 2015 | by admin
ONE MORE WEEK UNTIL ANYTHING GOES SETS SAIL OUT OF MELBOURNE!
Anything Goes will be sailing out of Melbourne at the end of next week – the final performance is on Sunday July 19 at 3pm.
To celebrate the final performances of this smash-hit comedy, all remaining tickets for the final week have been discounted to $69.90 from Sunday 12 July.
Leading the all-star cast are Caroline O'Connor as evangelist turned nightclub singer Reno Sweeney; Todd McKenney as Lord Evelyn Oakleigh; Alex Rathgeber as young Wall Street broker Billy Crocker; Claire Lyon as American debutante Hope Harcourt; Carmen Duncan in her musical theatre debut as Evangeline Harcourt; Wayne Scott Kermond plays second-rate gangster Moonface Martin; Debora Krizak is Moonface's girlfriend Erma; Bartholomew John plays Wall Street banker Elisha J. Whitney; and comedian and impressionist Gerry Connolly is the Captain of the S.S. American.
The Anything Goes ensemble comprises Aljin Abella, Annie Aitken, Spencer Bignell, Jan Di Peitro, Samantha Leigh Dodemaide, Xander Ellis, Josh Gates, Alex Gibson-Giorgio, Bridget Hancock, Nicholas Kong, Evan Lever, Hayley Martin, Suzie Melloy, Imogen Moore, Glen Oliver, Natasha Paramor, Nathan Pinnell, Jordan Pollard, Ashleigh Rubenach, Mason Schaube, Greta Sherriff, Ashlee Smith and Lyndon Watts.
Nominated for a massive nine Helpmann Awards including Best Musical, Best Director (Dean Bryant), Best Choreography (Andrew Hallsworth), Best Costume Design (Dale Ferguson), Best Sound Design (Michael Waters), Best Female Actor in a Musical (Caroline O'Connor), Best Male Actor in a Musical (Todd McKenney), Best Female Actor in a Supporting Role in a Musical (Claire Lyon) and Best Male Actor in a Supporting Role in a Musical (Alex Rathgeber).
Winner of three Tony Awards, including Best Musical Revival and Choreography during its most recent Broadway run, Anything Goes is a stunning nautical favourite.
For decades, Anything Goes has captivated millions with its delightful story of madcap antics aboard the S.S. American. When the ocean liner embarks from New York to London, etiquette and convention get tossed out the portholes as two unlikely pairs set off on the course to find true love… proving that sometimes destiny needs a little help from a crew of singing sailors, an exotic disguise and some good old-fashioned blackmail.
This dazzling musical celebration, described by Ben Brantley of The New York Times as "a deluxe candy box of Cole Porter's best songs," features a hilarious tale of topsy-turvy relationships, mistaken identities and foiled plots, peppered with some of musical theatre's most memorable standards including You're The Top, De-Lovely, I Get A Kick Out Of You and of course the title song, Anything Goes.
www.anythinggoesmusical.com.au
TWITTER: @AnythingGoesAu
FACEBOOK: https://www.facebook.com/pages/Anything-Goes
INSTAGRAM: @AnythingGoesAu