Comics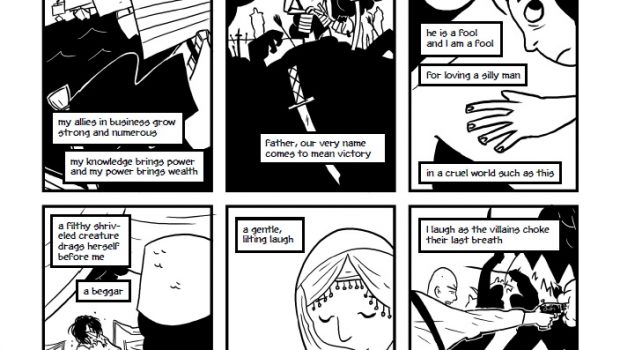 Published on July 11th, 2021 | by Tim Chuma
One Line (2021) Review
Summary: One for people looking for something a bit different. It is a bit hard to follow at first until you get your head around the concept then the story starts to become clearer.
The stories of eighteen families are shown through four centuries showing how they grow up, have families and pass down their knowledge. Some of the families interact with each other and not all of them make it to the end.
The author's previous work followed eighteen different people so it is a similar concept. This would be a good one to be able to pick up and put down if you were commuting or only get a short time to read each day.
This is an ambitious book and it was difficult to follow what was going on at first as each panel on the page represents one family or the person who is their lineage and when it goes black it means the current generation has passed. After a few panels the story for that family starts anew, but due to events later in the book most of the panels end up dark towards the end of the book.
I had been putting off reading this as I thought it was going to be hard to get through like some of the other graphic novels I have reviewed this year, but I read through it in a couple of hours easily. The illustrations are simple black and white drawings but they convey a lot for the story of that character in each panel and there is a definite story each character follows over their life.
I would recommend this one to people who want something different from the usual superhero fare and substantial but not too hard to get through like a lot of the real life stories can be.
Book details:
By: Ray Fawkes
Format: Paperback
Language: English
Number Of Pages: 184
Available: 20th July 2021
Country of Publication: US
Dimensions (cm): 27.94 x 18.54  x 2.03
Weight (kg): 0.82