Switch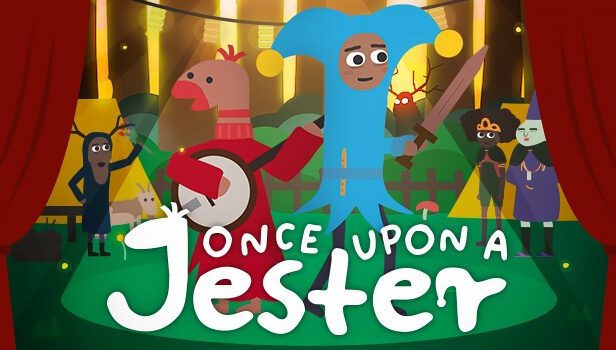 Published on November 22nd, 2022 | by Andrew Haverty
Once Upon a Jester Nintendo Switch Review
Summary: Smekdoodle this game is fun!
There was rarely a moment where I wasn't either smiling, laughing, or dancing around in my chair while playing Once Upon a Jester. It tells a story about friendship, dreams, and growth through a picture-book art style and an improvisational tone that constantly reminds the player to have fun and to not take things too seriously. From the opening sequence up until the end credits, this musical adventure is full of charm and never fails to remind the player that pure entertainment is the game's top priority.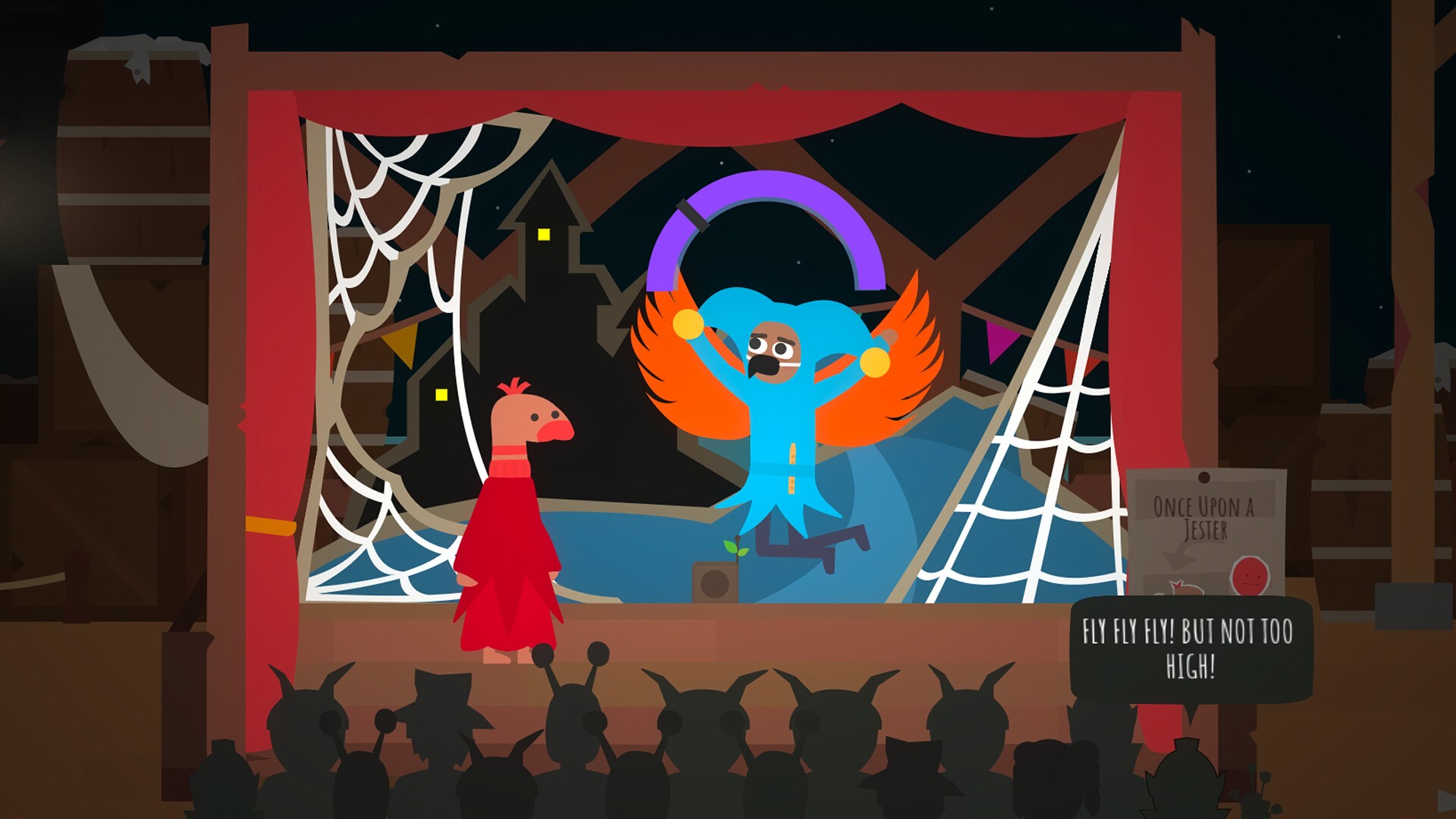 You play as Jester, a flute-wielding, tights-wearing fellow looking to steal a valuable diamond from the king's royal palace with the help of his sock puppet-looking friend Sok. But in order to get close to that precious diamond, the mischievous pair need to earn a spot to perform at the palace's "Royal Theatrical Spectacle." To achieve this, Jester and Sok must first prove to the princess that they are expert stage performers by putting on shows together and earning enough bouquets from awe inspired crowds.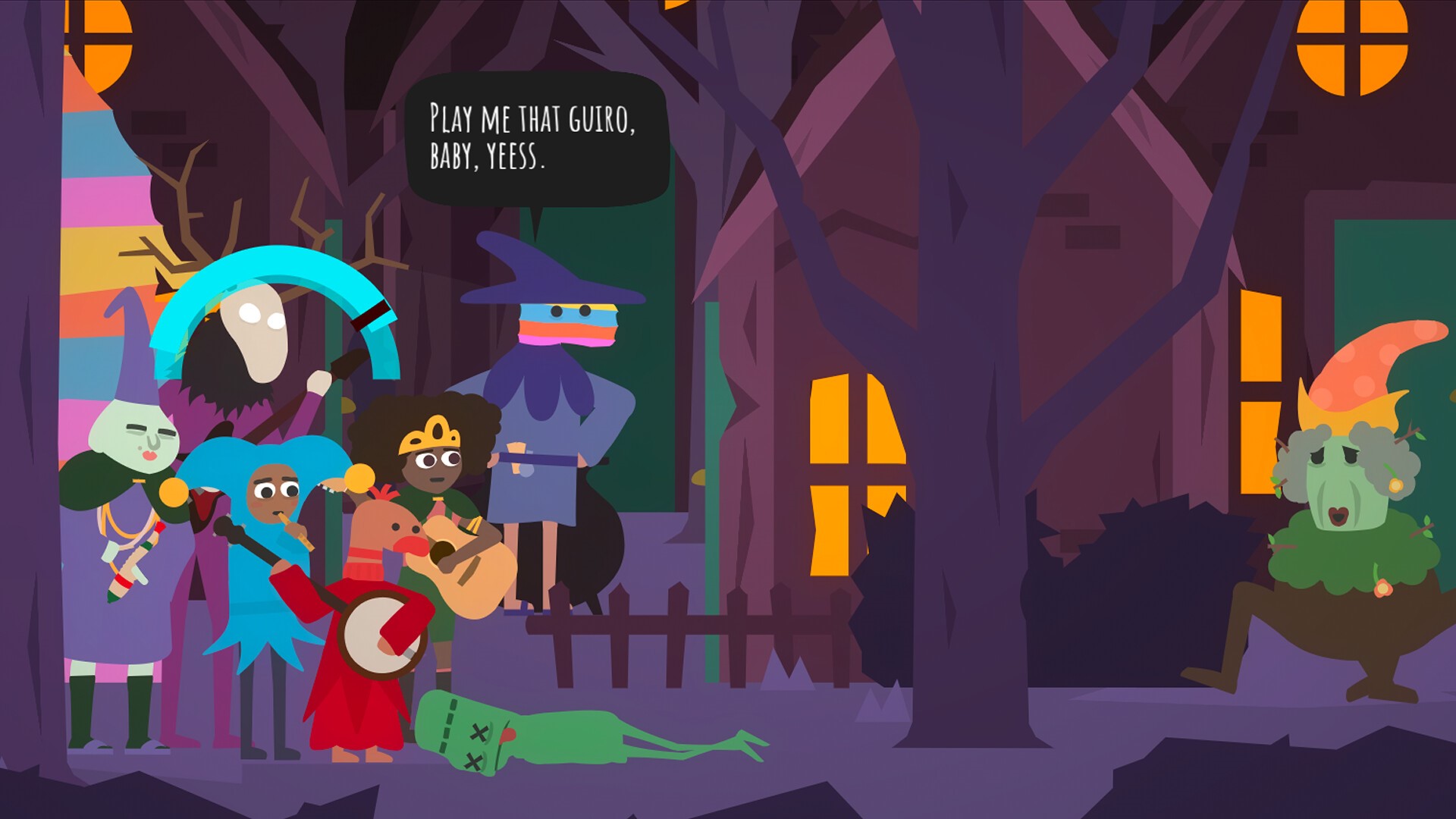 Putting on rousing theatre performances is the main attraction of Once Upon a Jester. These gameplay sequences have the player choosing from various genres mid-show while completing occasional quick-time button presses along the way. Though you can roll with any genre you want to, from horror, action, romance, drama, and musical, you're encouraged to eaves drop on the locals before a show to determine exactly what genres they like in order to maximize your rating. For example, say you're doing a show about a prince and a dragon. If the audience likes action, you might choose to draw your sword to fight the dragon. However, if they're more into romance, you might instead choose to confess your love and swoon for the dragon's affection. Choose the right genres during the show and the crowd will react in positive and often hilarious ways. Choosing the wrong genres will disappoint the audience and will result in less bouquets obtained.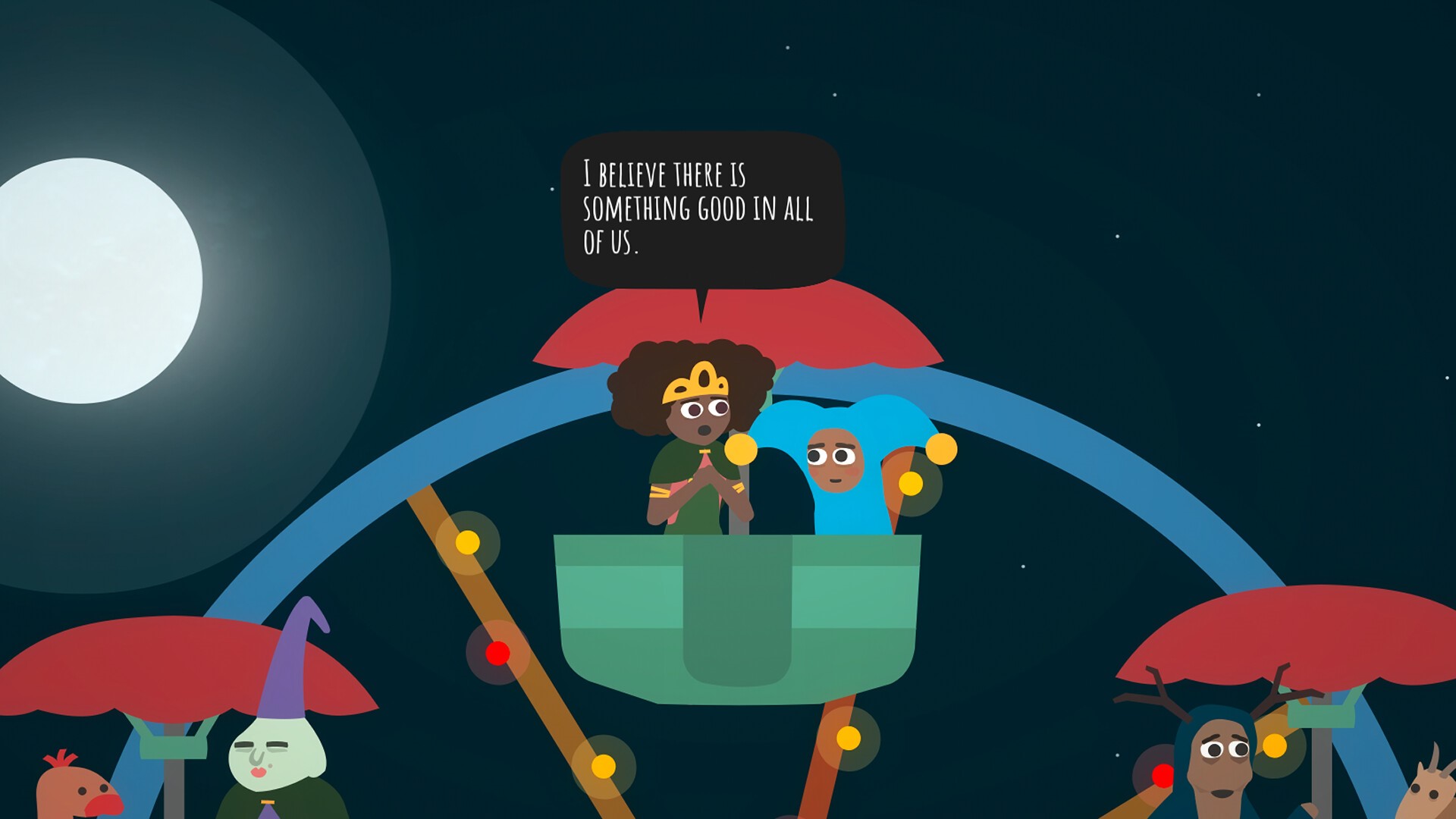 Though there are only a few shows to choose from, you can utilize any genre for each show meaning that every story has multiple paths to choose from. Completing a particular genre for a specific show will earn you a sticker for that show that you can use for your pre-show poster making. It's a bit of a shame that the audience's genre tastes tend to be one-dimensional, as any deviation of genre may result in a show receiving a less than perfect reward. I totally get this gameplay mechanic, but audiences having multiple genre interests would have made for some more varied genre-bending shows and also would've presented more of a welcoming challenge.
As fun as it is to improvise a show with your best pal Sok, my favorite aspect of Once Upon a Jester is its thoughtful, whimsical, and often improvisational story. In between shows you're encouraged to wander the various towns, meeting new characters and uncovering new plot lines along the way. The small, passionate team of musicians at Bonte Avond (four to be exact) have injected their game with likable characters and memorable sequences, whether it's an emotional moment on a Ferris wheel or an uplifting scene where the gang adds a scary new friend to the group. The voice acting is loose and fun, the comedic timing is always on point, and the vocals aren't half bad. And I got to say, I'll never forget meeting Mayor Gieregruit and I promise that others that play the game won't either.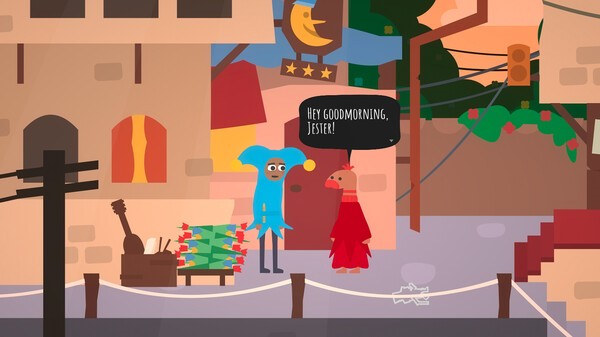 My only gripe is that after the story is done, there's no way to continue it when it seems like you totally could. If you want to go back and try new genre takes on shows, you need to start a whole new game. It would've been nice to be able to go back and earn all the genre stickers for each show, experiencing all you missed out on without starting fresh. Regardless, at just roughly three hours, it basically plays like an interactive movie you can experience over and over with its customizable shows making each experience a little different each time.
Final Thoughts?
With an original story, charming characters, and some killer music, there's just so much to love about Once Upon a Jester. With so much passion put into this game by such a small group of incredibly talented people, Bonte Avond has given us a unique, enjoyable, and memorable adventure that I couldn't recommend enough. If you love music, humor, and just simply having fun, then please do yourself a favor and play this game.